Harvey Weinstein could face criminal and civil charges following reports he allegedly engaged in non-consensual sex with women, but experts said the charges may depend on when and where the alleged conduct occurred.
One of the key questions could be tied to the statute of limitations for any alleged crimes and those can vary greatly depending on the state.
The incidents allegedly took place in different states, including New York, California, Utah, as well as overseas on the French Riviera.
The legal questions come as the New York Police Department said Thursday that it is "conducting a review to determine if there are any additional complaints relating to the Harvey Weinstein matter. No filed complaints have been identified as of this time and as always, the NYPD encourages anyone with any information" to come forward.
Sexual assault law — regarding both misdemeanor and felony offenses — varies by state. For example, since 2006, New York has had no statute of limitations for first-degree felony sex offenses, such as rape, forcible oral and anal sex.
A felony rape conviction in New York can carry a sentence of up to 25 years.
One catch, however, is that law did not take effect until after 2006 and so, because of the statute of limitations, prosecutors would most likely not be able to bring charges for crimes that occurred before 2006.
"The statute of limitations may block ability to press charges, but without knowing exact ages and more facts it is too early to say," said Marci Hamilton, a University of Pennsylvania professor who advocated for reform to New York's statute of limitations when it comes to sex crimes.
The New York Times reported more than 20 women have have accused Weinstein of assault or harassment. And, in a New Yorker article published on Tuesday, Ronan Farrow reported that 13 women between the 1990s and 2015 told the journalist that Weinstein sexually harassed or assaulted them, including three who alleged he forced himself on them.
The New Yorker alleges one assault occurred at Miramax's offices, a club in New York City. Another took place in the French Riveria and the location of the third instance reported is not known.
The most recent alleged incident occurred in 2015 when Ambra Battilana Gutierrez, who was a finalist in the Miss Italy contest. She alleged Weinstein had forcibly groped her at what was supposed to be business meeting in his office. The Manhattan District Attorney's Office said it did not find sufficient evidence at the time to press charges.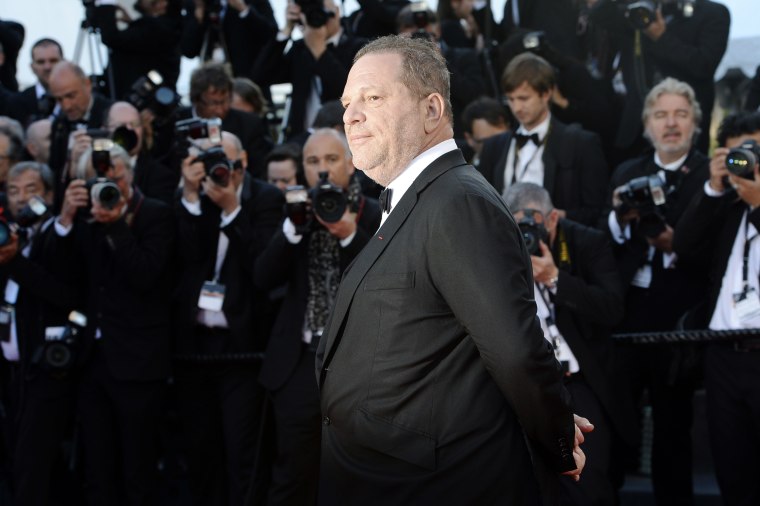 Weinstein has denied the allegations that he engaged in non-consensual sex with the women. And no criminal charges have been brought against him.
"Any allegations of non-consensual sex are unequivocally denied by Mr. Weinstein," said his spokeswoman, Sally Hofmeister.
"Mr. Weinstein has further confirmed that there were never any acts of retaliation against any women for refusing his advances. Mr. Weinstein obviously can't speak to anonymous allegations, but with respect to any women who have made allegations on the record, Mr. Weinstein believes that all of these relationships were consensual," the spokeswoman added.
In 2013, the National Center for Victims of Violent Crime published a state-by-state comparison showing that eight other states have joined New York in eliminating the statute of limitations for felony sexual assault, although the number has increased since the report, with California eliminating the statute in January in the wake of sexual assault allegations against Bill Cosby.
"There's a growing recognition that the culture of sexual assault has changed, that reporting these kinds of allegation continues to be difficult where there is a real cultural distrust of complainants and real concerns of retaliation and reprisals, particularly where individuals are powerful, like Cosby, like Harvey Weinstein," said Deborah Tuerkheimer, a former New York sex crimes prosecutor.
"As times have changed, and it has become more likely that these older reports have surfaced, some activists and legislators have decided to make it easier for these cases to be prosecuted," added Tuerkheimer, a national legal expert on sexual assault at Northwestern University's Pritzker School of Law.
The eight settlements that The Times said Weinstein had reached with former accusers may prevent those women from suing him, the Weinstein Company or Miramax, but that could change if Weinstein impugns the women in any way. That could open the door to defamation claims, lawyers aid.
For example, in an interview with the New York Post, Weinstein referred to Ashley Judd, one of the women who went public with accusations against him, as a "victim of sexual abuse and depression as a child" and suggested that the allegations against him were coming to light because she was "going through a tough time."
In addition, while settlements and the statute of limitations could block women who were harassed years ago from bringing claims, women who currently work at the Weinstein Company may have a case to bring a class-action lawsuit against the company, lawyers said.
They could argue that they were forced to work in a "hostile work" environment.
"If this was the fabric of the environment — where women were sleeping with him or you had to put up with abuse and derogatory comments — then they all have claims," said Debbie Katz, a Washington, D.C., plaintiff's attorney who specializes in sexual harassment cases.
Both state and federal laws protect employees from sexual harassment.
Title VII of the 1964 Civil Rights Act classifies sexual harassment as a form of sex discrimination, and applies to employers with 15 or more employees. But the law places a $300,000 cap on compensatory and punitive damages and may not be as powerful of a tool as New York and California state laws, which allow for a longer statute of limitations and which also allow for liability against individuals like Weinstein.
Regarding the latest accusations from The Times and New Yorker, the Weinstein Company said, "These alleged actions are antithetical to human decency."
"These allegations come as an utter surprise to the Board. Any suggestion that the Board had knowledge of this conduct is false," the company said in a statement. The company has also said in firing Weinstein that it would conduct an independent investigation of his conduct.
The Weinstein news also brings up what was a recent hot topic in the area of civil rights law — the timing of when a woman could seek compensation for discrimination.
In Goodyear v. Ledbetter, the Supreme Court strictly construed the statute of limitations in sex discrimination cases, asserting that employers could not be sued over race or gender pay discrimination if the decisions are made by the employer 180 days ago or more.
But Congress disputed the high court's interpretation. Lawmakers passed the Lilly Ledbetter Fair Pay Act, which then-President Barack Obama signed into law in 2009, that allowed for plaintiffs to sue based on prior discriminatory acts outside of the 180-day statute of limitations for pay discrimination.