If Wednesday's argument before the Supreme Court is any indication, a majority of the justices seemed inclined to strike down or curtail key sections of the 1965 Voting Rights Act.  Even if the court does move in that direction, election officials in some states will have more leeway to change some procedures, but voters in 2014 won't suddenly wake up in 1964.   
Hearing a challenge brought by Shelby County, Ala., several justices voiced skepticism about the formula the law uses to decide which states and other jurisdictions are required to get permission, or "preclearance," from the Justice Department or a federal court in Washington for any change in voting procedures that they seek to make.
In 2006 Congress reauthorized Section 5 of the law for another 25 years. The current formula uses election data from 1972 and earlier to determine which places section 5 applies to. Critics of the law say the formula is archaic and ought to be scrapped.
Currently nine states, mostly in the South, as well as 54 counties in New York, California, Florida, North Carolina and South Dakota and 12 townships in Michigan and New Hampshire, are covered by section 5.
What effect would a ruling which struck down or curbed section 5 have on elections in the United States?
Would parts of the country now covered by section 5 revert to the days of poll taxes, literacy tests, murders of voter registration workers, racial gerrymandering of districts, and other devices to negate the power of African-American, Latino and other minority voters?
The short answer is no, and that's because a separate section of the Voting Rights Act, section 2 – which is a permanent part of the statute and need not be periodically renewed, as section 5 must be – bans voting procedures that discriminate on the basis of race, color, or membership in one of the language minority groups identified by the law, which includes not only Spanish, but Chinese, Vietnamese, Korean and several Native American and Alaska Native language groups.
In recent years, the Justice Department, under both Republican and Democratic presidential administrations, has brought section 2 voting discrimination cases against jurisdictions in Massachusetts, Montana, Illinois, California, South Carolina, and several other states.
For example, in 2009 the Justice Department took action against Salem County, New Jersey and the borough of Penns Grove, N.J. for allegedly discriminating against Puerto Rican voters.
The Department charged that local election officials had never translated the ballot into Spanish in any election held in Penns Grove, and thus "numerous voters of Puerto Rican descent who cannot understand the ballot in English have been unable to fully exercise their voting rights."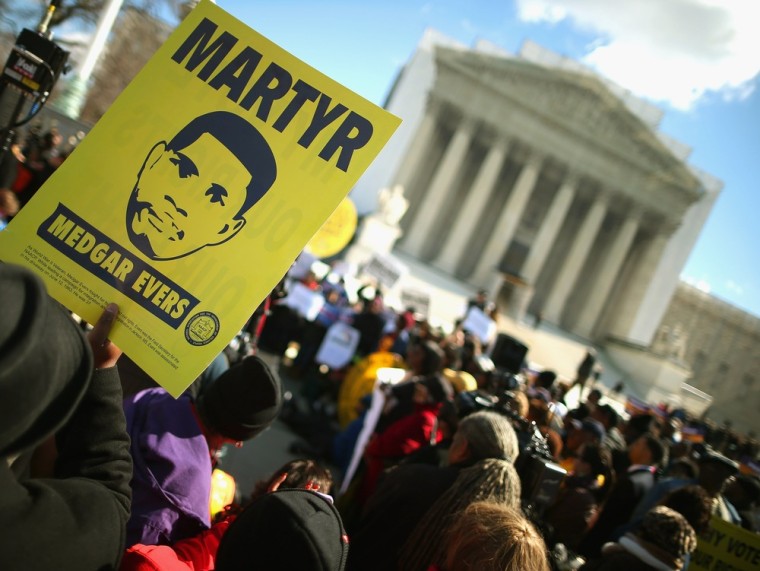 These kinds of enforcement actions will continue under section 2 no matter what the high court decides on section 5.
But the Solicitor General Donald Verrilli argued Wednesday that getting rid of section 5 – and its requirement that covered jurisdictions get pre-approval of their voting procedures – will make it more costly and time consuming for voters to challenge allegedly discriminatory practices. He said section 5 has a deterrent effect – blocking discriminatory practices before they're ever implemented.
He said polling place changes are the most frequent type of election procedure submitted to the Justice Department under Section 5. "Changes in the polling places at the last minute before an election can be a source of great mischief," he told the justices. 
He contended that "there is no way in the world you could use Section 2 to effectively police that kind of mischief." Given the cost of litigation, he said, "The cost-benefit ratio is… going to tilt strongly against bringing these suits."
Michael Pitts, an expert on the Voting Rights Act who is a professor at Indiana University School of Law and who worked on voting rights cases when he served as a trial attorney in the Civil Rights Division of the Justice Department, said, "There is certainly a possibility of more last-minute mischief with polling places if Section 5 were struck down."
He said Section 5 enforcement actions "are rather simple. To attempt to get the same results using other provisions of the Voting Rights Act, such as Section 2, will be much harder."
Responding to Justice Anthony Kennedy's suggestion during Wednesday's argument that some Justice Department attorneys who now are working on section 5 could shifted to section 2 enforcement, Pitts said, "The problem with Section 2 lawsuits is that at the very least, DOJ has to find out about the problem, then they have to conduct an extensive investigation before filing a lawsuit, and then they have to spend lots of time and resources to win the case.  Section 2 cases are not easy to win."
University of Georgia political science professor Charles Bullock, an expert on the Voting Rights Act and Southern politics, said elimination of section 5 would "probably not" make a difference in voter registration or voting in places that are now covered by section 5.
He said in section 5 covered jurisdictions, black registration and turnout "is pretty much at the same level" as registration and turnout among white voters. He added, "Hispanic registration and participation rates are lower but that's true whether you're looking at section 5 states or looking at states which are not subject to section 5."
Bullock said that when it comes to drawing new district line for state legislatures and for House seats that due to section 2, "there would still very much be a protection in place against actions which were found to be discriminatory even if section 5 were to be struck down."
Bullock said one major change that came about as a result of section 2 was the elimination of at-large districts for school boards, county councils, etc. and the move to single-member districts. At-large districts had been used to dilute the power of minority voters.
If the court eliminates section 5, "Would they (local officials) go back to at-large elections?" He thinks not, because "politicians tend to like the system under which they have succeeded, and they think there's less uncertainty in a system which they've already worked successfully. County council or school board members elected under a single-member district system would be reluctant to go back to at-large elections even if that was what was traditionally done until, say 20, years ago."
Bullock said if section 5 is struck down he does expect some of the now-covered states would move to enact voter identification laws which the Justice Department has so far blocked from enacting.
One unknown is how Congress would react if the high court does strike down section 5. Would it devise an updated formula, perhaps based on 2012 data, for that tried to target jurisdictions with large disparities of minority and white voter turnout? Would it use some other metric? It's too soon to know, but it's worth recalling that in 2006 Congress chose to avoid the difficulty of writing a new coverage formula – one reason the Shelby County case reached the high court.