WASHINGTON — District of Columbia Mayor Muriel Bowser on Friday had "Black Lives Matter" painted on the street that leads to the White House where protesters have been demonstrating following George Floyd's death in police custody.
"There are people who are craving to be heard and to be seen, and to have their humanity recognized, and we had the opportunity to send that message loud and clear on a very important street in our city," Bowser said at a press conference. "And it is that message, and that message is to the American people, that Black Lives Matter black humanity matters, and we as a city raise that up as part of our values as a city."
The mayor said that the people who painted it were from the D.C. Public Works Department.
"There was a dispute this week about whose street this is," John Falcicchio, chief of staff for Bowser, a Democrat, said earlier in a tweet. "Mayor Bowser wanted to make it abundantly clear that this is DC's street and to honor demonstrators who (were) peacefully protesting on Monday evening."
President Donald Trump slammed Bowser Friday afternoon, tweeting, "The incompetent Mayor of Washington, D.C., @MayorBowser, who's budget is totally out of control and is constantly coming back to us for 'handouts', is now fighting with the National Guard, who saved her from great embarrassment...over the last number of nights. If she doesn't treat these men and women well, then we'll bring in a different group of men and women!"
Trump continued to attack Bowser into Friday evening, calling her "incompetent."
".@MayorBowser is grossly incompetent, and in no way qualified to be running an important city like Washington, D.C. If the great men and women of the National Guard didn't step forward, she would have looked no better than her counterpart Mayor in Minneapolis!" he said in a tweet.
People were seen painting the words "Black Lives Matter" on Friday morning in large block letters in yellow across 16th street, which leads to Lafayette Square and the White House.
Bowser tweeted later in the morning that that particular section of 16th Street has been renamed "Black Lives Matter Plaza."
The official D.C. chapter of the Black Lives Matter Global Network, however, suggested in a tweet that this move was merely an empty gesture by Bowser.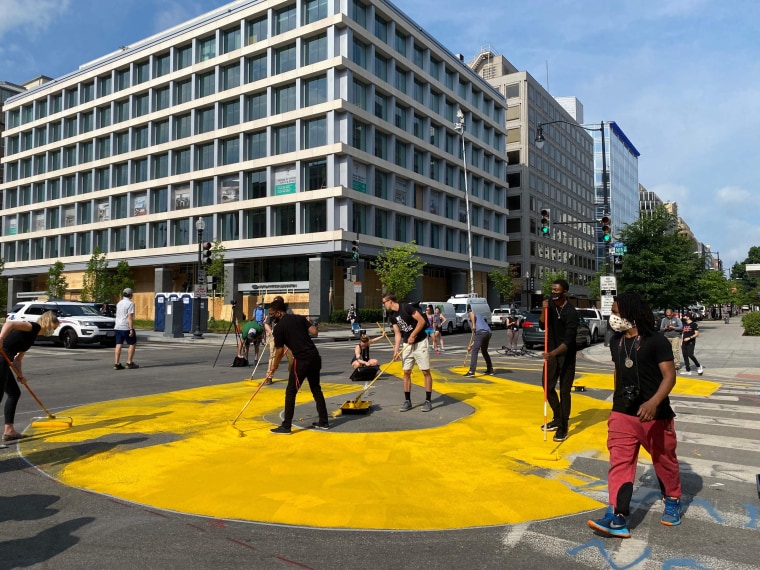 "This is a performative distraction from real policy changes. Bowser has consistently been on the wrong side of BLMDC history. This is to appease white liberals while ignoring our demands. Black Lives Matter means defund the police. @emilymbadger say it with us," the account tweeted.
This comes several days after Trump ordered the U.S. Park Police and National Guard troops forcefully removed demonstrators who were peacefully protesting outside the White House on Monday evening. The crowd was dispersed so Trump could walk out of the White House to St. John's Episcopal Church for a photo-op in which he held up a Bible.
Bowser blasted Trump for what occurred, tweeting, "I imposed a curfew at 7 pm. A full 25 minutes before the curfew & w/o provocation, federal police used munitions on peaceful protesters in front of the White House, an act that will make the job of @DCPoliceDept officers more difficult. Shameful! DC residents — Go home. Be safe."
Bowser also sent letters to Govs. Mike DeWine of Ohio, a Republican, and Phil Murphy of New Jersey, a Democrat, ordering them to remove their National Guard troops from the city.
Bowser, who also sent a letter to Trump earlier this week ordering him to remove federal law enforcement and military members, said the troops were sent to the city by the White House without her knowledge. Washington has a National Guard, but since the city is a special federal designation it is controlled by the president.
"However, as we have increasingly seen in recent days their presence is unnecessary and may be counterproductive to ensuring the protests remain peaceful," she wrote in separate letters to both governors.
Murphy said in a press conference earlier Monday that it was intended to be a "short-term deployment" to help protect federal monuments. A spokesman for Murphy said in a statement Friday that the deployment will end Friday.
"There were approximately 85 National Guard members sent to DC and their mission was anyway scheduled to end at 9:00 a.m. tomorrow prior to this tweet. They were sent for a very limited mission protecting monuments and are on the night shift tonight near the Lincoln Memorial," the spokesman said.
DeWine did not immediately respond to Bowser's request but tweeted earlier he had removed a member of the Ohio National Guard who expressed "white supremacist ideology."
The painting of the phrase Black Lives Matter came as Bowser shared a letter addressed to Trump from Thursday in which she requested that he withdraw "all extraordinary federal law enforcement and military presence from Washington, D.C." now that she has ended the state of emergency for the city and the Metropolitan Police Department didn't make any arrests on Wednesday night.
CORRECTION (June 5, 2020 2:06 p.m.): Photo captions on a previous version of this article incorrectly described who painted "Black Lives Matter" on 16th Street in Washington, D.C. City employees painted the tribute at the mayor's instruction; the painters were not protesters.