Daniel Ellsberg, the former military analyst who leaked the Pentagon Papers, says he knew President Richard Nixon's White House wanted to "shut me up."
That is why he was not surprised to learn that Watergate prosecutors had evidence that Nixon's operatives planned a physical assault on anti-war demonstrators in 1972, according to a never-before-seen memo obtained by NBC News and released Sunday night.
READ: Prosecutors' Memo on "Investigation Into The Assault On Anti-War Demonstrators On May 3, 1972"
"They used to say nobody got hurt in Watergate," Ellsberg, 86, told NBC News in a phone interview on Monday evening. "That was not because they didn't try."
He added, "It's been in my head for 40 years. That was a time when they wanted me to shut up."
The document, an 18-page 1973 investigative memorandum from the Watergate Special Prosecution Force, sheds new light on how prosecutors were looking into attempts at domestic political violence by Nixon aides — an extremely serious charge.
NBC News published the memo, and an accompanying memo about an interview prosecutors did with Republican operative Roger Stone, as part of its special coverage for the 45th anniversary of the Watergate break-in.
READ: Prosecutors' Memo on "Interview with Roger Stone, re: May 3rd Incident"
In May 1972, Ellsberg wrote in his memoirs, the White House had flown "Cuban-American CIA 'assets' from Miami to Washington to disrupt a rally that I and others were addressing on the steps of the Capitol," with orders "to incapacitate [me] totally."
Nixon officials denied that account, however, and there were never any indictments related to the accusation.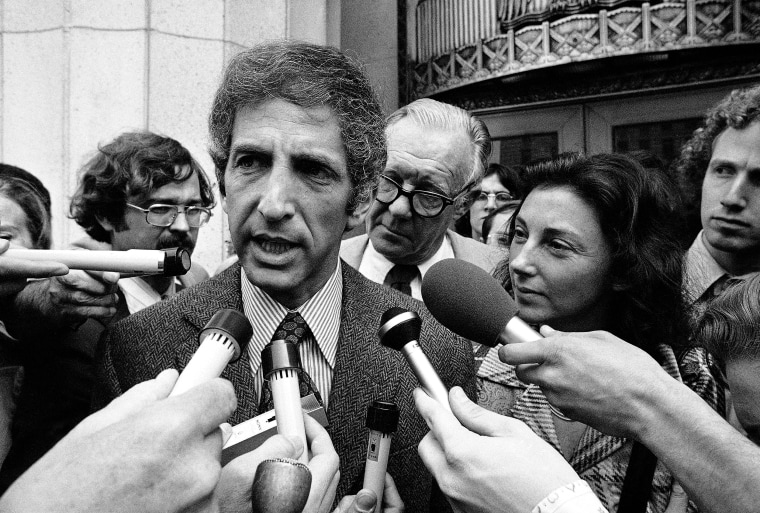 Ellsberg, who lives in Berkeley, Calif., told NBC News on Monday that he is "dubious" the intent was to kill him.
"I think it was meant to silence me for at least a couple weeks," Ellsberg said, adding that he believes he was meant to be seriously injured but not killed.
The memo, written on June 5, 1975, by Watergate special prosecutor Nick Akerman, provides some contemporaneous support for Ellsberg's allegation that he was targeted.
It states that "an extensive investigation" found evidence that Nixon operatives plotted an "assault on antiwar demonstrators" at a rally at the U.S. Capitol featuring Ellsberg and other anti-war "notables." The anti-war demonstration occurred near a viewing of recently deceased FBI Director J. Edgar Hoover.
Related: Memo Shows Watergate Prosecutors Had Evidence Nixon White House Plotted Violence
An accompanying memo by Akerman summarizes his interview with Stone, who said he helped organize young Republicans to join the counter-demonstration but who had no apparent knowledge of the White House plot on Ellsberg.
The attack would be on "long-haired demonstrators, in particular Ellsberg," the prosecutors' memo states, with the objectives of impugning Ellsberg for protesting near to Hoover lying in state and "simply having Ellsberg beaten up."
For reasons that remain unclear, the attackers did not reach Ellsberg that day, Akerman said.
Ellsberg said on Monday that he was glad to see the publication of the memo after decades.
"I knew all along that I was telling a true story here," he said. "Without documents, it's very hard to convince people that the president has even lied, let alone broken the law, let alone committed what was an assault — even though it didn't succeed."
Ellsberg, a prominent activist and advocate for whistleblowers, added that some people seemed skeptical when he suggested, a few years ago, NSA leaker Edward Snowden might somehow be harmed.
"But I was the subject of a White House hit squad under Nixon," Ellsberg said, "so I've been there."