Democratic Rep. Kyrsten Sinema is the apparent winner in the Arizona Senate race, narrowly defeating Republican Rep. Martha McSally, according to NBC News.
As of Monday night, Sinema had 1,097,321 votes, or 49.68 percent, while McSally had 1,059,124 votes, or 47.96 percent.
Sinema, who in 2013 became first openly bisexual person to be seated in the House of Representatives, is now also the first openly bisexual U.S. Senator. She is the first Democratic senator elected in Arizona in 30 years, since former Sen. Dennis DeConcini retired in 1995, and the first female Arizona Senator in the state's history.
Sinema gave a victory speech on Monday evening, honoring late Arizona Sen. John McCain and rejected divisive political rhetoric. Sinema referenced McCain's final address to Congress before his death and his call for civility in bipartisanship.
"It won't be easy, and it won't happen overnight, but we can work together to meet the challenges our country faces," Sinema said in her speech. "We can do this differently. For our country, for our future, for Senator McCain, and for each other I think we must."
McSally conceded the race in a video statement on her Twitter account Monday evening.
"I just called Kyrsten Sinema and congratulated her on being Arizona's first female senator after a hard fight battle," McSally said. "I wish her all success as she represents Arizona in the senate."
The race had been too close to call on election night and since then has been mired in a nail-biting process of counting outstanding mail-in ballots. A large portion of the voting population in Arizona votes by mail, and each of those ballots had to go through a signature verification process, which typically lasts several days after Election Day.
This process, however, came under intense scrutiny in recent days after President Donald Trump and other Republicans stoked unfounded claims that Sinema's growing lead was because of voter fraud.
Over the weekend, Sinema's lead expanded by more than 32,000 votes as mail-in ballots were counted, driving her campaign to declare that her advantage was "insurmountable." It also came after Arizona Republicans won a lawsuit to force equity in how mail-in ballot signatures were being verified in each county.
Sinema will replace GOP Sen. Jeff Flake, who did not seek a second term.
As a congresswoman, Sinema represented a district based in the Phoenix suburb of Tempe. She is a former Green Party activist who transformed herself into a centrist Democrat with one of the most conservative voting records among Democrats in Congress.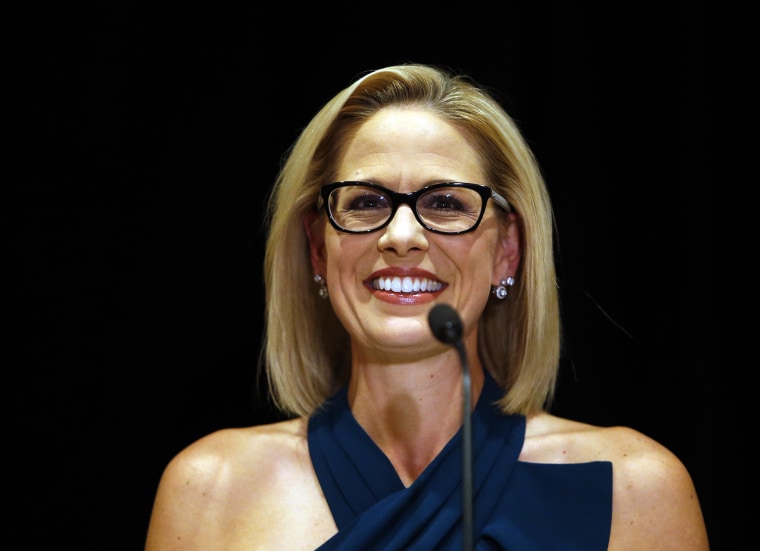 McSally, a former combat fighter pilot who was a Trump critic in 2016, represented a Tucson district that voted for Hillary Clinton.
Trump won Arizona in the 2016 presidential election by 3 percentage points, which fueled Democrats' hope that Sinema could turn the red-leaning state blue by appealing to a sufficient number of alienated Republicans voters.
During the campaign, the two candidates hammered each other over their voting records in Congress and on hot-button issues such as immigration and health care.
Sinema painted McSally as a partisan who would blindly go along with Trump's agenda while presenting herself to voters as a problem-solver who could work with the president on different policy matters but still hold his administration accountable.
Sinema had said that if she was elected she would not be an "apologist" for either the Democratic Party or Trump.