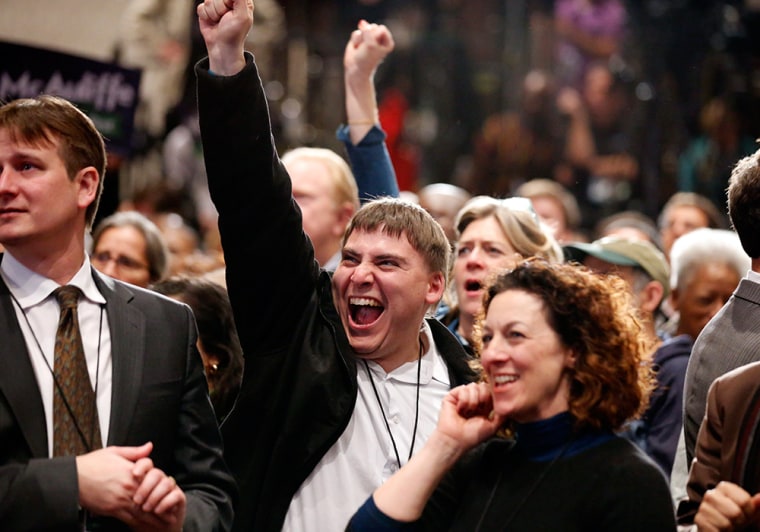 Democratic businessman Terry McAuliffe defeated Republican Ken Cuccinelli to become Virginia's next governor after a contentious race that was closer than many political watchers anticipated.
With nearly all the votes tallied late Tuesday, McAuliffe edged out Cuccinelli by about two percentage points, with libertarian Robert Sarvis receiving around seven percent of the vote as a third-party candidate.
Read the exit polls here (.pdf)
In his victory speech Tuesday night, McAuliffe pledged – in a show of bipartisanship - to reach out to every Republican in the state assembly before taking office.
"The truth is that this election was never a choice between Democrats and Republicans, it was a choice about whether Virginia would continue the mainstream bipartisan tradition that has served us so well over the last decade," he said.
Exit polls showed McAuliffe's support among women and in the Democrat-leaning northern part of the state was enough to top the state's attorney general in a race that had Cuccinelli fighting back against a litany of ads painting him as "too extreme" for the state's moderate voters. However, voters cited the economy and health care as the issues most important to them, and Cuccinelli beat his Democratic rival in both categories, helping to keep the contest tight throughout Tuesday evening.
McAuliffe's victory will have broad political implications for both parties. Republicans now face questions about a nominating process that produced a very conservative candidate in a state rapidly changing demographically. And for Democrats looking ahead to the 2016 presidential contest, the party now has a solid record of winning in this once-red state – not just in this gubernatorial race, but in the U.S Senate as well.
McAuliffe, a former political moneyman who failed to win the Democratic nomination for governor four years ago, received help from President Barack Obama as well as his good friends Bill and Hillary Clinton, who made multiple campaign stops on his behalf. The presence of the former president and onetime secretary of state is not just about a longstanding friendship with McAuliffe – should Hillary Clinton decide to run for president, having the support of a governor in a crucial swing state could prove to be a strong asset.
Likewise, Cuccinelli received support from Republicans who may be eying a 2016 presidential run, including Sens. Marco Rubio of Florida and Rand Paul of Kentucky, as well as Wisconsin Gov. Scott Walker.
Cuccinelli had distinguished himself as a conservative stalwart during eight years as a state senator and most recently as attorney general. The Republican embraced the ascendant Tea Party movement early on, winning accolades from conservatives for his legal challenges to Obamacare, abortion rights laws and climate change research.
But Cuccinelli's support for limiting abortion rights and a 2008 proposal that would have made it more difficult for women with children to obtain divorces helped McAuliffe make the case that the conservative was out of step with the state's moderate voters. Virginians were inundated with ads that dubbed Cuccinelli "too extreme for Virginia," a state which has become friendlier to Democrats in recent elections due to changing demographics.
Exit polling showed more than half of all Virginia women voted for McAuliffe, and 67 percent of voters who believe abortion should be legal supported him.
Cuccinelli also contended with backlash over the October government shutdown, which affected federal workers who reside in Washington's Northern Virginia suburbs and throughout the state.Democrats attempted to tie Cuccinelli to Tea Party-affiliated pols and in for his part, the GOP contender pushed instead to make the election a referendum on Obama's glitch-riddled health care rollout. Half of Virginians said Cuccinelli was too conservative, according to exit polling.
McAuliffe greatly outraised his GOP opponent handily, and Democratic allies poured $24 million to Cuccinelli's $17 million in TV advertising, according to NBC's First Read.
"Despite being outspent by an unprecedented $15 million, this race came down to the wire because of Obamacare," Cuccinelli said in his concession speech.
Cuccinelli's struggles to appeal to moderates stands in contrast to New Jersey Gov. Chris Christie, the big-name Republican who breezed to a projected re-election in his blue home state Tuesday.
Also on Tuesday, State Sen. Ralph Northam, a Democrat, won the lieutenant governor's race, while the attorney general's race between Republican Mark Obenshain and Democrat Mark Herring was too close to call late Tuesday.
Related: