/ Source: Associated Press
This proves it: Your vote really does count.
Democrats edged out Republicans by one vote in the Virginia House of Delegates on Tuesday after a rollercoaster recount flipped a red seat to blue and created a 50-50 tie between the two parties.
Democrat Shelly Simonds is the apparent winner in the race for the 94th District, beating incumbent Republican David Yancey.
She won, 11,608 to 11,607, according to the nonpartisan Virginia Public Access Project.
This is the first time Republicans have not been in control of the Virginia House in nearly two decades.
Democrats celebrated the win as an indication of the party's strength ahead of the 2018 midterms.
"Christmas came early today for Virginia Democrats!" Susan Swecker, the chairwoman for Virginia Democrats, said in a statement. "Today's results should strike fear into the heart of every Republican on the ballot next year."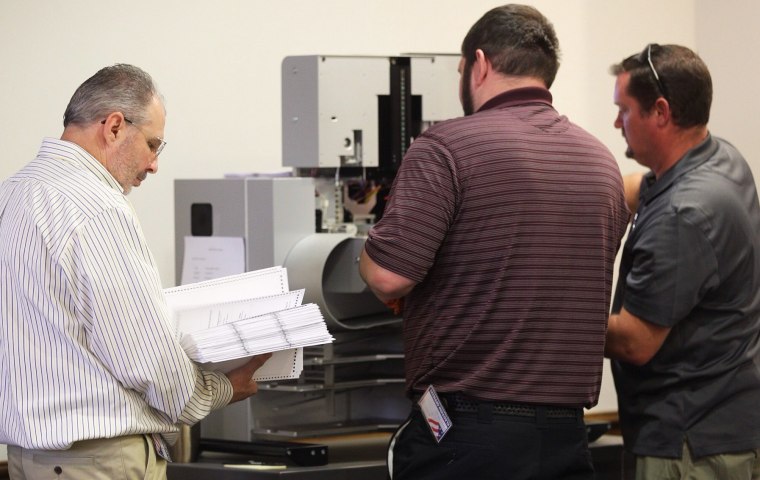 A three-judge panel must formally certify the recount vote, which is slated for Wednesday. The Democrats said there were no challenged ballots and do not expect any changes after the results are finalized by the court.
The results are not final, there are two other recounts this week that will decide the final tally in the Virginia House. If it remains evenly split, that could lead to the type of unusual power-sharing arrangement that has been used in other states — committees with Republican and Democratic co-chairmen and an equal number of members from each party, along with a rotating speakership, with a Republican one day and a Democrat the next.
Initially, Yancey had eked out a 10-vote victory in the November election that saw Democrats win the much-watched gubernatorial contest and pick up 15 seats in the House of Delegates seats before Shelly's surprising win.
Prior to the November elections, the Republicans held a 66-34 majority in the House. In the Virginia Senate, the GOP holds a slim lead, 21-19. The tie places both parties in a bind since there is no tie-breaking process for any legislation that falls short of 51 votes.
And even more so after Ralph Northam, the incoming Democratic governor, squashed rumors of him plucking Republicans from the House and placing them in his cabinet to tilt the balance of power in his party's favor.
"I have let our people know that I will work with the legislature that was elected by the people," he told The Washington Post earlier this week. "I'm not approaching anybody...in the Senate or the House."
In a statement, House Republican leaders congratulated Simonds and said they stand ready to establish a bipartisan framework for the House to work under "efficiently and effectively."