WASHINGTON — A group of Democratic attorneys general from 19 states announced Thursday they are suing Education Secretary Betsy DeVos for delaying regulations aimed at protecting student-loan borrowers defrauded by colleges.
The lawsuit, filed in U.S. District Court, accuses DeVos of illegally rescinding an Obama administration policy to protect students from predatory loan practices in higher education. The Borrower Defense Rule, which was finalized last October, was scheduled to take effect July 1.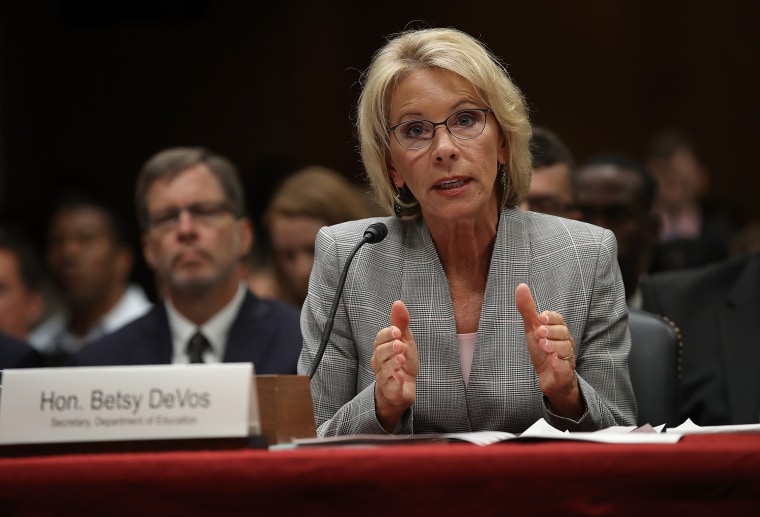 "Since day one, Secretary DeVos has sided with for-profit school executives against students and families drowning in unaffordable student loans," Massachusetts Attorney General Maura Healey, who filed the lawsuit, said in a statement. "Her decision to cancel vital protections for students and taxpayers is a betrayal of her office's responsibility and a violation of federal law."
The Trump administration pledged to stall the implementation of the loan protection rules as a federal lawsuit filed by for-profit colleges in California made its way through court. DeVos has criticized the Borrower Defense Rule as "a muddled process that's unfair to students and schools," and has pledged to review the process.
Related: Why Betsy DeVos Is Riling Up Education Advocates
The Obama administration introduced the new rules following accusations that hundreds of for-profit colleges had defrauded students. For-profit institutions said the rules unfairly target them as applications for loan forgiveness dramatically spiked following the collapse of some high-profile institutions.
"It is the Department's aim, and this administration's commitment, to protect students from predatory practices while also providing clear, fair and balanced rules for colleges and universities to follow," DeVos said in a statement last month announcing the delay of the Borrower Defense Rule.