Democratic officials outside Washington sensed their base's hard turn against cooperating with President Donald Trump more quickly than their counterparts in Washington, leading the charge against the administration's policies in their cities and states.
In a party with a thin bench, Trump is already proving to be an effective foil for outside-the-beltway Democrats who have distinguished themselves in recent days through opposition to the Republican's recent executive orders.
Mayors and state leaders have joined protests, filed lawsuits, and spoken out on national television, unencumbered by the need to vote on Trump's nominees or work with Republicans on legislation.
"In D.C., they have a slogan or executive order that doesn't necessarily affect anyone that they know," Kansas City Mayor Sly James, the president of the National Conference of Democratic Mayors, said in an interview. "We're here. When Washington sneezes, we're the ones that have to find the Kleenex."
The first two major crises of the Trump administration — the backlash to executive orders cracking down on Sanctuary Cities and banning travel from seven Muslim-majority nations, which was halted by a federal judge Friday — have mostly played out in Democrats' home turf of major cities, home to both immigrants and major international airports.
"We're the first line of defense for the people who are feeling insecure," said Denver Mayor Michael Hancock. "We feel the immediate impact in our communities, in term of the uncertainty for the immigrant and refugees."
"Every mayor that you see on television, all of us would rather be on television for other reasons," he added.
Here are some of the mayors, governors, and attorneys general who have emerged as the new Democratic vanguards against Trump and his agenda.
Boston Mayor Marty Walsh
Walsh took plenty of shots at Trump during the campaign, and continued after the president's inauguration by calling his executive orders "un-American." Standing in front of immigrant city workers last week at a press conference, Walsh promised, "You are safe in Boston." "We will do everything lawful in our power to protect you. If necessary, we will use City Hall itself to shelter and protect anyone who's targeted unjustly," he said.
Walsh joined protesters at Logan Airport this weekend and encouraged people to join him at what became a massive protest in Copley Plaza Sunday.
With his thick Dorchester accent, the former union president fuses big city cosmopolitanism with the kind of blue-collar sensibilities that Democrats seem to have lost in recent years.
Up for re-election next year, Walsh ruled out running against Massachusetts Republican Gov. Charlie Baker in 2018, who is popular despite the state's liberal slant. But last week, he left the door open on a future run for higher office.
Los Angeles Mayor Eric Garcetti
Garcetti has taken a softer stance, rhetorically speaking. He spoke with then President-elect Trump by phone and offered to work together in December, leading the Los Angeles Times to warn he was walking a political tightrope in a diverse city and liberal state.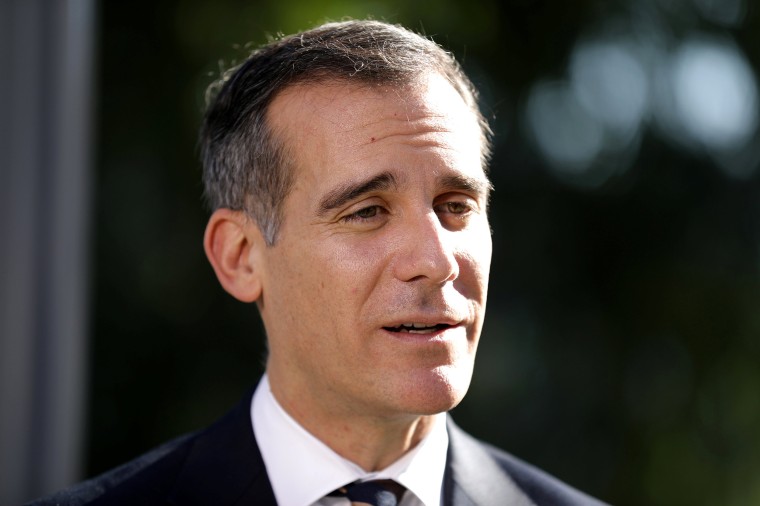 Since Trump's inauguration, Garcetti has embraced his city's status as a stronghold of resistance, even while vowing to work with Trump on his city's bid for the 2024 Olympics and other issues.
Leveraging the power of one of the nation's largest cities, Garcetti warned that Trump's threat to cut off federal funding to cities that protect undocumented immigrants could undermine national security, noting that "40 percent of the nation's goods enter the U.S. at our port, and more than 80 million passengers traveled through our airport last year."
Garcetti, who is widely seen as a possible 2018 candidate to replace term-limited California Gov. Jerry Brown or Sen. Dianne Feinstein if she retires, has been eager to comment on national issues and about the future of the Democratic Party.
Atlanta Mayor Kasim Reed
Opposition isn't just coming from blue states. The mayors of Dallas, Houston and Atlanta have spoken out against Trump's executive orders. Reed joined protests at Atlanta's Hartsfield-Jackson airport, one of the busiest in the world, last weekend.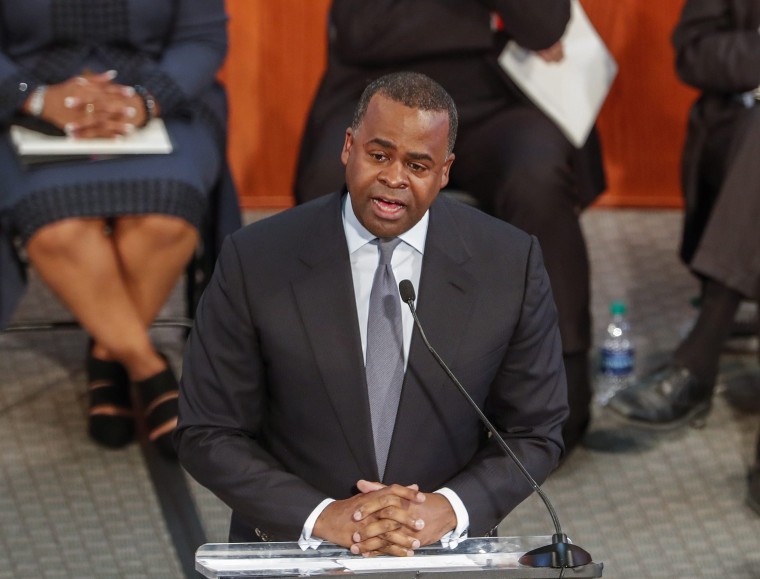 "Atlanta is the leading cultural and economic center of the Southeast precisely because of our legacy of inclusion," Reed said in a statement. "As Mayor, I pledge that Atlanta city government will stand firm in its commitment to inclusivity and diversity, and will remain open and welcoming to all."
Georgia was one of the few states in 2016 that became more Democratic on the presidential level as its population grows more diverse. Reed has said he's "got another campaign in me," though he said it'd be too soon to run for governor in 2018.
Dallas Mayor Mike Rawlings
Any Democrat has limited options for higher office in deep red Texas, which Rawlings will confront when his final term ends in 2019. But Rawlings, the former CEO of Pizza Hut who once said he's "way too fiscally conservative for the Democrats and way too progressive for the Republicans on the social issues," has an unusual profile for a Democrat.
President Obama praised his handling of the shooting of Dallas police officers last year, and Rawlings was outspoken on Trump's executive orders. "On behalf of the citizens of Dallas, we're sorry. We're not that way," he said at a press conference, referring to travelers detained at Dallas-Fort Worth International Airport. (Rawlings is a member of the airport's board.)
"On a personal note, I am a Christian and a Christ follower," Rawlings added. "This is not what the gospel preaches."
Alongside Dallas County Judge Clay Jenkins, Rawlings met with travelers when they were released from detention Sunday. He handed them yellow roses, a reference to the Texas folk song.
New York City Mayor Bill de Blasio
DeBlasio is no stranger to the national spotlight and is hoping to ride the anti-Trump backlash to victory in a tough re-election bid this year. Like other mayors, de Blasio has vowed to fight the Trump administration on its crackdown on undocumented immigrants and countless other issues.
"Are you ready to fight for the values of this city and this country?" the mayor asked a crowd of protesters at New York City's Battery Park last weekend.
But de Blasio is a unique position of potential conflict with Trump as mayor of the city that houses Trump Tower, the "Northern White House" where First Lady Melania Trump and their young son still live.
Massachusetts Attorney General Maura Healy
"I don't wake up every day looking for a way to sue Donald Trump. But we are 10 days in and I've filed three cases already," Healy tweeted Monday night.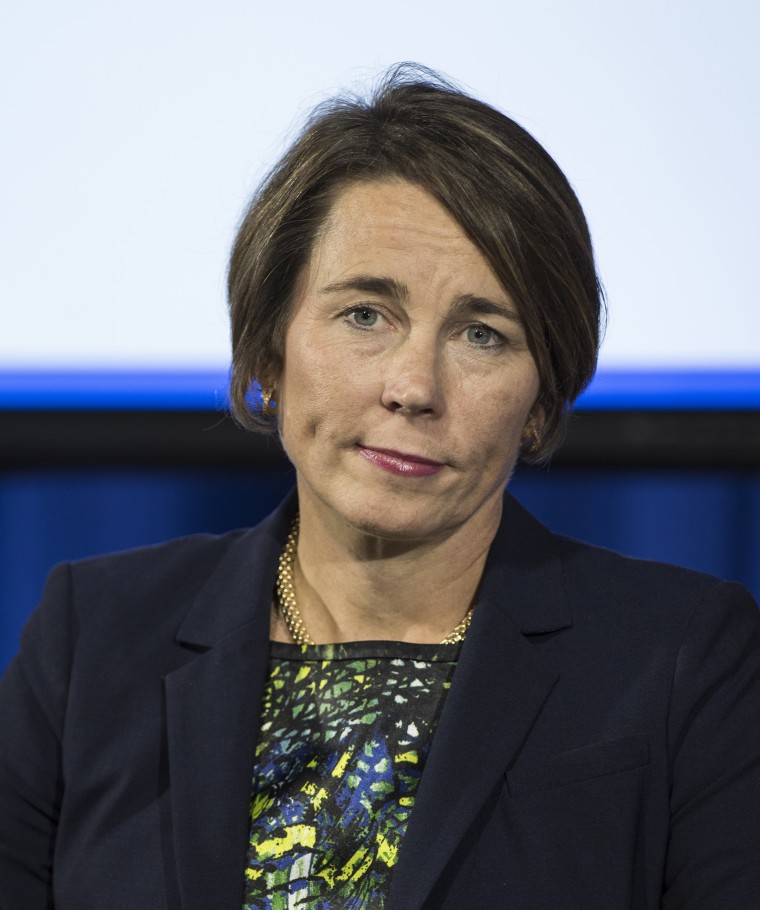 Litigation may be progressives' most powerful tool to fight Trump, and attorneys general in blue states like Massachusetts are competing with each other to be what Texas was for Obama — a source of constant, sometimes damaging legal challenges.
Healy's impressive fundraising has lead to speculation about her 2018 plans, with many Democrats hoping she will challenge Republican Gov. Baker.
New York Gov. Andrew Cuomo
Cuomo, up for re-election in 2018 and already considered a potential White House contender in 2020, has made sure he's been heard among myriad anti-Trump protests.
In the past few days, he's rallied protesters at JFK International Airport, instructed state officials to assist travelers affected by Trump's order and protect protesters, and called for enshrining abortion rights in the state constitution.
"Let the great State of New York serve as a safe harbor for our progressive principles and social justice that made America," Cuomo said in a statement.
Cuomo and Trump will meet on Wednesday to discuss issues of importance to the state, including infrastructure, the one area where Democrats still think there might be some hope of cooperating with Trump.
New York Attorney General Eric Schneiderman
Schneiderman has more longstanding beef with fellow New Yorker Trump than anyone on this list. While Trump once donated at least $12,500 to Schneiderman, the two have feuded publicly since at least 2013, when Schneiderman accused Trump University of fraud in a lawsuit. During the 2016 campaign, Schneiderman probed the Trump Foundation.
Schneiderman, who has offered to help refugees legal aid, has been preparing for potential litigation in several cases: To defend civil rights from federal powers, to defend progressive state laws, and to force federal agencies to enforce progressive laws even if the White House opposes them.
"We're prepared to go to court," he said in an interview.
Schneiderman has long been rumored to be eyeing the governor's mansion, even if it meant challenging Cuomo, who has also been a rival at times.
Washington State Democrats
Gov. Jay Inslee and Seattle Mayor Ed Murray have been outspoken against Trump, and joined several protests in downtown Seattle. "We as a city will stand with immigrants and refugees," Murray said during a 3,000 person rally Monday.
When the Wall Street Journal asked Inslee if he was considering a presidential run, he demurred. "What is the best non-answer to that question that you've ever heard," he said.
And the state's attorney general, Bob Ferguson, filed a lawsuit Tuesday to stop enforcement of Trump's executive order on immigration from seven Muslim countries.