Democratic women on Wednesday led the charge of more than two dozen senators who called on their embattled colleague, Sen. Al Franken of Minnesota, to resign after multiple women accused him of harassment or sexual misconduct.
Sens. Kirsten Gillibrand of New York, Claire McCaskill of Missouri, Maggie Hassan of New Hampshire, Mazie Hirono of Hawaii, Kamala Harris of California, Patty Murray of Washington and Tammy Baldwin of Wisconsin kicked off the stampede on Wednesday, all putting out statements within minutes of one another saying it was time for Franken to go.
By the evening, at least 35 Democrats — including Senate Minority Leader Chuck Schumer of New York — were calling on him to quit, and Franken's office said the senator was planning an announcement from the Senate floor Thursday morning at 11:45. Some fellow Democrats said they believe he will announce he is resigning.
The flood of calls came just one day after Rep. John Conyers, a Michigan Democrat who has also been accused of sexual misconduct, announced he was resigning following calls from leaders in his own party to quit.
Gillibrand was the first woman in the Senate to call on Franken to quit, writing in a lengthy Facebook post that "enough is enough" when it came to her Minnesota colleague.
"While Senator Franken is entitled to have the Ethics Committee conclude its review, I believe it would be better for our country if he sent a clear message that any kind of mistreatment of women in our society isn't acceptable by stepping aside to let someone else serve," she wrote.
Her note was quickly followed by tweets from McCaskill — who posted "Al Franken should resign" — and Hassan, who wrote, "It is clear that Al Franken has engaged in a pattern of egregious and unacceptable behavior toward women."
Within moments, Harris had tweeted, "Sexual harassment and misconduct should not be allowed by anyone and should not occur anywhere" and that "the best thing for Senator Franken to do is step down," while Hirono referred to the choice by Time magazine to name "The Silence Breakers" of the #MeToo movement as its 2017 Person of the Year on Wednesday in calling on Franken to quit.
By noon, three male Democratic senators — Bob Casey of Pennsylvania, Joe Donnelly of Indiana and Sherrod Brown of Ohio — and Democratic National Committee Chairman Tom Perez had joined their female colleagues in saying Franken should resign.
A short time later, Franken's office said the Minnesota senator had planned an announcement on Thursday in Washington, D.C., although it remains unknown what he will say. On Thursday, his office said Franken would deliver a speech from the Senate floor at 11:45 a.m.
Sen. Ron Wyden of Oregon, however, took a stab at what his colleague would be discussing, tweeting, "I expect that Senator Franken will announce his resignation tomorrow."
"It is the right thing to do given this series of serious allegations," Wyden added.
Franken's senior home-state senator stopped short of calling on him to quit but nevertheless predicted he would do the "right" thing.
"This morning I spoke with Senator Franken and, as you know, he will be making an announcement about his future tomorrow morning," Sen. Amy Klobuchar, of Minesota, tweeted. "I am confident he will make the right decision."
An aide to Sen. Elizabeth Warren confirmed to NBC News that the Massachusetts Democrat had recently called Franken to personally urge him to resign.
By nightfall, Schumer added his name to the list, saying in a statement that Franken "has a higher obligation to his constituents and the Senate, and he should step down immediately."
Schumer also personally called Franken Wednesday morning, after a Politico story about another accuser was published, and told his colleague he needed to step down, according to a source familiar with the conversation. In addition, Franken and his wife, Franni, had a long meeting with Schumer Wednesday afternoon in Washington, where Schumer urged Franken to resign.
Multiple women have come forward in recent weeks alleging Franken had harassed them.
In November, Leeann Tweeden, a radio news anchor in Los Angeles, was the first to accuse Franken, alleging that he forcibly kissed her and groped her breasts while she was sleeping in 2006, before he became a lawmaker, at a USO show for service members.
A photograph backed up her accusation.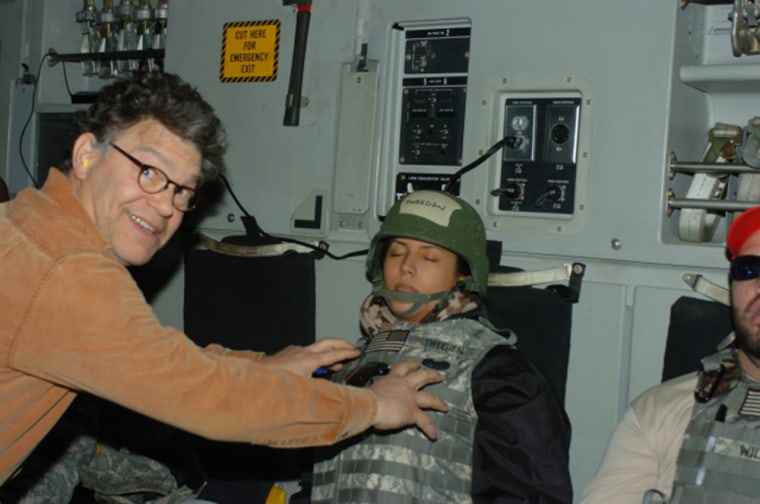 Days later, Lindsay Menz, 33, told CNN that Franken grabbed her buttocks when they posed for a photo together in 2010.
Additional women have come forward in the weeks since with similar allegations, including one who spoke anonymously to Jezebel and described herself as a "former elected official in New England." She alleged that Franken had given her an unwanted "wet, open-mouthed kiss" on her cheek after an interview on his radio show in 2006.
Most recently, Politico reported earlier Wednesday that a former Democratic congressional aide alleged Franken tried to forcibly kiss her in 2006 after taping his radio show. According to Politico, Franken told the aide, "It's my right as an entertainer." Franken has denied that that happened.
Last month, Franken said he was "embarrassed" and "ashamed" and he apologized to supporters and the women who say he groped them; he also said he supported the Senate Ethics Committee investigation into the allegations against him and would cooperate.
But, he added at the time that he "cannot speculate" if more harassment claims would surface. They did.