ORLANDO, Fla. — Andrew Gillum, the black Democratic nominee for governor in Florida, said Wednesday that it was "clear" his GOP rival "is going to join Donald Trump in the swamp" after Ron DeSantis said in a television interview that the state should not "monkey this up" by electing Gillum.
"We're going to leave them there, and we continue to press toward a higher mark," Gillum said Wednesday on MSNBC's "Meet The Press Daily."
Gillum was responding to a comment DeSantis made in an interview Wednesday morning on Fox News when speaking about his newly minted general election rival, a progressive who won his party's nomination in an upset on Tuesday night.
"You know, he is an articulate spokesman for those far-left views and he's a charismatic candidate," DeSantis said. "The last thing we need to do is to monkey this up by trying to embrace a socialist agenda with huge tax increases and bankrupting the state. That is not going to work. That's not going to be good for Florida."
Gillum said later that his opponent, who was met with fierce backlash for his remarks, was trying to divide voters in the state.
"We're better than this in Florida. I believe the congressman can be better than this. I regret that his mentor in politics is Donald Trump, but I do believe that voters of the state of Florida are going to reject the politics of division."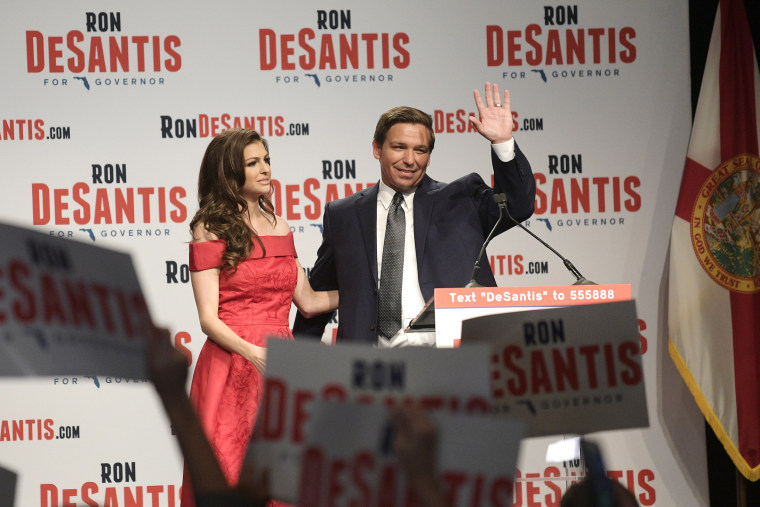 Chuck Todd, the host of "Meet the Press Daily," said DeSantis was invited to appear on the program after making the comment, but declined.
Gillum, who was endorsed by Sen. Bernie Sanders of Vermont and George Soros, is vying to become the state's first black governor. DeSantis was endorsed by President Donald Trump.
Gillum also appeared on Fox News Wednesday afternoon and excoriated DeSantis for the remark, saying the comment was "not lost on me" and was ripped out of Trump's playbook.
"In the handbook of Donald Trump, they no longer do whistle calls — they're now using full bullhorns," Gillum said. "I'm not going to get down in the gutter with DeSantis and Trump, there's enough of that going on, I'm going to try to stay high."
He added, "It's very clear that Mr. DeSantis is taking a page directly from the campaign manual of Donald Trump, but I think he's got another thing coming to him if he thinks that in today's day and age Florida voters are going to respond to that level of derision and division."
Terrie Rizzo, chairwoman of the Florida Democratic Party, said, "It's disgusting that Ron DeSantis is launching his general election campaign with racist dog whistles."
Asked about DeSantis at the White House, Trump said he had not heard the remark.
Historians have noted that using "monkey" and "ape" when referring to African-Americans has racist origins, but a spokesperson for DeSantis told NBC News that his remarks had nothing to do with race.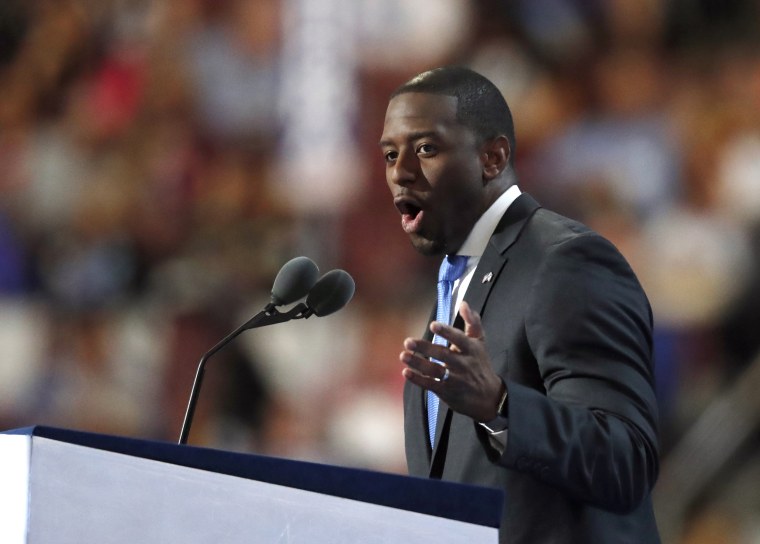 DeSantis communications director said: "Ron DeSantis was obviously talking about Florida not making the wrong decision to embrace the socialist policies that Andrew Gillum espouses. To characterize it as anything else is absurd. Florida's economy has been on the move for the last eight years, and the last thing we need is a far-left democrat trying to stop our success."
Asked for comment on DeSantis' remarks, Gillum spokesman Geoff Burgan said, "As we say in Tallahassee, bless his heart."
The Rev. Jesse Jackson, the civil rights leader, responded to DeSantis' remarks with a one-word tweet:
"We do not condone this language and wanted to make our viewers aware that he has since clarified his statement," Fox News host Sandra Smith said after she had interviewed DeSantis Wednesday morning. She read his clarification on the air.
Dartunorro Clark reported from New York, and Ali Vitali reported from Orlando.