WASHINGTON — The Department of Homeland Security took a critical step Thursday toward building the wall promised by President Donald Trump along the U.S. southern border.
Officials of Customs and Border Protection announced they've awarded contracts to four companies that will build different prototypes — individual examples of what the wall should look like. Once those sections are evaluated, the government will decide which design is best for building hundreds of miles of new barrier along the border with Mexico.
The four companies each proposed concrete walls. DHS expects to announce contracts for four non-concrete wall prototypes next week.
The announced Thursday are: Caddell Construction of Montgomery, Ala.; Fisher Industries of Tempe, Ariz.; Texas Sterling Construction Co., of Houston, Texas; and W.G. Yates & Sons Construction of Philadelphia, Pa.
"This is the first new initiative that adds to our bigger plans," said Ronald Vitiello, acting deputy commissioner of the U.S. Customs and Border Protection.
The prototypes will be 30 feet long and up to 30 feet high. Construction of the prototypes is expected to begin in the coming weeks, and the review process will take between 30 and 60 days, Vitiello said.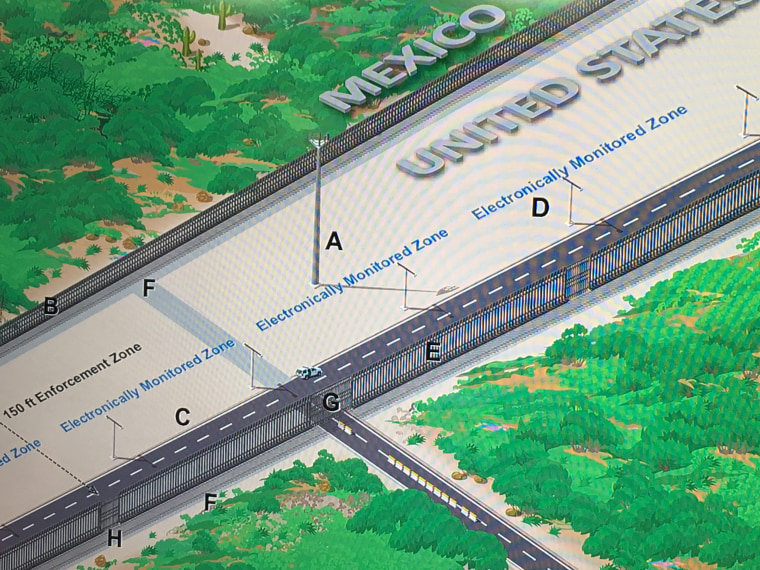 The image above is a border control rendering of what they see as an "optimum border enforcement area" between the U.S. and Mexico. The concrete portion of the wall (E) would sit on the U.S.-facing side of an electronically monitored zone and another barrier (B) facing toward the Mexico side would be transparent enough for officials to see through. The monitoring zone would be about 150 feet wide and alert patrol agents if someone breached the initial border barrier.
"Testing will look at things like the aesthetics of it, how penetrable they are, how resistant they are to tampering and then scaling or anti-climbing," Vitiello said.
Each of the contracts is between $400,000 to $500,000 and is included in the 2017 budget. Funding beyond that is expected to be a partisan battle when Congress returns next week.
Thursday's announcement drew immediate rebuke from immigration activist groups and some Democrats who have long opposed the wall.
"The administration's misguided insistence that a border wall must be built is an affront to the just demands of border communities to revitalize and not militarize our region," Christian Ramirez, director of the Southern Border Communities Coalition and Human Rights Director of Alliance San Diego, said in a statement.
Trump said in June that the wall might include solar panels to generate electricity. "We're talking about the southern border — lots of sun, lots of heat. We're thinking about building the wall as a solar wall, so it creates energy and pays for itself. And this way, Mexico will have to pay much less money," he said.
Earlier this year, DHS said the contracts would be awarded by early June, with the prototypes built in July. But internal issues and a protest filed by a company that did not receive a contract delayed the process.
Customs and Border Patrol has already concluded that roughly 130 miles along the border won't require any wall because lakes or high mountain ranges provide a natural barrier.
White House Chief of Staff John Kelly told Congress in April, when he was serving as Homeland Security Director, that the wall would likely not run across the entirety of the border and could partially be fencing.
"It's unlikely that we will build a wall or physical barrier from sea to shining sea. But it is very likely, I'm committed, to putting it where the men and women say we should put it," Kelly said at the time.
The administration's 2018 budget seeks $1.8 billion to begin building new sections of the wall and replace existing ones. That would include money to build 28 miles of levee wall in the Rio Grande Valley and 14 miles of new wall to replace fences south of San Diego.
White House officials have suggested that the entire wall project could cost between $8 and $12 billion, but internal DHS assessments suggest the cost could be higher — as much as $21 billion.