Federal investigators might have reason to examine whether Donald Trump Jr., the eldest son of the president, broke campaign finance law when he attended a meeting with a Russian lawyer who he believed would offer damaging information about Hillary Clinton, legal experts told NBC News.
Trump Jr., who has claimed that there was nothing untoward about the meeting last summer, may have violated a federal statute that says a political campaign cannot "knowingly solicit, accept, or receive" any "contribution or donation" from a foreign national, experts said.
No expert consulted by NBC News would be in a position to know whether potential campaign finance law violations are now part of the federal Russia investigation, and key facts about the meeting are still unclear.
But nearly all the experts said Trump Jr. was apparently legally vulnerable under regulations governing how U.S. elections are funded, rather than the accusations being tossed around by Democrats that might have engaged in espionage or treason.
Related: Russian Lawyer Veselnitskaya Says She Didn't Give Trump Jr. Info on Clinton
"I think that's the most important legal issue and where he's most legally exposed," said Ryan Goodman, a law professor at New York University who served as special counsel to the Defense Department in 2015 and 2016.
The furor around the meeting intensified Tuesday after the release of an email exchange in which Trump Jr. is told by Rob Goldstone, a music publicist with ties to Russia, that he would be meeting with a "Russian government attorney."
The attorney, Goldstone said, had "information that would incriminate Hillary [Clinton] and her dealings with Russia and would be very useful to your father." That information, he added, was "part of Russia and its government's support for Mr. Trump."
Related: This Is the Man Who Connected Trump Jr. to Russian Lawyer
In his emailed response, Trump Jr. appeared enthusiastic about the prospect of getting his hands on the material. "If it's what you say I love it especially later in the summer," he said. The meeting with the lawyer, Natalia Veselnitskaya, took place on June 9, 2016, two days after Donald Trump Sr. became the presumptive Republican presidential nominee.
Democrats in Congress insisted Tuesday that the email chain suggested collusion between the Trump campaign and the Russian government during the 2016 presidential election. Federal investigators, led by special counsel Robert Mueller, are examining that big-picture possibility. But the more relevant, and specific, legal issue swirling around the meeting might be whether Trump Jr. ran afoul of campaign finance regulations, legal experts said.
"There's a strong case that Donald Trump Jr. violated the prohibition on knowingly soliciting a contribution from a foreign national," said Brendan Fischer of Campaign Legal Center, a nonpartisan campaign finance reform group.
The relevant statute — 52 U.S.C. 30121, 36 U.S.C. 510 — bars foreign nationals from making any "contribution or a donation of money or other thing of value" in connection with any election. It also says no American "shall knowingly solicit, accept or receive from a foreign national any contribution or donation" in connection with any election.
In an exclusive interview with NBC News, Veselnitskaya denied being linked to the Russian government.
Kremlin officials said Monday that they were unfamiliar with her. But "even if [Veselnitskaya] was not acting on behalf of the government," Fischer said, "she would still meet the definition of a foreign national."
The legal experts who spoke to NBC News broke down some components of the statute. Here's an overview:
The ban on 'contributions' could apply to the Clinton information
It's worth noting Veselnitskaya said the purpose of the meeting was to discuss U.S. sanctions on Russia, telling NBC News that she "never had any damaging or sensitive information about Hillary Clinton." What's more, there has been no suggestion that Veselnitskaya offered financial support to the Trump campaign.
But a "contribution" doesn't mean just cash, Fischer said. "It could mean anything of value provided to a campaign, and opposition research does appear to be something of value."
Fischer added that the FEC has signaled that the definition of "contribution" should be considered broadly when it comes to the statute.
There is some disagreement, however.
"The argument that's being made [by some lawyers] is that providing dirt on Hillary Clinton is a thing of value," said James A. Gardner, a professor at the University of Buffalo who specializes in election law. "It is a thing of value, but I don't think it's the kind of thing that a campaign finance statute is aimed at regulating."
Richard Briffault, a law professor at Columbia University who specializes in campaign finance, appeared to fall somewhere in the middle. He said it's an "open question" whether information about Clinton qualified as a "contribution" — but the statute itself, he went on to say, is "clearly not limited to money."
It may not matter whether Trump Jr. got any info
Trump Jr. has said the meeting — which was also attended by the president's son-in-law, Jared Kushner, and his former campaign manager, Paul Manafort — provided no useful information about the Clinton campaign. In a statement, Trump Jr. said Goldstone was spot-on when he described the meeting as "the most inane nonsense I ever heard."
But to "violate the solicitation aspect of the law," Fischer said, "the contribution doesn't actually have to be received. The solicitation itself violates the law."
The purported email chain that preceded the meeting, in which Trump Jr. said he would "love" to get damaging information on Clinton from a woman described to him as a "Russian government attorney" somehow involved in a Russian government effort to aid his father, "seems very incriminating," said Goodman, the NYU professor.
Related: Read Full Emails of Donald Trump Jr. Setting Up Meeting
"Let's imagine the Russian lawyer is an undercover FBI agent," Goodman said, laying out a purely hypothetical scenario. "That agent was never really going to give him anything of value. But the issue, ultimately, is what he did in response to that email. And that comes very close to solicitation."
Trump Jr.'s newly appointed lawyer, Alan Futerfas, said Monday that "Don Jr. had no knowledge as to what specific information, if any, would be discussed" in the meeting.
What happens next?
Richard Painter, who served as chief ethics lawyer under President George W. Bush from 2005 to 2007, said a potential violation of campaign finance law was just one of several legal storms Trump Jr. could face. He said the son of the president might be "legally vulnerable" on questions of espionage, for example.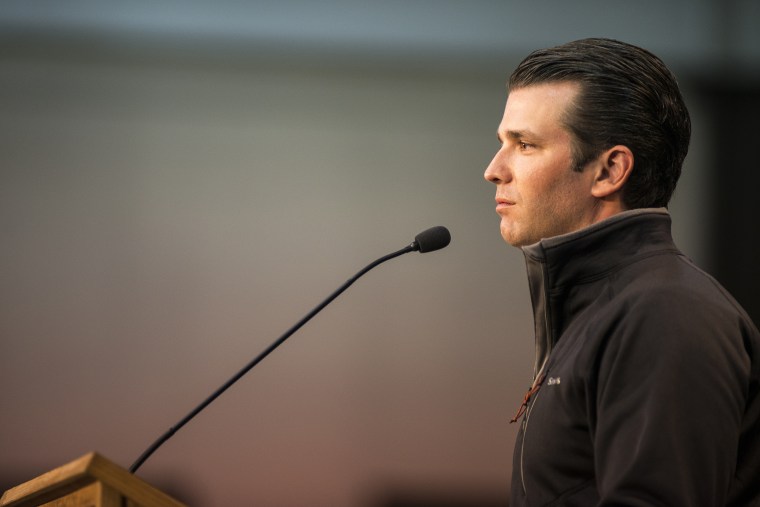 And several Democratic lawmakers suggested Tuesday that the scope of the larger Russia investigation had widened after the latest revelations. Clinton's vice presidential running mate, Sen. Tim Kaine, D-Virginia, went so far as to say the investigation is "moving into perjury, false statements and even into potentially treason."
Related: Trump Campaign Meeting Raises Question: Is Collusion Even a Crime?
If Trump Jr. is found to have knowingly and willfully violated campaign finance law, Fischer said, the Justice Department could issue criminal penalties.
"But I would suspect that, in this instance, where there's a special prosecutor leading an investigation into all things Russia, that responsibility would probably fall with him," Fischer said.
Goodman, the NYU professor, said Trump Jr. may have hurt his own case by appearing to have changed his story since Saturday, when The New York Times first reported news of the meeting.
"His lawyers have to be thinking about the shrinking set of options he has," Goodman said.