In a party still reeling from its November losses and healing from a divisive presidential primary, Minnesota Rep. Keith Ellison is hoping his background as the only candidate who supported both Bernie Sanders and Hillary Clinton will convince members of the Democratic National Committee that he's best positioned to unite the party as its next chairman.
In his race against Labor Secretary Tom Perez, a Clinton ally, Ellison could have positioned himself as either a bridge builder looking to mend the party or a radical reformer promising to tear down the DNC -- the target of so much ire from Sanders supporters -- and build it back up again in their image.
Ellison chose the former, hoping to reassure skittish Democratic insiders who are worried about a Sanders takeover of their party. "Unity is the key," he said recently on Twitter. And Clinton allies have taken notice.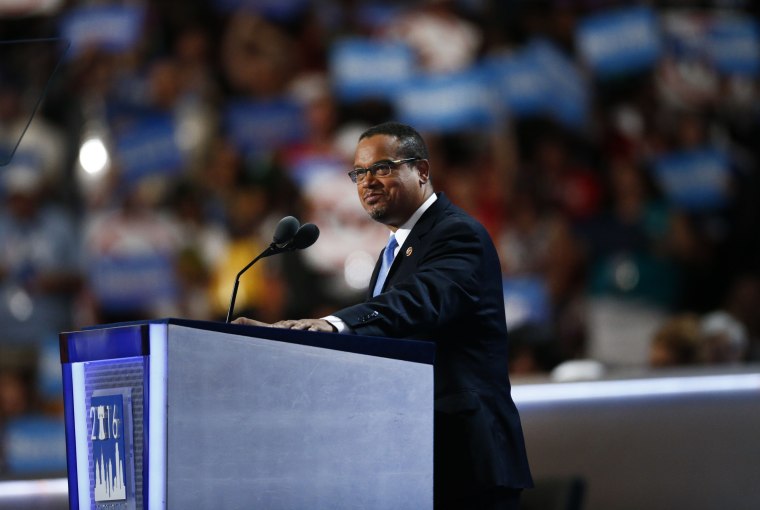 Longtime Clinton aide Neera Tanden, who runs the Center for American Progress, a liberal think tank, worked with Ellison to help draft the Democratic Party's platform in meetings where she represented Clinton and he Sanders.
"I saw him as a very constructive voice in the platform process. And it was very apparent he was working hard to unite the party," said Tanden, who is staying neutral in the DNC Chair race and not endorsing any candidate.
The platform drafting process occurred during the tense late stages of the primary, before Sanders officially dropped out of the race and while many of his supporters, resentful about the DNC's handling of nominating contest, urged their candidate to keep up the fight.
"There were definitely Bernie delegates who were more negative," said Tanden. "He was working throughout that process to bridge divides between Sanders voters and Clinton."
The platform drafting process occasionally erupted in turmoil over the Israeli-Palestinian issue, trade policy, fracking, and other matters, with Sanders supporters in the audience staging walkouts and disruptive protests during a two-day meeting in Orlando, Florida.
One Clinton operative who helped manage the meeting for the campaign said Ellison was one of the few people who had credibility in both camps. Ellison participated in a number of conference calls with delegates from both campaigns and tried to help each side understand the other's point of view. "I don't think anyone worked harder than Keith Ellision to unify the party prior to the convention," said the operative, who was not authorized to speak on the record.
Ellison allies tout endorsements from New York City Mayor Bill de Blasio, Clinton's former campaign manager; Senate Minority Leader Chuck Schumer, Clinton's former fellow New York senator; and Lee Saunders, the president of a major public sector union that supported Clinton.
However, Sanders, who remains one of Ellison's most vocal backers, has been less conciliatory, and some Sanders allies have taken direct shots at Perez.
"What you need right now is a total transformation of the Democratic Party...and I know that's what Keith Ellison believes," Sanders told Chuck Todd on MSNBC's "Meet the Press Daily" Thursday. "Keith Ellison is the candidate of real change in the Democratic Party and I strongly support him."
Others from the Sanders wing have been even more aggressive, taking shots at Perez and the Democratic establishment. Many Democrats say Ellison's momentum has slowed among the 447 voting members of the DNC, who cast the only votes that matter in this contest, in part over lingering concerns and resentments about Sanders.
Still, American Federation of Teachers President Randi Weingarten, an active supporter of both Clinton and Ellison, said the congressman is the right choice to bring the party together.
"Its no secret that the AFT was enthusiastically behind Hillary Clinton's campaign for the presidency. And while Keith backed Bernie during the primary, when Hillary won the nomination, I saw him pound the pavement for Hillary like any true organizer would. He knocked on doors, he made calls, and he campaigned for her across nine states," Weingarten said.
Weingarten was also involved in the platform drafting process, where she put forward a number of amendments in Orlando, and said Ellison was "instrumental in bringing together Hillary's ideas and Bernie's to form the most progressive platform in party history."
Martha Laning, the chairman of the Wisconsin Democratic Party, who is also supporting Ellison, took notice of the work Ellison did for Clinton in her state, which was largely ignored by the Clinton campaign.
"He came to Wisconsin twice to campaign for Hillary Clinton after being an early Bernie supporter," said Laning, "He knew then that we needed help uniting the grassroots with the Democratic Party and speaking to Midwest and rural Democrats who felt left behind. It's that kind of vision and understanding that makes him the perfect choice for DNC Chair."