CLAREMONT, N.H. — Donald Trump's supporters are the best — at least, that's the way he's been telling it at recent rallies.
Tuesday evening in chilly New Hampshire, Trump was late to the stage but quick to tell his supporters just how good he knows they are and how his supportive base can take states that other Republicans couldn't even dream of winning. "My people are the most intelligent people," he said. "And you know what else? They're the most loyal of the people."
An NBC News/Survey Monkey poll in fact, suggests that Trump supporters, once decided, are likely to stay with him. Fifty-one percent of respondents said they were "absolutely certain" that they will vote for Trump. Supporters on the trail often say there's nothing he could say that would make them turn against Trump or change their minds.
And he knows it. "Did you see? One of the things that came out in the one poll, nobody's ever leaving me," he explained to the crowd that braved the New Hampshire winter night to come see him. "I could be the worst person in the world, they're not leaving." Even if Trump did "some really inappropriate things, my people stay. I love you people. I love you."
Trump continued his assessment of those who plan to vote for him on February 9th in the New Hampshire primary: "I'm winning with the smart people, I'm winning with the not-so-smart people, too. I'm winning with everything."
While most polls don't ask voters their IQs, we do know that Trump is winning among those voters that don't have a college degree. The business mogul frequently touts his Ivy League education and the fact that he attended University of Pennsylvania's Wharton School of Business.
Prior to the event Trump issued a broadside against rival Ted Cruz questioning the Texas senator's citizenship, but on the stump Trump didn't utter Cruz's name. Instead, he merely invoked him when talking about others in the Republican field that were co-opting Trump's ideas on illegal immigration and border security.
"Every time somebody says 'We want a wall,' remember whose idea that was please. Cause you know when this person said the other day, and again I'm not gonna mention the name of the person, but when this person said three, four days ago 'the wall,' I said shouldn't he give me some credit? They don't give – politicians do not give credit."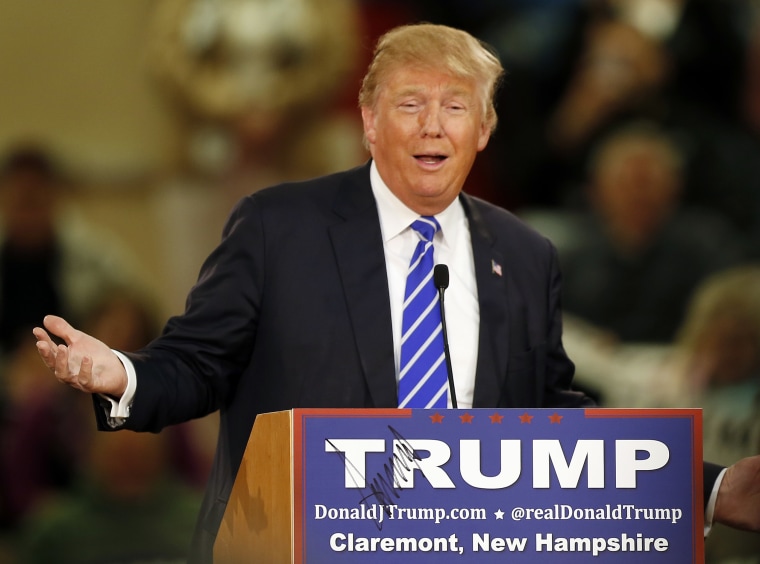 The long-standing Republican frontrunner also alleged Tuesday night that if his plan for taking Iraqi oil after the Iraq War would've been heeded, ISIS would not exist. "I've said take the oil for years," Trump repeated his oft-used refrains. "Now they're doing it! If you did it three or four years ago, you wouldn't have ISIS."
Trump articulated his vision of a conservative leader — "a president with heart" — one he said may not match the typical Republican prototype but one he says America needs. "You have to take care of people that can't take care of themselves, folks," Trump explained. "I know a lot of us are Republicans and conservatives, but we still have to take care of people that take — you know, we have to have a heart."
Trump sees a revival of so-called compassionate conservatism as a way to bring about wins in states that typically vote for Democratic presidential candidates.
Trump's current focus is on pressing voters in early states to help him run up the score, but he's also looking ahead to the general election — and sounding confident. "Having a mandate is so important … we want to run the table. And I want to start focusing on Hillary, because I honestly think, in a certain way, that's gonna be easier. We have a little bit of a structural disadvantage with the way the states line up and everything else but we'll get states that nobody thought in terms of Republicans."
What states, exactly? In California, Trump thinks he'll do "just fine," as well as in his native New York. "A poll came out today. I do really well in New York. I mean, you know I'm from New York. We may win in some areas and states that they never even thought possible."
In an interview with FOX News' Sean Hannity, Trump also said he thought he would do "fantastically" in Pennsylvania and Ohio, and he predicted he would win Florida.
And while Trump may project that he's winning everything from a polling perspective, he isn't always leading in the court of public opinion. Trump has previously taken heat for not reprimanding and condemning voters for expressing their often-controversial feelings about public figures, including President Obama. Tuesday night, Trump mockingly reprimanded a voter who called Obama a Muslim and another who responded to Trump's rhetorical question about where Hillary's been between her events, saying she was in the bathroom.
"Oh, I'm supposed to reprimand the man," Trump reminded himself sarcastically. "How dare you, okay? …Now the press can't be angry."