President Donald Trump's adult sons, Donald Jr. and Eric, punched back at Jeb Bush early Thursday, slamming their dad's former rival after he took a perceived shot at their relationship with their father.
Bush told an audience at Yale University on Wednesday that, following his exit from the 2016 presidential race after a loss in the GOP South Carolina primary, he "went home to my children that actually love me."
His remarks were reported on by the Yale Daily News. The newspaper noted, in a correction, that Bush did not refer to Trump by name in that particular remark, but that several audience members interviewed said they had interpreted the comments as being directed at Trump. The paper also noted that Bush criticized Trump directly at other moments in the speech.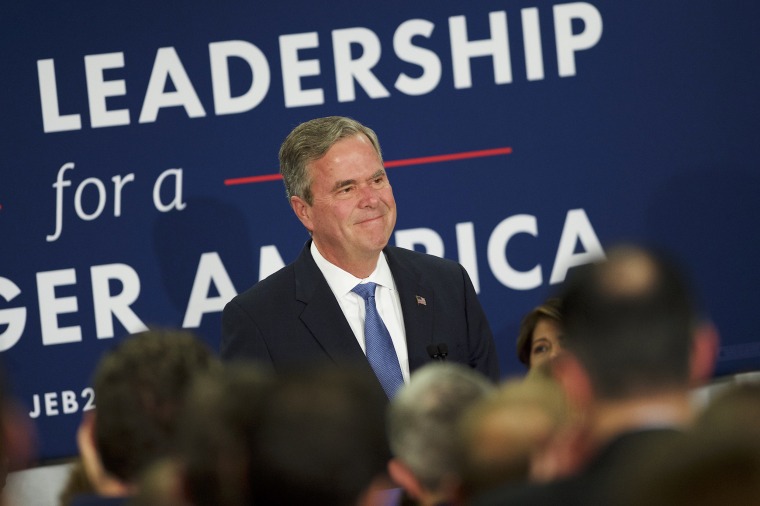 Trump's sons, however, interpreted the dig as an attack on their bond with their father, and took to the president's favorite platform to make their anger known.
"Jeb! I love everything about my father. I love that he's a fighter, I love that he has guts, I love that he's President (all those things you're not)," tweeted Donald Trump Jr., before taking aim at Bush's campaign loss.
Eric Trump also said he loved his father in a Twitter post, adding "#PleaseClap." The hashtag references an infamous comment Bush had made on the campaign trail, pleading for an audience to clap for him.
Donald Trump frequently targeted Bush during the presidential campaign, even bestowing the former Florida governor with the unflattering nickname "Low-energy Jeb."