Calls to a national hotline for victims of sexual assault surged Thursday, the day Christine Blasey Ford testified before the Senate, detailing allegations that she was sexually assaulted by Supreme Court nominee Brett Kavanaugh.
The Rape, Abuse & Incest National Network announced that the number of calls to its National Sexual Assault hotline surged by 201 percent Thursday.
"We often see an uptick when sexual assault is in the news," RAINN spokeswoman Sara Mcgovern said in a statement. "For example, last weekend, from Friday to Sunday we saw a 57 percent increase compared to an average Friday to Sunday. Since Dr. Ford has come forward with her allegations, we have seen a 45.6 percent uptick compared to the same time period in 2017."
Similar increases are being seen at local rape crisis centers that work with the National Sexual Violence Resource Center, according to the group's communications director, Laura Palumbo.
"What we're been hearing a lot from survivors in our online community is that it's been a difficult 24 hours for them," Palumbo told NBC News. "The focus of the news cycle on sexual assault has been really challenging and, for many individuals, triggering."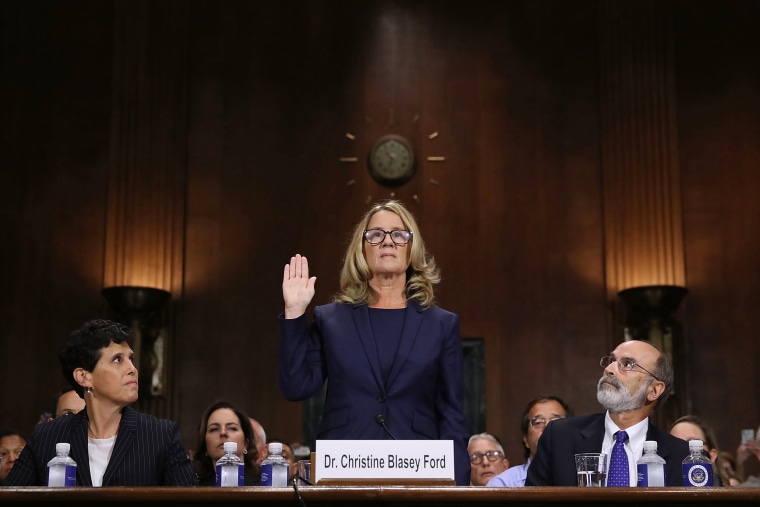 And the implications of those numbers significantly changed over the course of Thursday's televised hearings as the momentum seemed to swing between respect for Ford's testimony and sympathy for Kavanaugh's angry pushback, said Columbia Law School professor Katherine Franke.
Despite the partisan rancor on display Thursday, the Senate Judiciary Committee voted 11-10, along party lines, on Friday to bring the Kavanaugh vote to the Senate floor next week.
"I think many people woke up to the reinforcement of what has always been their intuition: That you won't be believed, you will be mocked, and that your own personal health is better preserved by keeping it to yourself," said Franke, who is the director of the Center for Gender & Sexuality Law.
Franke said that the Republican handling of the allegations shows how far Washington is lagging behind the corporate world in adapting to the changes brought about by the #MeToo movement in the past year — and a reminder of just how little has changed there since the Anita Hill testimony in 1991.
"This is not over with the vote," said Franke. "The spectacle that we saw in the Judiciary Committee will have long term consequences for many of us."