Rep. Keith Ellison's bid to chair the Democratic National Committee regained momentum Thursday with a key endorsement from the AFL-CIO, even as outgoing Labor Secretary Tom Perez moves closer to a potential challenge.
Ellison's boost followed days of rough headlines for the progressive Minnesota lawmaker, who on Wednesday reversed course by promising to resign his seat in Congress if he wins the party post.
With Democrats out of power at all levels of government, it's an important choice at a tumultuous time. The next chairman will have to unite a party fractured by loss and at the nadir of its power. But they'll have the opportunity to lead its comeback and be recognized for it.
Ellison has been the front-runner in the race since it started last month. And former chairman Howard Dean's recent decision to withdraw from the contest eliminated Ellison's best-known rival, leaving two little-known state party chairs as his main opponents.
But last week's attacks on Ellison's past comments about Israel, including accusations of anti-semitism from the Anti-Defamation League and one of the party's biggest donors, show that Ellison is not a lock for the job.
Powerful forces in the party establishment are pushing for alternatives to Ellison, who was one of Bernie Sanders's most vocal supporters in the presidential primary against Hillary Clinton.
Their efforts have focused particularly on Perez, an Obama White House and Clinton favorite who on Wednesday said he is "seriously considering" a run. A decision will come "in short order," he told reporters in New York City.
Allies expect an announcement in the next few days from Perez, who is alternatively considering a challenge to Maryland Republican Gov. Larry Hogan in 2018. With the holiday season looming, Perez is up against the clock to make a decision before politicking slows for the rest of the month.
While the race has clear ideological undertones, those involved say the contest at this point is more about the tactical skills, cheerleading abilities, and political loyalties each candidate offers, rather than their policy visions. After all, the DNC's job is to elect Democrats, not tell them what to believe -- and that's especially true when Democrats' main task is opposing President-elect Donald Trump.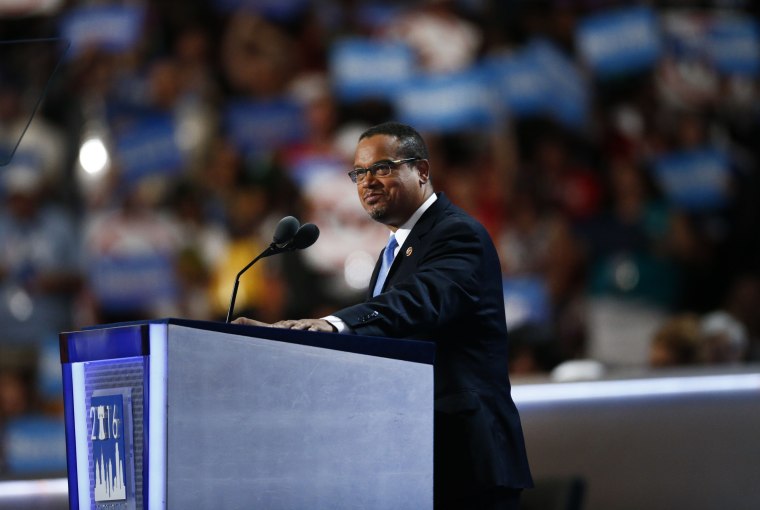 The next chair will be selected strictly by the few hundred political insiders who sit on the national committee, making the decision an imperfect statement about the state of the party as a whole.
Still, it's one of the first major decisions the party will make about its future after Clinton's devastating loss and an indicator of a broader power struggle between progressives and the establishment -- though Ellison has managed to secure key support from all sides.
To overcome his endorsement deficit, Perez allies are counting on the fact that while Ellison may be unacceptable to some, Perez is generally liked by all, even progressives for whom he is not their first choice.
Still, Ellison's advantage grew Thursday when AFL-CIO President Richard Trumka announced that the executive committee of his federation, which includes fifty-six national unions representing more than 12 million members, voted "overwhelmingly" to endorse Ellison.
"He is a proven leader who will focus on year-round grassroots organizing to deliver for working families across America. Under his leadership," Trumka said in a statement.
The endorsement comes with an asterisk, critics note, as Ellison's name was the only one on the AFL-CIO endorsement ballot. Trumka gave voters just three options: Support Ellison, make no endorsement, or abstain.
Harold Schaitberger, the president of the firefighters' union, blasted the endorsement in a letter to Trumka, calling it a "contemptible...attempt at a coronation." Schaitberger, whose union less progressive than others, added that the outcome "will not be the 'unified endorsement' that you hope to proclaim."
Still, the AFL-CIO is the biggest endorsement prize among organized labor, and one that Ellison allies hope will head off a potential challenge from Perez, who is also well liked by unions.
And it's a welcome addition to Ellison's already long list of backers, which also includes nine senators or senators-elect, 20 members of Congress, six state party chairs or vice chairs, and several powerful union heads who supported Clinton over Sanders.
Ellison cleared away a major hurdle Wednesday when he vowed to resign his congressional seat if he's made DNC chair. The chief criticism of Ellison's bid had been concerns about him dividing his time and loyalty between the two jobs.
"Whoever wins the DNC chair race faces a lot of work, travel, planning and resource raising. I will be 'all-in' to meet the challenge," Ellison said in announcing his decision.
Critics viewed the move, which came after Ellison repeatedly insisted he could do both jobs, as a sign of weakness following a week of attacks on his past comments about Israel.
Haim Saban, an Israeli-American billionaire who has been one of the DNC's biggest donors for years, called Ellison an "anti-Semite and anti-Israel individual" after old quotes and columns surfaced of Ellison defending controversial Nation of Islam leader Louis Farrakhan and criticizing Zionism.
"Keith Ellison would be a disaster for the relationship between the Jewish community and the Democratic Party," Saban said.
Meanwhile, Anti-Defamation League President Jonathan Greenblatt called Ellison's comments in the old video, which was unearthed and edited -- defends say unfairly -- by a right-wing activist, "deeply disturbing and disqualifying."
Prominent Jewish and Israeli allies of Ellison mobilized to defend him against what they call a smear campaign against the Muslim-American congressman, who long ago distanced himself from more radical positions of his youth.
"These allegations are nothing more than a part of the recent wave of allegations against the Left and against Muslims that have become so popular, and every one of them needs to be dismissed," said Tamar Zandberg, a member of the Israeli Knesset who attested to Ellison's support for her country.
Ellison allies claim the flare up has not so far cost them much support, and no major figures have withdrawn their endorsements.
Still, it's rattled his team and could contribute to a larger concern among Democrats that Ellison is a lightning rod whose personal profile might distract from his ability to drive all Democrats' message.
The election will not be held until February, but the candidates will meet four times before then for regional candidate forums held in Phoenix, Houston, Detroit, and Baltimore.