He's a brash talker with big hair who appeared on "Celebrity Apprentice," was under federal investigation for years, and whose supporters say was the victim of a "witch hunt."
And now former Illinois governor Rod Blagojevich may get his prison sentence cut short by President Donald Trump.
"I am thinking about commuting his sentence. He's been in jail for seven years, over a phone call where nothing happens. But over a phone — where nothing happened. Over a phone call where — which, you know, he shouldn't have said what he said, but it was braggadocio, you would say," Trump told reporters on Air Force One Wednesday night.
Trump was referring to wiretapped conversations where Blagojevitch was caught on tape trying to sell off the U.S. Senate seat in Illinois that Barack Obama vacated when he was elected president.
"It's a f-----g valuable thing," the Democratic then-governor was heard saying in a recording of a phone call played in court. "You just don't give it away for nothing."
Trump told reporters "it was the same gang — the [fired FBI Director James] Comey gang" and "all these sleazebags" who were responsible for Blagojevich's prosecution.
"I think he was treated very, very unfairly, just as others were," Trump said. In a tweet on Thursday, Trump called Blagojevich's sentencing "severe" and confirmed that the White House is "continuing the review of this matter."
But Comey was in private practice at the time of Blagojevich's arrest. Another top Trump target, Robert Mueller, was in charge of the FBI then and the federal conspiracy case against Blagojevich was about much more than a phone call.
Blagojevich, a former state representative and U.S. congressman, was elected to the first of his two terms as Illinois governor in 2002, "based on a promise to restore integrity and trust in government," prosecutors noted in court papers.
His predecessor, Republican George Ryan, was convicted on fraud, racketeering, bribery, extortion and money laundering charges and sentenced to six and half years in prison.
Prosecutors said Blagojevich and others working for him began "a pattern of racketeering activity" soon after he took office, using the powers of the governorship in "exchange for financial benefits for themselves and others."
He was arrested in late 2008 for trying to profit from selling off Obama's senate seat, and was impeached in January 2009 after he refused to resign.
He embarked on a lengthy media tour to try to rehabilitate his image, which included signing up as a contestant on Trump's reality show "The Celebrity Apprentice" in 2010. He was "fired" after four episodes after bungling a Harry Potter presentation.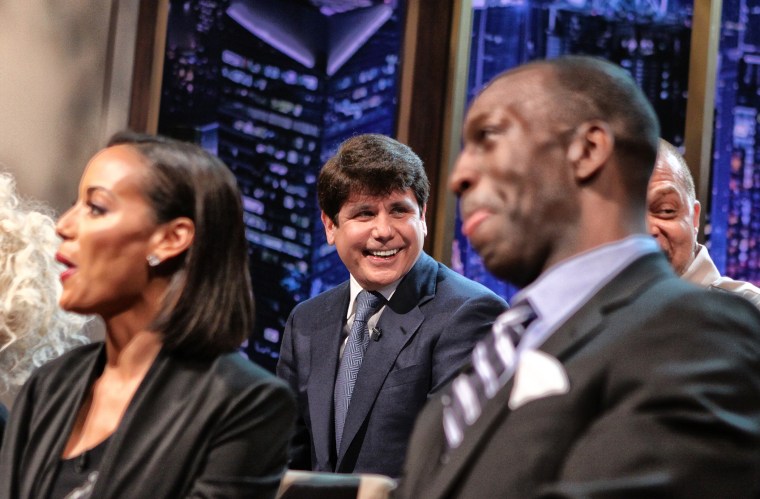 Blagojevich was convicted in Chicago federal court later that year on one of 24 felony counts against him — lying to the FBI about the extent of his involvement in campaign fundraising. Jurors deadlocked on the other counts.
At his 2011 retrial, he was convicted of three separate shakedown attempts — one involving a children's hospital, one involving a racetrack, and one involving the Senate seat.
The hospital scheme involved allegations he'd delayed a state action to repay pediatric doctors more quickly because the head of the hospital wasn't giving him the campaign contributions he wanted.
The racetrack scheme was similar — he delayed implementing legislation that would benefit racetrack owners in a bid to force one owner to make good on a $100,000 campaign pledge.
The third and most notorious charge was his effort to profit from the senate seat vacancy. Prosecutors said that scam had multiple parts — including considering a plan to appoint Obama friend Valerie Jarrett as Senator in hopes of a job in Obama's cabinet, and discussing plans to appoint a congressman if donors would give Blagojevich's campaign $1.5 million despite the fact that he wasn't even running for re-election.
At his trial, Blagojevich said he considered appointing himself to the Senate seat, and then going off to Afghanistan to hunt down Osama bin Laden.
He was convicted of 17 counts and sentenced to 14 years in prison, which he and his supporters say was too harash a sentence. The judge, James Zagel, said he needed to send a message.
"The harm here is not measured in the value of property or money," Zagel said. "The harm is the erosion of public trust in the government."
The judge noted Blagojevich received a lighter sentence than 15-20 years that prosecutors had asked for because the former governor accepted responsibility for his actions at his December 2011 sentencing hearing.
"I caused it all," he said then. "I was the governor and I should have known better. I am just so incredibly sorry."
He's since filed appeals of his conviction, and successfully got some charges vacated by the Seventh Circuit Court of Appeals. The appeals court voided some of the convictions related to the Obama Senate seat because the "the jury instructions did not separate political horse trading from extortion and similar crimes," differentiating the act of offering a Senate seat in exchange for political favors versus cash.
Prosecutors declined to retry him on those counts, but urged the judge not to reduce the sentence because doing so would "send entirely the wrong message to other public officials who would consider violiting the law and the public's trust by exchanging official acts for money." The judge let the 14 year sentence stand.
After accepting responsibility at his sentencing, Blagojevich has maintained his conviction was unfair in emails and letters from behind bars.
His wife, Patti, has repeatedly gone on Fox News to plead for the president's help, maintaining her husband was the victim of corruption by "the Obama Justice Department" and "Mueller and Comey."
Trump has shown pity for Blagojevich before.
After telling the then-Apprentice contestant that, "You're fired," Trump turned to two assistants and said, "I feel badly for him. He tried, but I feel badly. It's pretty sad."