WASHINGTON — A Russian court on Tuesday extended American journalist Evan Gershkovich's pre-trial detention by about three months, until Aug. 30.
The Wall Street Journal reporter was detained in Yekaterinburg in March on espionage charges, which he, his employer and the U.S. government deny. If convicted, he could face up to 20 years in prison.
"By the decision of the Lefortovsky District Court of Moscow dated May 23, 2023, the term of detention in respect of Evan Gershkovich, accused of committing a crime under Article 276 of the Criminal Code of the Russian Federation, was extended for three months and one day, that is, until August 30, 2023," the court decision read.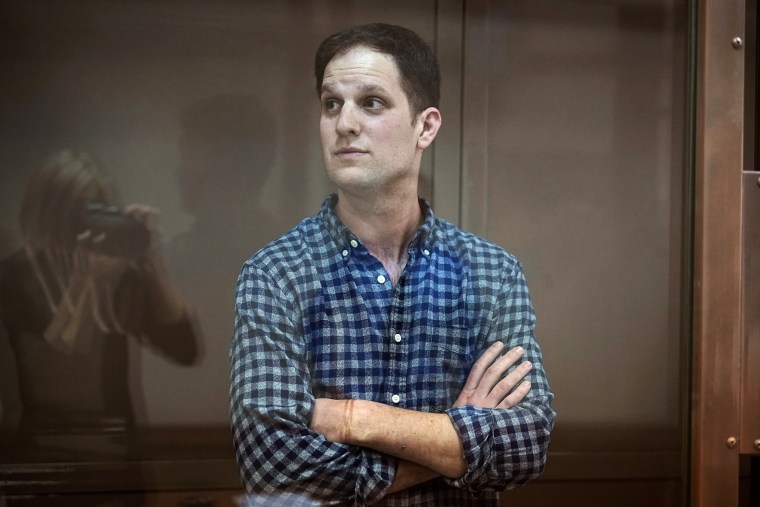 The decision comes after a Moscow court upheld Gershkovich's pre-trial detention in April.
The Wall Street Journal said in a statement that Gershkovich had appeared for a pre-trial hearing on Tuesday. "While we expected there would be no change to Evan's wrongful detention, we are deeply disappointed," the newspaper said. "The accusations are demonstrably false, and we continue to demand his immediate release."
U.S. Embassy officials were able to attend the hearing, according to the State Department, but it was not immediately clear whether they had they had the opportunity to speak with Gershkovich. Russia has previously denied embassy requests for consular access, including on May 11 and May 25. U.S. Ambassador Lynne Tracy was able to visit Gershkovich in mid-April, weeks after his arrest.  
"We once again call on Russia to comply with their obligation to provide consular access to him," State Department spokesperson Matt Miller told reporters. "The claims are against Evan are baseless and we continue to call for his immediate release as well as for the immediate release of Paul Whelan."
Gershkovich's parents were also present at the hearing, although the State Department did not help to arrange their travel.
The U.S. Embassy in Moscow repeated calls for Gershkovich's release and objected to Russia denying consular visits, saying it was "deeply concerned" by the decision to prolong the reporter's pretrial detention.
Last month, the Biden administration designated Gershkovich as wrongfully detained, moving his case to the State Department's Office of the Special Presidential Envoy for Hostage Affairs, which will allow the government to use additional resources to secure his release.
Gershkovich's colleagues at the Journal reacted to the court's decision on Twitter.
"A horribly disappointing development as we continue to wait for justice for our @wsj colleague," wrote reporter Melissa Korn.
"RELEASE EVAN NOW," tweeted reporter Joe Flint.
Earlier this month, Secretary of State Antony Blinken demanded Gershkovich's release in a statement for World Press Freedom Day.
"Far too many governments use repression to silence free expression, including through reprisals against journalists for simply doing their jobs," Blinken said. "We again call on Russian authorities to immediately release Wall Street Journal reporter Evan Gershkovich and all other journalists held for exercising freedom of expression."
President Joe Biden discussed Gershkovich in his White House Correspondents Dinner remarks last month, saying the reporter had "absolute courage."
"We're working every day to secure his release, looking at opportunities and tools to bring him home," Biden told attendees. "We keep the faith."