President Donald Trump has attacked NFL players and NBA greats for kneeling during the national anthem before games. But Major League Baseball has avoided similar treatment — because its players have shied away from politics and protest, former MLB commissioner Bud Selig told NBC News.
If MLB players had opted to join other athletes in protesting racism and police brutality, the league would have been subject to Trump's criticism, Selig said.
"But fortunately we didn't," he said in a phone interview, adding that at the height of the NFL player protests in 2017 baseball was already well through its regular season schedule. "And our players just immediately stood. We have no recalcitrant people."
Selig, 84, who was commissioner or acting commissioner from 1992 to 2015 and is now the sport's commissioner emeritus, is on tour promoting "For the Good of the Game," a book about his more than six decades in baseball. Speaking about the intersection of baseball and politics, Selig said the sport should not go out of its way to be political.
"Baseball is a social institution, and I used to talk to the clubs about that at every meeting and I believe that," he said. "Now, let me just say at the outset that social institutions, as you know, are not perfect, and I'm not suggesting that we are. But I'm proud of the role baseball has played, whether it was in 9/11 or other instances where we've had an opportunity to do something. But, I mean, should we go out of our way to be involved in political things? No, no."
Still, he said, "I don't think we're less willing to play a role in things in this country than the other sports are."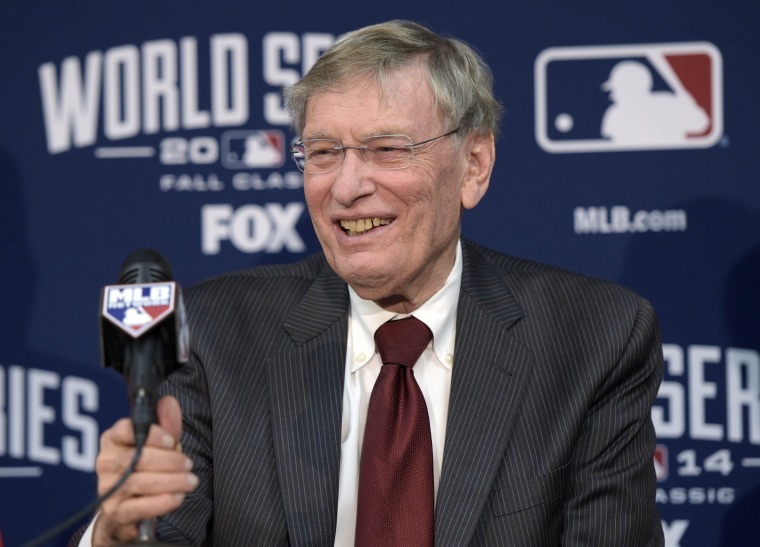 Only one player, then-Oakland A's catcher Bruce Maxwell, took a knee during the national anthem in 2017. Afterward, MLB said in a statement that it has "a longstanding tradition of honoring our nation prior to the start of our games," but "we also respect that each of our players is an individual with his own background, perspectives and opinions." Separately, the A's said in a statement that they "respect and support all of our players' constitutional rights and freedom of expression" and "pride ourselves on being inclusive."
This spring, a number of Boston Red Sox players abstained from visiting the White House to celebrate the team's World Series victory last fall. Trump did not publicly call out the players who chose not to attend.
Elsewhere in the interview, Selig touched on one of his proudest moments as commissioner — President George W. Bush's throwing out the ceremonial first pitch during Game 3 of the World Series in Yankee Stadium in New York in the aftermath of the 9/11 terrorist attacks. Selig noted just how "extraordinary" the atmosphere inside Yankee Stadium was for that pitch, saying there was "no question" it was one of the most powerful moments in U.S. history.
He also addressed the Trump administration's decision to scuttle a landmark Obama-era transfer agreement allowing Cuban baseball players to play on MLB teams without having to first defect from the nation. While Selig said he did not know whether there was a real chance at reviving the Cuba agreement, he noted how long it took to put that deal in place.
"In 1999, I took a team to Cuba. Peter Angelos, the owner of the Orioles, set it up. We played the Cuban national [team] and we met with Fidel Castro. We had dinner with Fidel Castro. Went through a lot," Selig said. "They brought a team here the next year, and so I thought we had something working, but it turned out it didn't."
The White House has since opened the door to revisiting that decision if MLB can push Cuba to reduce its cooperation with the Venezuelan government. And as for why Trump has yet to thrown out a ceremonial first pitch as president, Selig couldn't say.
"You know, every president has," Selig said. "I have a lot of presidents throwing out the first ball."