President Donald Trump and members of his administration, who are eager to have parts of the economy restarted, have insisted that a robust contact tracing program to contain future outbreaks of the coronavirus is in place — even as public health experts warn the system is flawed and states are still largely unprepared.
"Our blueprint describes how states should unlock their full capacity, expand the number of testing platforms, establish monitoring systems to detect local outbreaks, and conduct contact tracing. We have it all," Trump said on April 27.
"We've gotten good at tracing," he claimed days earlier, during a news briefing on April 23. In the same briefing, Centers for Disease Control and Prevention Director Dr. Robert Redfield said he was confident in the country's plan to isolate people who test positive for COVID-19, the disease caused by the virus, and trace all their contacts so that those people can be tested and isolated.
Contact tracing, the time consuming process of tracking down the associates of people who test positive for viral contagions, is seen as key to a safe reopening.
But with some states moving to roll back lockdown restrictions absent a vaccine or a clear-cut treatment for the disease that has killed more than 60,000 in the United States, a number of public health experts have said Trump is painting an overly rosy picture, and that the country's underfunded patchwork of contact tracing systems isn't ready to handle the challenge of a pandemic.
"We don't have the scale that we need — we don't have even close to the scale we need," Crystal Watson, a senior scholar at the Johns Hopkins Center for Health Security and an assistant professor at the Johns Hopkins Bloomberg School of Public Health, told NBC News.
She was one of the lead authors on a study that found, in estimate, the nation will need at least 100,000 contact tracers and $3.6 billion in funding to respond to the coronavirus pandemic.
Watson said technology can make contact tracers more effective — Google and Apple made headlines with efforts to team up and build a contact tracing app — but it doesn't eliminate the need for a massive army of public health workers.
Two former federal public health officials — Andy Slavitt, who oversaw Medicare and Medicaid in the Obama administration, and Dr. Scott Gottlieb, who headed up the Food and Drug Administration under Trump — have called on Congress to allocate $12 billion that states could use to hire up to 180,000 contact tracers as part of a larger, $46 billion public health investment proposal. Dr. Tom Frieden, a former head of the CDC, has estimated the country needs 300,000 contact tracers.
"This is the major tool we have to control the spread — it's what allows us to open up safely," Watson said. Without it, she said, big surges are likely.
"It's possible that because of that, we'll have to go back under stay-at-home orders," she said.
States take the lead, but major obstacles such as scaling and funding remain
The Trump administration has said states should lead on combating the coronavirus, including testing and tracing, and experts agree that contact tracing is best done by local health officials.
But tight state and local budgets pose challenges and states' capabilities and plans pale in comparison to the need identified by experts.
In an interview, Slavitt estimated that there are just 7,000 contact tracing employees in the country right now.
"Testing without contact tracing doesn't do any good — it's not going to keep the economy open," he added. "The reality is you need to do both."
The CDC has 600 public health officials working with states on tracing, according to NPR, and plans to add 650 more. The news organization reached out to the 50 states, Puerto Rico and the District of Columbia to evaluate the country's contact tracing workforce. According to NPR, 41 states and D.C. responded, revealing a current total of 7,602 contact tracing workers and an expectation for that number to surge to 36,587 overall amid a hiring push.
Only North Dakota currently has enough contact tracers to meet the state's need, according to NPR's analysis.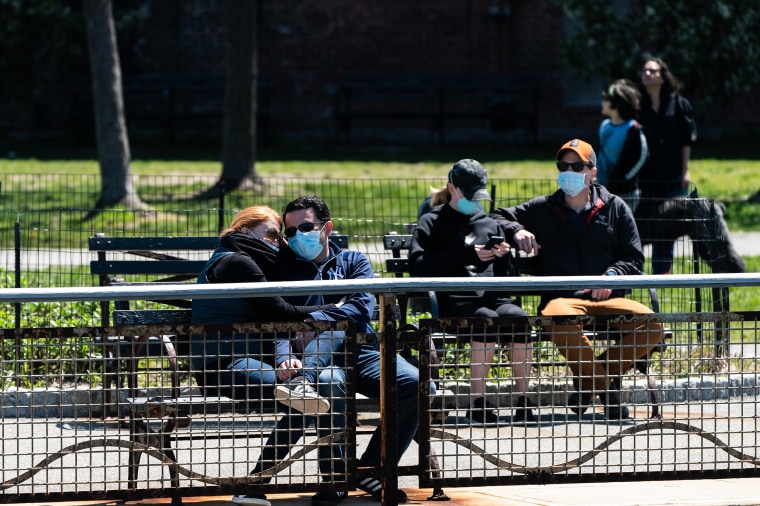 "It's not rocket science to do it on an individual basis, the problem is the scale. Yesterday, we tested 4,681 people who were positive," New York Gov. Andrew Cuomo said during his Thursday news briefing. "How do you now communicate with 4,681 people, trace back all the people they've been in contact with over the last 14 days — close contact — and contact those people? That is an overwhelming scale to an operation that has never existed before."
Cuomo said he needs a baseline of 6,400 to 17,000 tracers for his state, and outlined a plan to begin building this "tracing army" from existing city and state employees, as well as hiring new people.
"And by the way, we need it tomorrow," he said.
Logistical issues that come with large-scale tracing aside, both Slavitt and Watson said the federal government would need to put some serious money behind contact tracing, as states are unlikely to be able to foot the bill.
The latest coronavirus aid bill signed by the president last week earmarked $11 billion for states' testing and tracing efforts, but Slavitt said the bulk of it would likely be spent on testing. He and Gottlieb, who resigned from the Trump administration last March citing a desire to spend more time with his family,are talking with the White House and briefing congressional committees about their proposal.
"We've got to get out of this cycle of being behind the pandemic and chasing it and get ahead on it," Slavitt said.
A patchwork approach will yield mixed results
A variety of initiatives and methods are underway in states and cities, highlighting big differences in both budgets and strategy.
Massachusetts is hiring armies of contact tracers, while Washington state is reportedly building a contact tracing team with public health employees, volunteers and National Guard members. Utah, North Dakota and South Dakota have launched initial versions of contact tracing apps. Michigan announced it would train volunteers to do the tracing, before canceling a company contracted to organize and coordinate the work when political ties to Gov. Gretchen Whitmer were noticed. West Virginia is also hoping to use volunteers, while Texas is reportedly offering $17-22 an hour for the work.
In New York, former Mayor Mike Bloomberg is heading up a contact tracing effort backed by his own philanthropic organization that will benefit his state, and, he said Thursday, develop a broader "playbook" that will be made publicly available.
And while Bloomberg's money and charity are fueling a system that includes New York City, Atlanta Mayor Keisha Lance Bottoms told MSNBC this month that her city doesn't have the budget to fund a massive contact tracing operation.
"Like so many entities across this country, we are facing a budget shortfall in the city of Atlanta," she said in an interview.
Experts note that contact tracing efforts can easily be undermined if neighboring areas are not tracing and containing contacts as aggressively. The concept is both time- and resource-intensive.
"Contact tracing is a tried and true public health intervention; it's been around for decades," Josh Michaud, an associate director for global health policy at the Kaiser Family Foundation, said. Decades ago, he worked as a contact tracer in Baltimore, primarily trying to stop the spread of syphilis.
He explained that a contact tracer is given the information of a positive case and is then tasked with interviewing that person about their contacts.
"For coronavirus, you'd be asking them, 'Where have you been for the last 14 days? Who have you been in close contact with — within six feet for more than 10 minutes?' You can get a lot of people who meet the definition of close contact or almost nobody," he said.
Then, the contact tracer reaches out to those people to see if they're experiencing symptoms.
"If you do find another case," he said, "then that's a whole new investigation."