The fallout over Russian election interference, which had already become a major distraction for a flailing Trump White House, has grown more ominous.
First, a story the White House had embraced as a shield — that House Intelligence Committee chairman Devin Nunes got secret intelligence information from a "whistleblower" that "somewhat" vindicated Donald Trump's discredited claim that his predecessor wiretapped him — unraveled.
Then, a lawyer for Trump's fired national security adviser, Lt. Gen. Michael Flynn, announced that he had "a story to tell." A Congressional official told NBC News Flynn was seeking criminal immunity to do so.
"You're finally getting the intersection between the counterintelligence investigation and the cover up," said MSNBC contributor Naveed Jamali, a reserve Navy intelligence officer who went undercover for the FBI to help catch a Russian spy.
Rep. Nunes dropped a bomb last week when he declared to the news media that a secret source had provided him intelligence reports suggesting that Trump and his associates had been "monitored" by U.S. intelligence during the transition. The California Republican immediately went to the White House to brief the president, who told reporters he felt that Nunes had bolstered his wiretapping claim.
House Speaker Paul Ryan said Nunes told him his source was "a whistleblower."
But the story immediately began to fray when Nunes acknowledged he couldn't be sure Trump was monitored. And on Thursday, it collapsed altogether after the New York Times and the Washington Post reported that Nunes received his information from White House officials, who found it on classified systems and shared it with the chairman outside the normal committee channels.
Related: Mike Flynn Asks for Immunity, 'Has a Story to Tell'
NBC News hasn't confirmed those reports, but current and former officials say that, once Nunes admitted he visited a secure room in the White House — as he did earlier this week — it became clear that White House officials played a role in providing him information.
After telling Bloomberg columnist Eli Lake earlier in the week his source was "not a White House staffer," Nunes told him Thursday: "I did use the White House to help to confirm what I already knew from other sources." Lake said Nunes misled him.
Two former top officials at the White House National Security Council told NBC News that it had to have been an NSC insider who originally accessed the intelligence reports that were handed to Nunes. No one from another agency would have been able to log on to the computer at the White House secure room, known as the SCIF, they said.
Current and former officials added that a very small number of people at the NSC would have access to reports drawing on NSA intercepts that included "incidental collection" of Americans, as Nunes said he had been shown. Most of those people are career intelligence officials.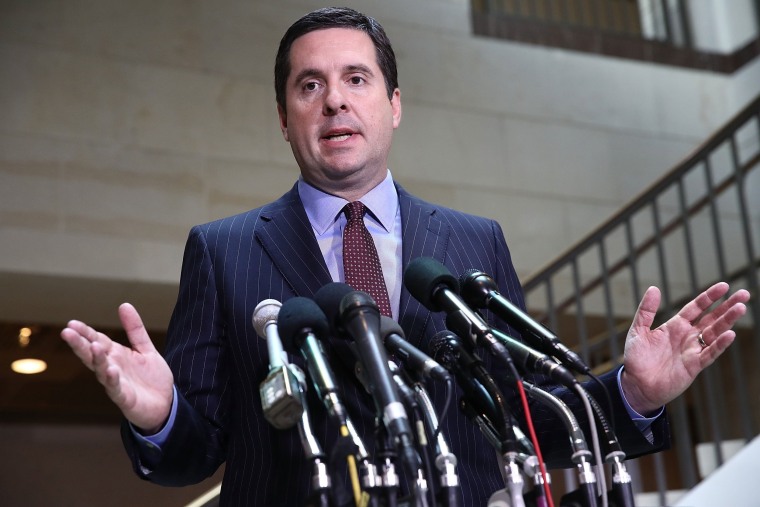 "There is a very small subset of people at the NSC who could even pull up stuff that is related to incidental collection," one former official said.
One political appointee who would have the access, they said, was, Ezra Cohen-Watnick, chief of the intelligence directorate, who was identified by the Times and the Post as having been involved in providing information to Nunes. He did not respond to a phone message left by NBC News.
Trump's national security adviser, H.R. McMaster, sought to remove 30-year-old Cohen-Watnick from his job at the request of CIA officials, U.S. officials told NBC News. But Trump intervened to save him.
The Times reported that an NSC lawyer, Michael Ellis — who until recently worked for Nunes as counsel to the House Intelligence Committee — was also involved. "I'm not talking about anything," Ellis told NBC News Friday morning.
And the Post reported that the top NSC lawyer, John Eisenberg, played a role. Eisenberg also declined comment. "I have nothing to say," he told NBC News.
The White House and Nunes declined to confirm or deny the accounts. But the White House announced Thursday it would provide to the House and Senate intelligence committees documents pertinent to their inquiry into whether "U.S. person information had been mishandled and leaked."
Officials did not say this was the same information Nunes disclosed, but it was widely assumed to be.
Why didn't the White House simply send that sort of information to the committees, instead of leaking it, if the reports are correct, to Nunes alone? One possible reason, experts told NBC News, is that the reports show nothing scandalous, despite Republicans suggesting they do.
Rep. Pete King, a Republican who said he spoke to Nunes, told Fox News that "There were telephone conversations apparently between foreigners, the surveillance of those conversations was very legitimate."
Some of the foreigners were talking about Trump and his associates, he added, and their identities may not have been properly shielded as required by law.
But former NSA director Michael Hayden and other experts told NBC News that sort of "incidental collection," is common, and sometimes the identities of the Americans are needed to understand what the foreigners are talking about.
The Flynn development, meanwhile, could be a major break in the investigation into Russian election meddling. Flynn, removed from his job for lying to the vice president, could be in trouble over his statements about his conversations with Russia's ambassador to the U.S., which were monitored by the FBI. He also failed to register as required as a lobbyist for the Turkish government, doing so only recently "under pressure" from the Justice Department, according to the Associated Press.
"General Flynn certainly has a story to tell," Flynn's lawyer, Robert Kelner, said in a statement, "and he very much wants to tell it."
But, he added: "No reasonable person, who has the benefit of advice from counsel, would submit to questioning in such a highly politicized, witch hunt environment without assurance against unfair prosecution."