Former U.S. Ambassador to Ukraine Marie Yovanovitch, a central figure in the impeachment investigation into President Donald Trump, retired from the State Department on Friday after three decades in the foreign service, a person familiar with her plans confirmed.
Yovanovitch testified in the U.S. House of Representatives that her reputation was smeared by Trump's lawyer Rudy Giuliani, who seized on disinformation that she had been badmouthing the president and blocking corruption investigations into former Vice President Joe Biden and his son Hunter Biden.
She denied all the allegations under oath, and her colleagues have testified that she was the victim of disinformation tactics that had been used on U.S. officials for years.
Yovanovitch, who was recalled from her post last year, had most recently been serving as a senior State Department fellow at Georgetown's School of Foreign Service, although she was not teaching classes this semester. The retirement was first reported by NPR.
She had been a foreign service officer for 33 years and served in six presidential administrations, four Republican and two Democrat.
She was appointed as an ambassador three times, twice by President George W. Bush and once by President Barack Obama. She served as ambassador to Kyrgyzstan, Armenia and then Ukraine during her career.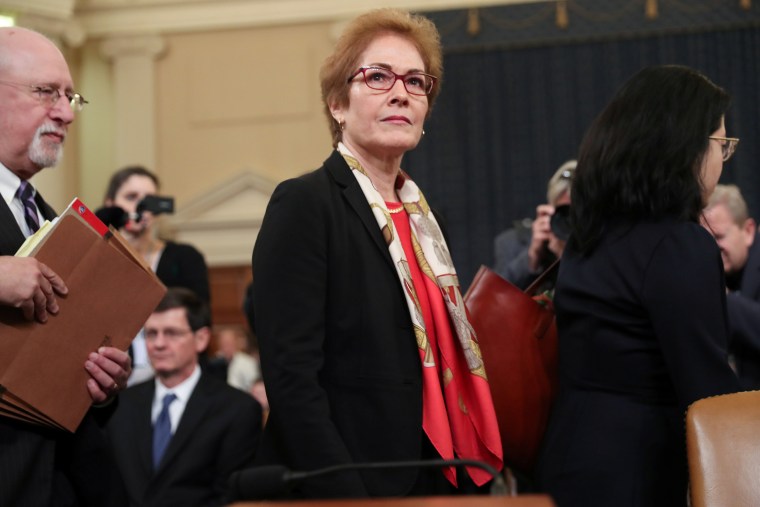 Indicted Giuliani associate Lev Parnas has said that Trump ordered Yovanovitch's removal at a dinner after Parnas said he told the president that she had been bad-mouthing him, and that the president ordered her fired several times before she was recalled.
Parnas told MSNBC's Rachel Maddow earlier this month that he was sorry for having believed Yovanovitch had bad-mouthed Trump and regrets certain things he did, "like hurting the ambassador."
Parnas said the effort to get the Ukrainians to announce an investigation involved the Ukrainian energy company Burisma, on whose board Hunter Biden served during his father's vice presidency.
Parnas said the effort was "all about" the Bidens and "never about corruption." He also said the Burisma inquiry was the sole reason Yovanovitch was recalled. "That was the only motivation," he said.
In the impeachment trial Friday, the Senate failed to pass an effort to call witnesses and his acquittal in the Republican-controlled chamber seems likely next week.
The articles of impeachment allege Trump abused the power of his office to pressure Ukraine's president to announce investigations into the Bidens for his own political gain, and obstruction of Congress.