Former Arizona Sheriff Joe Arpaio, who once boasted of being America's toughest sheriff, has been convicted of criminally disobeying a court order to stop arresting immigrants solely on the suspicion that they were in the country illegally.
The conviction Monday marks a final rebuke for a politician who once drew strong popularity from his immigration crackdowns. A vocal supporter of President Donald Trump during the 2016 election campaign, he was cheered by supporters for building tent cities to house immigrants in detention and forcing them to wear pink underwear.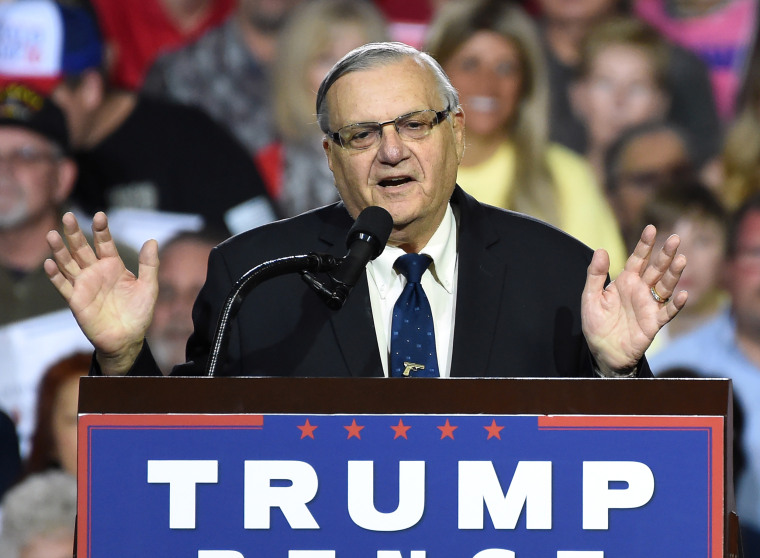 But last November, Arpaio was booted from office amid voter frustrations over his deepening legal troubles and through organized campaigns against him.
In her ruling issued in Phoenix, U.S. District Judge Susan Bolton found Arpaio guilty of misdemeanor contempt of court for willfully violating a 2011 order from another federal judge to end the immigration arrests on suspicion.
"Not only did defendant abdicate responsibility, he announced to the world and to his subordinates that he was going to continue business as usual no matter who said otherwise," the judge said in her ruling.
Bolton set Arpaio's sentencing for Oct. 5. The 85-year-old faces up to six months in jail, though attorneys who have followed the case doubt he'll be incarcerated.
Latino leaders saw the ruling as a hit on the use of racial profiling for immigration enforcement, even though the ruling did not focus on that aspect of Arpaio's methods.
RELATED: Judge: Sheriff Joe Arpaio Violating Order to Stop Racially Profiling Latinos
"While this guilty verdict cannot repair the damage and chaos Sheriff Arpaio brought upon so many Latino families, it is heartening to see that in the end, he could not escape that same justice system he undermined to push forward an agenda rooted in bigotry at the expense of public safety," said Janet Murguía, president and CEO of UnidosUS, formerly the National Council of La Raza.
U.S. Rep. Ruben Gallego, D-Ariz., said Bolton's ruling exposed Arpaio's immigration policies as "a racially-motivated breach of justice" in which Arpaio encouraged deputies to improperly interrogate "good hardworking people," even after he was ordered to halt the practices.
Rep. Raul Grijalva, D-Ariz., added that Arpaio sowed fear for 24 years in Latino communities and "tarnished the public's confidence in our law enforcement."
"He knowingly abused his authority for years," Grijalva said in a statement.
Monday's ruling comes out of years of litigation that began with a class action civil suit filed in 2007 by the American Civil Liberties Union over traffic stops by Arpaio and his officers that were based on racial profiling of Latinos.
Bolton's ruling didn't deal with the racial profiling issues, but her decision in the criminal contempt case arose from the ACLU's racial profiling case.
Last year, U.S. District Judge Murray Snow found Arpaio had ignored several court orders, including the order to overhaul the sheriff's office tactics. Snow ruled him in civil contempt and also referred the case to the Justice Department for potential criminal contempt prosecution.
The ACLU called Arpaio's conviction a vindication for "the many victims of Joe Arpaio's immigration policies."
"Joe Arpaio learned his lesson the hard way – no one, not even America's so-called toughest sheriff, is above the law."