President Donald Trump has not received the job approval rating that past presidents enjoyed when starting out as leaders of the free world, according to a polling data released Friday. In fact, it is historically low.
Trump's approval rating sits at 40 percent — 21 points lower than the average for presidents in the February of their first term, according to a Gallup poll comparison. It is also 11 points lower than Bill Clinton''s, who had held the previous low after one month in office with an approval rating of 51 percent, Gallup said.
Gallup conducted the poll weighing Trump's approval rating from Feb. 13 to Feb. 15 and compared it to Gallup polls conducted at similar times in the first term of the past nine presidents. Gallup surveyed 1,527 adults, and the poll carries a 3 point margin of error.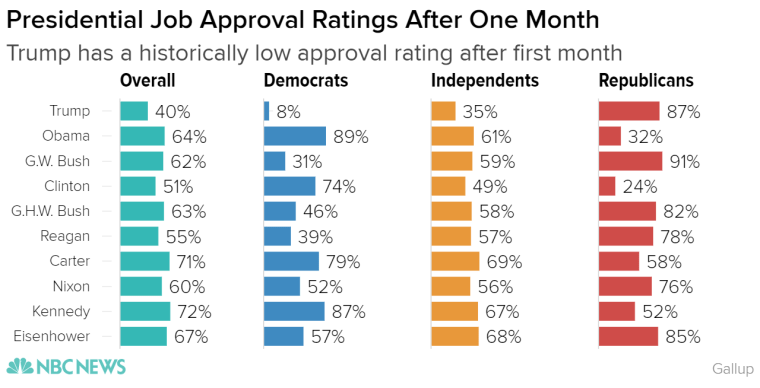 Trump sees the majority of his support coming from his own party — 87 percent of Republicans approve. Only eight percent of Democrats and 35 percent of independents approve of the former real estate mogul.
Gallup's daily poll, which is based on a three-day rolling average, has Trump's approval rate at 38 percent and his disapproval rate at 56 percent, with a 3-point margin of error.
Related: Trump's First Month Has Been Anything But a 'Fine-Tuned Machine'
Gallup polling when Trump first entered office showed an approval rate of 45 percent. The weeks since then were filled with a blistering pace of activity in the new White House.
Trump has attempted to fulfill his campaign promises: Restrictions on entry to the U.S. of nationals from seven predominantly Muslim nations, which he said is due to terrorism concerns; an executive action to build a border wall with Mexico; orders to advance the Dakota Access and Keystone pipelines; and an order aimed at rolling back requirements of Obamacare.
According to Trump's Twitter account, he is unperturbed by his shrinking approval numbers. Earlier this month, the president claimed without evidence that "any negative polls are fake news."