White House Chief of Staff John Kelly's remarks that a "lack of an ability to compromise" is what led to the Civil War — failing to mention the deep divide caused by slavery — is being picked apart by some historians who say the former general needs to reconsider the facts.
"It shows the durability of certain mythologies and certain narratives that people don't want to give up," said David Blight, director of Yale University's Gilder Lehrman Center for the Study of Slavery, Resistance, and Abolition. "If you can say this and believe it, then you don't have to think about slavery."
Kelly was a guest Monday on Fox News' "The Ingraham Angle," and made a number of statements that drew condemnation on social media.
Kelly was responding to host Laura Ingraham, who asked him about the decision by an Episcopal church in Alexandria, Virginia, to remove plaques honoring President George Washington and Robert E. Lee, the Confederate general who surrendered to the North before the Civil War ended.
The removal this year of Confederate monuments in towns across America has created a rift between some who see them as important tokens of Southern heritage and others who view them as outdated relics that are racially insensitive.
"I would tell you that Robert E. Lee was an honorable man. He was a man that gave up his country to fight for his state, which 150 years ago was more important than country," Kelly said.
"It was always loyalty to state first back in those days. Now it's different today," he added. "But the lack of an ability to compromise led to the Civil War, and men and women of good faith on both sides made their stand where their conscience had them make their stand."
Bernice King, the daughter of civil rights activist Martin Luther King Jr., later tweeted that Kelly was "irresponsible" to "make the fight to maintain slavery sound courageous."
Blight called it "profoundly dangerous" for Kelly to suggest people during the time of the Civil War, which lasted from 1861 to 1865, were loyal to their state over their country.
"Did all those millions of Northerners fight because they went with their state? No, they were trying to preserve the union. They were fighting for their country," Blight said.
Related: John Kelly Says 'Lack of Compromise' Led to Civil War
The White House did not immediately return a request for comment Tuesday clarifying Kelly's remarks.
Gaines Foster, a history professor at Louisiana State University who writes about Southern identity, said that a person can make a case, as Kelly does, that the failure of compromise between Union and Southern leaders did play a role in the start of the Civil War.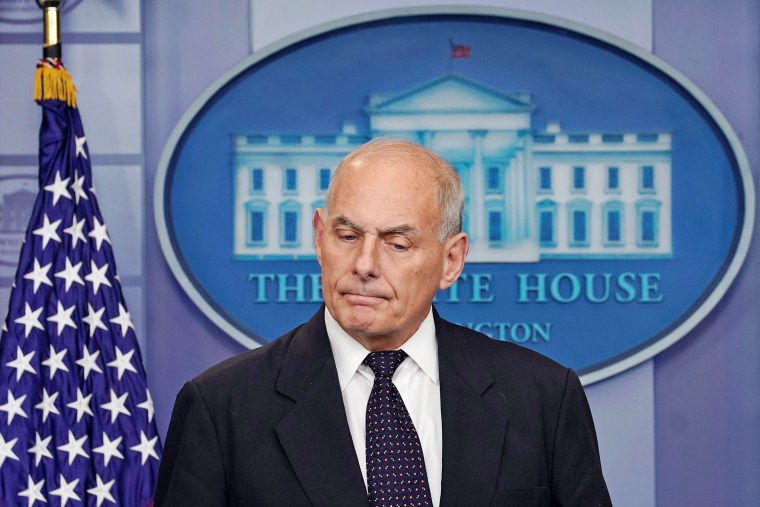 Four decades before the war started, Congress allowed for the Missouri Compromise, which permitted Missouri to join the Union as a slave state in exchange for Maine being a free state.
In addition, the Compromise of 1850 ended the slave trade in Washington, D.C., while mandating that citizens in free states help capture escaped slaves.
Neither action prevented the Civil War. "Lincoln wasn't willing to compromise on the issue of slavery and his new Republican Party wasn't willing to either," Foster said.
Historical records and the action of secessionists make it clear the Civil War was fought over slavery.
Alexander Stephens, the vice president of the Confederate States of America, gave his 1861 "Cornerstone Speech" — weeks before the Civil War was declared — and said a new government was founded on "the great truth that the negro is not equal to the white man; that slavery subordination to the superior race is his natural and normal condition."
By Kelly suggesting there were noble people "on both sides" of the war, he's upholding the ideology of the "Lost Cause," said Karen Cox, a history professor at the University of North Carolina at Charlotte.
Related: National Battle Over Confederate Monuments Renewed
"Lost Cause" hews to the idea that the war wasn't about slavery but states' rights and that slavery was good because it brought Christianity to Africans. Southern heritage groups use the ideology to justify why the war occurred, Cox added.
"This is just basic history that most people learn or are taught," Cox said of slavery leading to the Civil War. "It's not radical, it's not liberal. It just is what it is."
The term "Lost Cause" grew in the late 19th century after the Civil War ended. Blight said it continued to gain ground in the World War II era and "exploded over the last half-century or more," essentially allowing white Southerners to romanticize the past.
Blight said Kelly's decision to frame Lee as an "honorable man" is at odds in modern-day America. Kelly is a Boston native.
"It's profoundly inaccurate. Even the best biographies of Lee, even the most sympathetic ones, show that Lee was a Confederate nationalist," Blight said. "He knew exactly what the Confederacy was about — he knew they were fighting to preserve a slaveholder republic."