While George H.W. Bush remains in the intensive care unit of a Houston hospital after experiencing "shortness of breath," the former president's wife, Barbara, has also been admitted for a separate health issue, the couple's spokesman said Wednesday.
The former first lady was taken to Houston Methodist Hospital on Wednesday morning "as a precaution after experiencing fatigue and coughing," spokesman Jim McGrath said in a new statement following an update on her husband's condition.
Her husband, 92-year-old Bush, was first admitted to Houston Methodist Hospital Saturday for shortness of breath, but on Wednesday underwent a procedure to treat an acute respiratory problem stemming from pneumonia, McGrath said.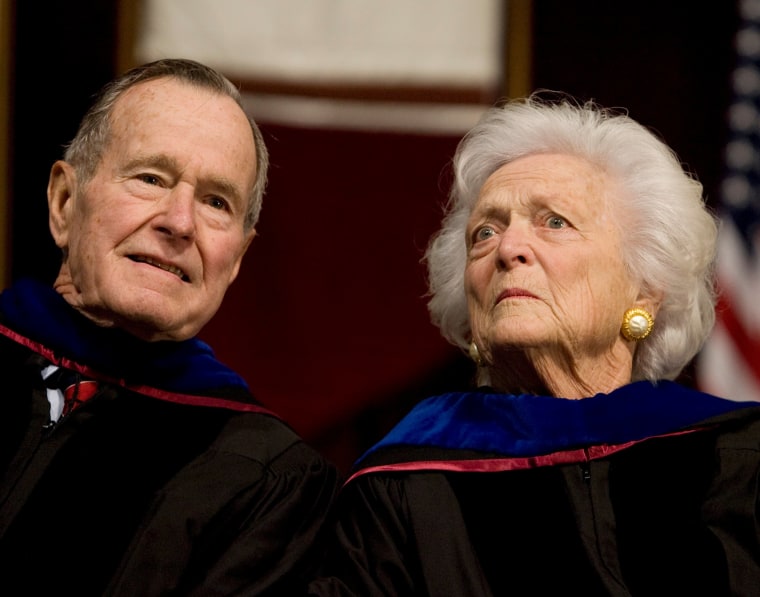 "Doctors performed a procedure to protect and clear his airway that required sedation," McGrath said. "President Bush is stable and resting comfortably in the ICU, where he will remain for observation."
McGrath said doctors believe the procedure, in which a tube was used to remove a blockage in a lung, was a success. Until Wednesday morning's issue, Bush was making great progress, McGrath said. "Yesterday, he was telling everybody he'd be out by Thursday or Friday," he said.
Bush chief of staff Jean Becker earlier said he's "fine and he's doing really well," according to the Houston Chronicle.
President Barack Obama was among those wishing George and Barbara Bush well. "They are as fine a couple as we know. So we want to send our prayers and our love to them."
Former President Bill Clinton said his thoughts were with the Bushes after learning about their hospital stays Wednesday. Hillary Clinton also sent her well wishes in a tweet and President-elect Donald Trump said he was "looking forward to a speedy recovery."
Bush, who served as U.S. president from 1989 to 1993, has a form of Parkinson's disease and uses a motorized scooter or a wheelchair for mobility. He was hospitalized in Maine in 2015 after falling at his summer home and breaking a bone in his neck.
In December 2014, he was hospitalized in Houston for about a week for shortness of breath. Previous to those stays, he spent Christmas 2012 in intensive care for a bronchitis-related cough and other issues.
Despite the loss of mobility, he celebrated his 90th birthday by making a tandem parachute jump in Kennebunkport. Last summer, Bush led a group of 40 wounded warriors on a fishing trip at the helm of his speedboat, three days after his 92nd birthday celebration.
His office announced earlier this month that George H.W. and Barbara would not attend Donald Trump's inauguration this week due to the former president's age and health.
"Barbara and I are so sorry we can't be there for your inauguration on January 20th. My doctor says if I sit outside in January, it likely will put me six feet under. Same for Barbara. So I guess we're stuck in Texas," Bush said in a Jan. 10 letter. "But we will be with you and the country in spirit."
"Bush 41," as he affectionately became known, entered politics in 1964 when he lost his bid for a U.S. Senate seat in Texas. But he went on to win a House seat two years later and run again for Senate in 1970 at the urging of President Richard Nixon. He was unsuccessful, however, Nixon rewarded Bush by appointing him as ambassador to the United Nations.
Related: Former Presidents George H.W. Bush and George W. Bush Stay Clear of WH Race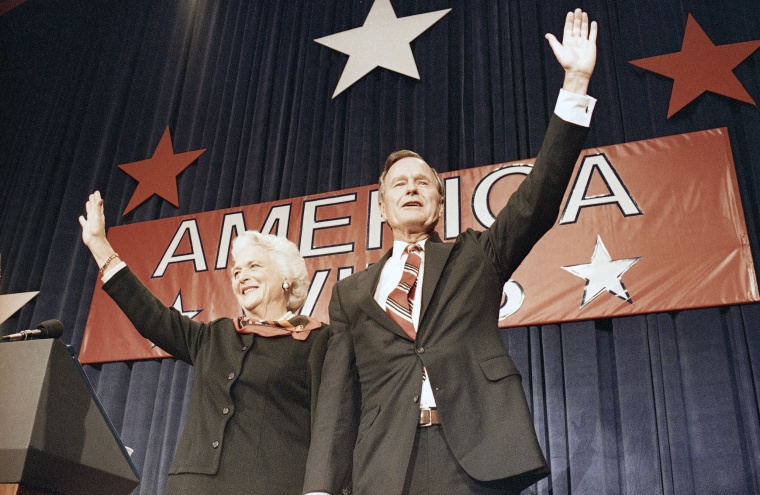 From there he went on to hold a host of different titles, including chairman of the Republican National Committee, the U.S. envoy to China, and director of the Central Intelligence Agency.
The experiences would prove the cornerstone of his failed 1980 presidential campaign that led to his selection as Ronald Reagan's running mate. It catapulted his own presidential campaign in 1988 when he defeated Democrat Michael Dukakis.
As the 41st president, he helped oversee the end of the Soviet Union, made two selections to the Supreme Court and, most notably, stood up to Iraqi President Saddam Hussein's invasion of Kuwait, temporarily boosting him to record-high approval ratings.
But a faltering economy and breaking his famous "no new taxes" pledge led to Bush's 1992 loss to Bill Clinton.
McGrath said the outpouring of support and well wishes have been comforting.
"It's been truly heartwarming to see the positive messages, the prayers, the thoughts that are being directed to both President and Mrs. Bush — emails and phone calls from all over the country and all over the world," he said.