Former President George H.W. Bush's beloved service dog Sully arrived at the U.S. Capitol on Tuesday morning, where the late president's casket lies in state following his death at age 94.
Sully was led in and stood by Bush's casket before lying down a few feet away.
SIGN UP HERE FOR BREAKING ALERTS FROM NBC NEWS
The much-talked-about yellow labrador joined the Bush family to help in June, weeks after the death of former first lady Barbara Bush.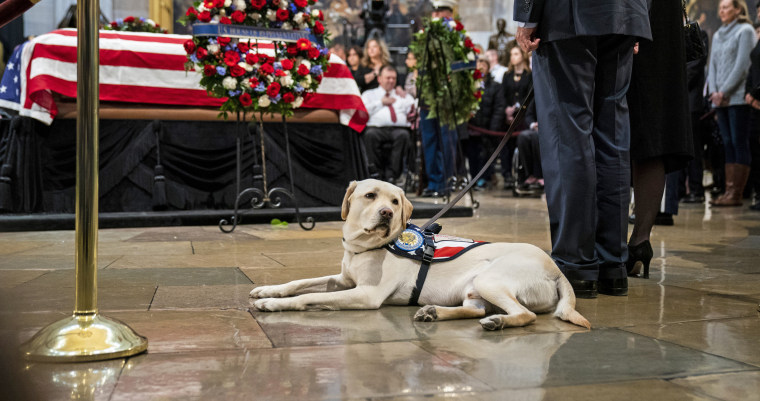 But Sully gained national attention over the weekend after a photo of him lying in front of Bush's casket with the caption "Mission complete" after the former president's death went viral on Sunday.
Sully is scheduled to stay with the Bush family at least until the former president is buried at the George Bush Presidential Library and Museum in College Station, Texas on Thursday. Sully was trained by America's VetDogs, an organization that trains and places service dogs with disabled military veterans.
America's VetDogs announced that Sully will join Walter Reed National Military Medical Center's Facility Dog Program after the holidays.
"As much as our family is going to miss this dog, we're comforted to know he'll bring the same joy to his new home, Walter Reed, that he brought to 41," former President George W. Bush wrote on Instagram Sunday.