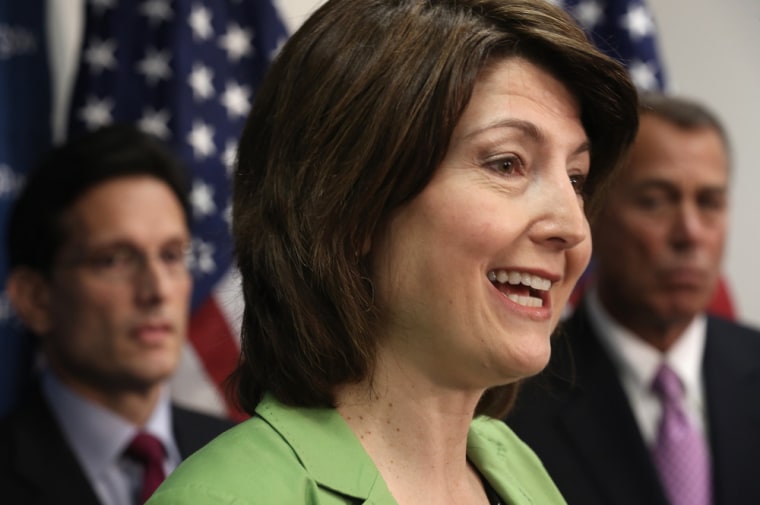 After hearing from the leader of the free world at Tuesday's State of the Union address, Americans will hear a rebuttal from a woman unfamiliar to many of them.
Most of the national television audience hasn't heard of Rep. Cathy McMorris Rodgers, the highest-ranking Republican woman in Washington, D.C. and the standard-bearer tasked with delivering the GOP response to President Barack Obama's address. But Republicans hope that she'll make an impression with her unapologetically conservative message, her journey from humble origins to the U.S. Capitol, and her family-friendly biography as a busy mother of three young children.
All three of her kids were born while she was serving in Congress; her eldest, Cole, was diagnosed with Down syndrome shortly after his birth in 2007. The way she balances her life at home and her career in Washington is something that her supporters say will appeal to voters, and most importantly – women.
"As a woman, a mother, a pro-life person, someone who is raising a special needs child, she's dealing with life on many fronts, just as most people are," says Marjorie Dannenfelser, the president of the pro-life Susan B. Anthony List organization."She's an example of a very strong woman embracing timeless and traditional values."  
And it's no secret that Republicans have been puzzling over how best to reach out to that demographic, which backed Obama over Mitt Romney 55 percent to 44 percent.
"Republicans are starting to understand and realize that women evaluate leaders and evaluate candidates differently than men do, and it's a very three-dimensional thing for them," says Katie Packer Gage, Romney's former deputy campaign manager. "It's very important to makes sure that the way that we're talking about issues doesn't put women off so that they can't actually hear our message." 
Having McMorris Rodgers as the deliverer of that message is a good move in that direction, she says.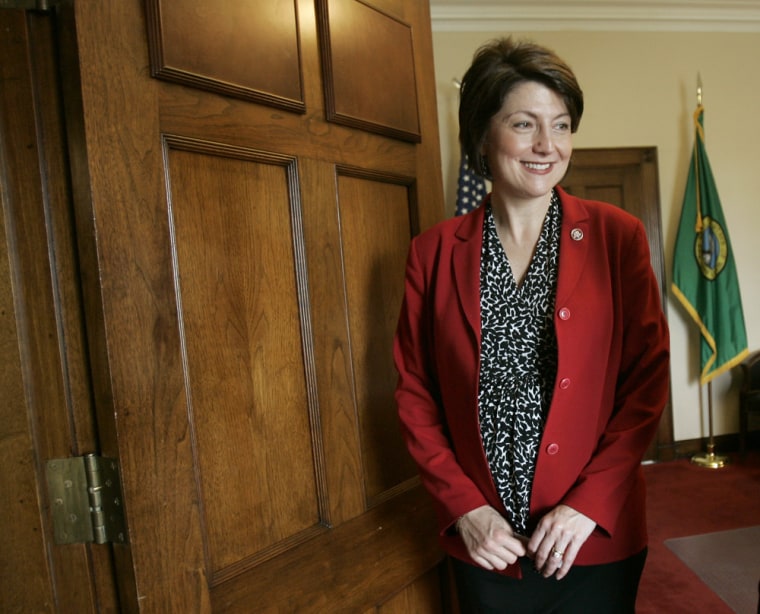 "It's really important for Americans and voters to see that the Republican Party isn't what the Democrats would like to paint us as, that we represent people like Cathy McMorris Rodgers who really do understand the everyday challenges of Americans," she said. 
Beyond her family life, Republican aides say her unique upbringing exemplifies the economic "American dream" that Republicans boast their policies would restore.
"Cathy McMorris Rodgers is proof that with humility, hard work, and dedication, you can overcome any obstacle – a story to which many Americans can relate," Republican House Speaker John Boehner, a close ally, said in a news release announcing her selection. "Through the lens of her family's experiences, Cathy will share our vision for a better America built on a thriving middle class, guided by a fierce belief in life and liberty, and grounded in greater trust between citizens and their government."
Born in 1969, McMorris Rodgers grew up identifying good apples – literally.
She and her brother worked at their family's orchard and fruit stand in Kettle Falls, Wash., near the Canadian border. She was the first in her family to attend college, working odd jobs – including as a motel maid – to pay her way through Pensacola Christian College in Florida. After managing a state House campaign for a family friend, she got a job as a legislative assistant – and was appointed to replace her boss when he was appointed to state Senate.
That was all before her 25th birthday.
McMorris Rodgers served 10 years in Olympia – including a stint as minority leader – before running for a U.S. House seat in 2003. She handily beat the Democratic candidate and won with 60 percent of the vote.
Another defining part of her life – starting her own family – began after her swift rise to the U.S. House.
She met her husband, retired Navy commander Brian Rodgers,  at a campaign barbeque the summer after she was first elected to Congress.
In 2007, the couple welcomed their first child, Cole. Within a few days, they received confirmation that their newborn child would grow up with Down syndrome.
"It isn't what you expect, and it isn't what you dream," she said in an interview with C-SPAN last year. "But I sit here today and I am a better person because of Cole and what he has taught me."
A strongly pro-life legislator, McMorris Rodgers went on to start the bipartisan Down Syndrome Caucus.
Now, she and her husband have two more children – Grace, 3 and Brynn, a newborn whose birth McMorris Rodgers announced to the public via Instagram last November.
"Nothing compares to the miracle of bringing a new life into the world," she wrote in the social media post. "She's beautiful and seems to be taking it all in stride. Our hearts are full." 
Being a confidante of Boehner with a prominent role in GOP leadership, though, means that she spends more time during the week managing the mess of congressional wrangling than she does dealing with literal dirty diapers.
Her family in Spokane is a 10 hour plane journey from Washington – with no direct flights.
"We're making it work," she told C-SPAN. "I think every family – every member of Congress – has to decide how to organize that."