A former law student of President Donald Trump's Supreme Court nominee alleges that Neil Gorsuch told a class that "many" women manipulate their employers for maternity benefits and that law firms should ask female interviewees about their pregnancy plans in order to protect their companies.
Jennifer Sisk, a 2016 graduate of the University of Colorado Law School, wrote in a two-page letter to the Senate Judiciary Committee published on Sunday that on April 19 of last year, Gorsuch presented his legal ethics class with a hypothetical of law students interviewing for jobs at firms.
Gorsuch at one point asked the class whether they knew of any women who had "used a company to get maternity benefits and then left right after having a baby," according to Sisk's letter.
Sisk, who was once a staffer for Democratic Sen. Mark Udall of Colorado and at the Interior Department during the Obama administration, said that after only a handful of students raised their hands, the federal judge became more animated and said, "C'mon guys."
Gorsuch proceeded to say that all of his students' hands should have been raised because "many" women used their employers for maternity benefits and then left after giving birth, Sisk said in her letter.
Related: Confirmation Hearings to Begin for Trump Supreme Court Nominee Neil Gorsuch
Gorsuch also outlined how law firms and companies "had to ask female interviewees about pregnancy plans in order to protect the company," she said.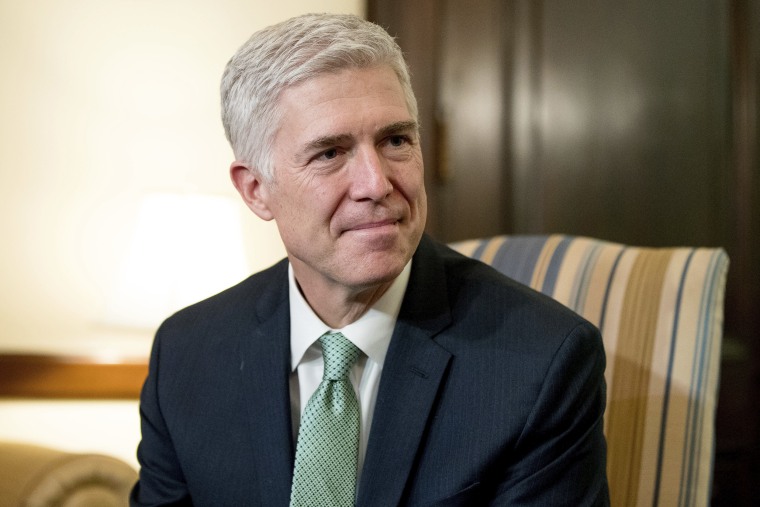 While guidelines from the Equal Employment Opportunity Commission do not prohibit employers from asking applicants about gender-related characteristics such as pregnancy, these types of questions are discouraged, according to the commission's website. Additionally, an employer cannot discriminate against job applicants or employees based on pregnancy, childbirth or related medical conditions as a motivating factor under the Pregnancy Discrimination Act.
Sisk's letter was sent on Friday and was addressed to committee Chairman Sen. Charles Grassley, R-Iowa, and to Ranking Member Sen. Dianne Feinstein, D-Calif.
Sisk said in her letter that she shared her experience because Gorsuch's "values shared during that class were concerning and should be explored further during his confirmation hearings for the United States Supreme Court."
Sisk added that she raised her concerns about Gorsuch's comments with school administration and voiced her frustrations on a Facebook group for female lawyers.
Related: Seven Players to Watch During the Gorsuch Confirmation
But in a letter provided to NBC News on Monday by a person helping with the Gorsuch nomination process, another former student wrote to the committee to refute Sisk's claims.
"Although Judge Gorsuch did discuss some of the topics mentioned in the letter, he did not do so in the manner described," Will Hauptman wrote in the letter, which was sent on Sunday.
Hauptman wrote that Gorsuch often asked his students to consider the challenges they would face as new attorneys, including the tension between building a career and starting a family, especially for women.
"The seriousness with which the judge asked us to consider these realities reflected his desire to make us aware of them, not any animus against a career or group," he wrote.
A response from the person aiding in the Gorsuch nomination process also said that Sisk's claims were false and came from a misunderstanding of the hypothetical discussion question.
Gorsuch, a federal judge on the Tenth Circuit Court of Appeals, was appointed by Trump to fill the seat left by the late Justice Antonin Scalia. His three-day confirmation hearing before the Senate Judiciary Committee began Monday.
During his opening statement on Monday, Gorsuch sought to present himself as a mainstream jurist and said that 97 percent of the 2,700 cases he'd heard had been decided unanimously.
"In the West we listen to one another respectfully, we tolerate and cherish different points of view, and we seek consensus whenever we can," Gorsuch said.
The judge became emotional twice during his statement, once just moments into his opening remarks when he embraced and thanked his wife Louise and then again when he recounted an uncle and "hero" of his who recently died.
Related: Will Ghost of Garland Haunt Gorsuch's SCOTUS Hearings?
Sisk's letter was published on Sunday by the National Women's Law Center (NWLC) and the National Employment Lawyers Association (NELA).
The NELA published additional documents they said support Sisk's claim, including a Facebook post from the day after the alleged incident, an email exchange between Sisk and school staff and an affidavit from an anonymous former student of Gorsuch providing similar details of the incident.
Gorsuch presented the discussion "as the way he personally felt about those subjects," the anonymous student said in the affidavit, which was drafted by a member of NELA's Judicial Nominations Committee.