The Senate reached a deal on Monday to end the three-day government shutdown after Democrats worked with Republicans to pass a three-week extension of temporary funding in exchange for a promise from GOP lawmakers to allow a vote on a bill to address the status of young undocumented immigrants.
Now, the government will plod back to normal life in the coming days, with hundreds of thousands of federal employees who were furloughed likely to head back to work as soon as this week — at least for now. If lawmakers cannot agree on an immigration bill before the short-term funding agreement expires next month, those workers could be furloughed again.
Some federal operations had continued operating as usual throughout the shutdown: "Essential" federal workers were not furloughed, staffing airports, the U.S. Postal Service, border areas, national security and law enforcement operations.
Recipients still received Social Security checks, Supplemental Security Income, unemployment pay, Temporary Assistance for Needy Families, food stamps and Medicaid benefits. Federal prisons, Veterans Affairs hospitals and federal courts stayed open, and Robert Mueller's special counsel investigation remained in business.
The Department of Health and Human Services furloughed 50 percent of its staff and cut back certain services, such as Indian Health Services and child welfare programs, but continued treating current patients, and directed its staff at the Centers for Disease Control and Prevention to continue addressing the flu epidemic.
Even before the vote Monday, the Statue of Liberty was among the monuments accepting huddled masses after being briefly closed due to the shutdown, thanks to a funding agreement struck with New York State. Similar federal facilities, such as the Smithsonian Institution's museums and the National Zoo, remained open throughout. (That did not mean it was business as usual at most landmarks — for instance, park rangers were sent home.)
Still other monuments — such as the Liberty Bell and Independence Hall in Philadelphia, where the Declaration of Independence and Constitution were signed — were closed. They are now expected to resume normal operations, as are other federal buildings that temporarily shut their doors.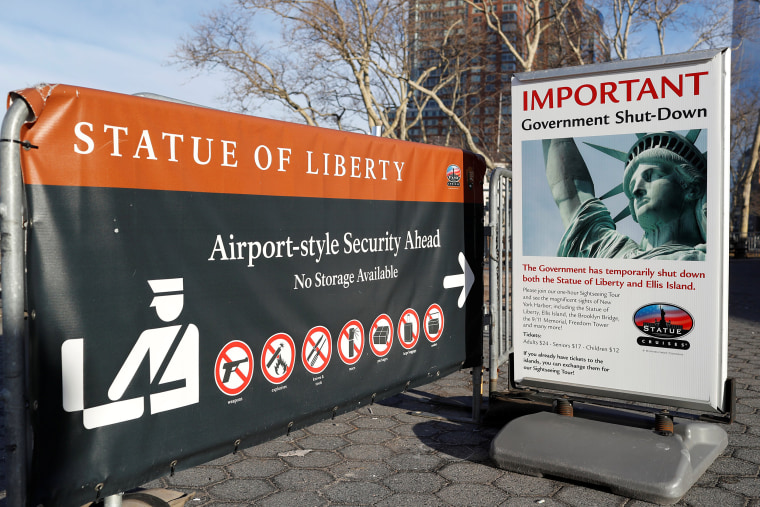 There is no federal law that automatically determines what stays open and what does not during a shutdown. In general, government operations cease because the money runs out, though there are exceptions.
Mick Mulvaney, the director of the Office of Management and Budget, had encouraged agencies to use available funds to keep parts of the government operating, telling reporters Friday that the last government shutdown, in 2013, had been "weaponized" by the Obama administration to achieve maximum disruption, pointing to that administration's decision to shut largely unstaffed national parks and other landmarks.
Still, nearly every federal agency temporarily furloughed the majority of its staff during this shutdown. Now, with stopgap funding approved, hundreds of thousands of workers — including more than 90 percent of staffers at the U.S. Department of Education, and nearly 2,000 civil service workers at the U.S. Agency for International Development — are expected to head back to work with pay. So will the White House and congressional staffers who were not already deemed "essential" employees.
The Defense Department was expected to resume paying its military and civilian personnel, and military death benefits were expected to resume after not being dispersed during the shutdown.
The State Department had issued guidance stating it was using backup funds to continue as many normal operations as possible, including consular operations domestically and abroad and processing passport applications. Now, if passport facilities were in a previously closed federal building during the shutdown, they will be expected to reopen and process applications.