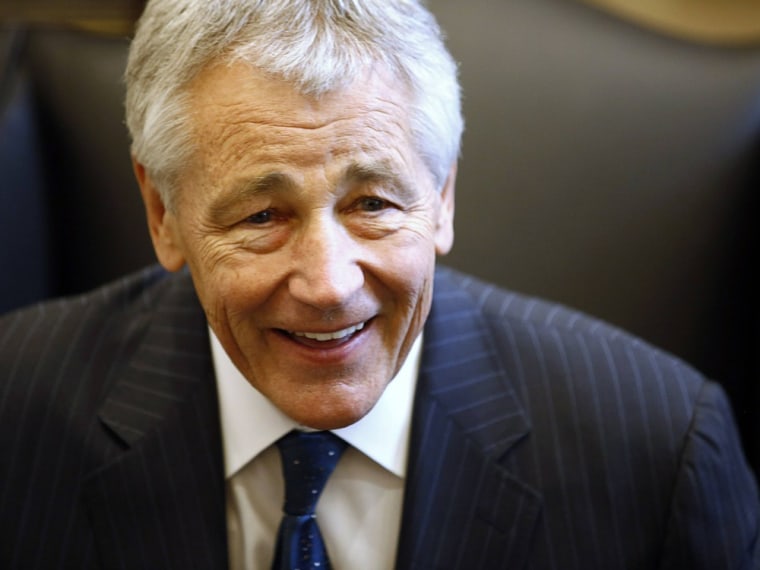 Criticism over Chuck Hagel's nomination for secretary of defense has been mounting for weeks, beginning even before the former Republican senator got the official nod.
Now, unhappy members of his own party will get the chance to grill him on a range of concerns, including Hagel's antagonism to what he called "the Jewish lobby" and his vocal opposition of President George W. Bush's 2007 surge strategy in Iraq.
He takes to Capitol Hill on Thursday morning for his confirmation hearing before the Senate Armed Services Committee, but despite what's likely to be three or four hours of adversarial interrogation, it seems all but certain that the upper chamber will vote to confirm him. That is, unless he makes the kind of catastrophic blunder during his testimony that no nominee has made in recent memory.
Sen. Bob Corker, R-Tenn., the senior Republican on the Foreign Relations Committee, who is uncommitted on the Hagel nomination, said Tuesday the statements by some GOP senators that they wouldn't try to block Hagel's confirmation by a filibuster "changes things dramatically."
Hagel will need only 51 votes to be confirmed, not the 60 he'd need if there were a filibuster. There are 55 senators in the Democratic caucus and 45 Senate Republicans.
Although Sen. Lindsey Graham, R- S.C., said on Fox News Monday night that he would block the Hagel nomination until current Defense Secretary Leon Panetta testifies about the attack on the U.S. diplomatic mission in Libya, one of Graham's frequent allies, Sen. John McCain, R- Ariz., distanced himself Tuesday from that threat.
Both Graham and McCain serve on the Armed Services Committee.
Hagel, who was seriously wounded while serving as an Army infantryman in Vietnam, was a Republican senator from Nebraska from 1997 to 2009.
In his written answers to a questionnaire from members of the Armed Services Committee released on Wednesday, Hagel alluded to Vietnam, saying, "I understand what it is like to be a soldier in war. I also understand what happens when there is poor morale and discipline among the troops and a lack of clear objectives, intelligence, and command and control from Washington."
He said his Vietnam experience would help him "to ensure we maintain the best fighting force in the world … and ensure that we are cautious and certain when contemplating the use of force."
Some of the questions senators will pose to Hagel will likely focus on statements that he made years ago, such as his comment in 2007 about Bush that "before this (Iraq intervention) is over, you might see calls for his impeachment."
As a senator, Hagel voted for the 2003 invasion of Iraq, but later turned critical of Bush's conduct of the operation.
GOP senators will be listening closely for a "confirmation conversion" -- the familiar process in which a nominee recants or edges back from some of his previous statements.
But many questions Thursday will look ahead to the defense and fiscal challenges the nation faces over the next four years. Among them: 
Potential intervention in the Syrian civil war: While senators such as McCain are calling for sending arms to rebels fighting against the regime of Bashar Assad, Hagel said in his answers to the committee, "I do not believe that providing lethal support to the armed opposition at this time will alleviate the horrible situation we see in Syria." The risks of a widening conflict in Syria were underscored Wednesday when Israeli warplanes attacked Syrian military targets near Damascus. The airstrikes reportedly targeted a convoy carrying weapons to Hezbollah in Lebanon.
Intervention in North Africa: The Obama administration has expanded the war against al-Qaida with major new initiatives in Africa. The Pentagon is reportedly considering setting up a drone base in Niger, an African nation bordering Mali where U.S. forces have been supporting a French military operation against jihadists. This week the Obama administration entered into a status-of-forces agreement with Niger, allowing U.S. troops to operate in that country. Pentagon spokesman George Little said this week that in the Mali operation the U.S. military has been sharing intelligence with the French, providing airlift support to the French army, and refueling French military aircraft. 
Iran and Israel: In his written answers to the Armed Services Committee, Hagel addressed the question of Iran's nuclear program, saying, "I am committed to considering all options to counter Iran and its aggression, and to maintain U.S. support for missile defense systems in Israel." He added, "While there is time and space for diplomacy, backed by pressure, the window is closing. Iran needs to demonstrate it is prepared to negotiate seriously." In the past he has opposed some economic sanctions against Iran. GOP senators will press him on how willing he would now be to use military force, or to support Israel's use of force against Iran.
Afghanistan: Senatorsfrom both parties will seek some insight on where Obama and Hagel are heading with the future role of U.S. forces in Afghanistan where 66,000 U.S. troops are still operating. Hagel told the panel in his written answers that the U.S. mission after 2014 will be conducting counter-terrorism missions and training Afghan security forces. But he would not commit himself to any specific number of U.S. forces: "The size of the force will flow from missions assigned."
Women in combat: Panetta last week issued an order eliminating the Defense Department's direct ground combat exclusion rule for women. He said more women could be on the battlefield "without compromising readiness or morale or our war fighting capabilities." In his written answers to Armed Services Committee, Hagel said he supported Panetta's decision, but Armed Services Committee ranking Republican member Sen. Jim Inhofe, R- Okla., is very wary of this change.
Spending cuts: Defense outlays now account for 18 percent of total federal spending but the Pentagon is facing a budget squeeze. The Budget Control Act of 2011 effectively cut the Pentagon's "base budget" (for everything other than overseas operations such as Afghanistan) by about 4 percent in 2012. The Congressional Budget Office says base-budget spending for the current fiscal year could be cut an additional 12 percent if BCA provisions, including automatic spending cuts called "sequestration," are not canceled or delayed. In his written answers to committee questions, Hagel urged Congress "to eliminate the sequester threat permanently and pass a balanced deficit-reduction plan." He said if the BCA spending cuts take place it would have dire effects such as furloughs for civilian defense workers, "less training, including cuts to flying and steaming hours which would reduce readiness" and "delayed weapons system buys with resulting price increases."