At what's sure to be a contentious confirmation hearing Thursday before the Senate Armed Services Committee, Republican critics of President Barack Obama's secretary of defense nominee former Sen. Chuck Hagel will explain why they think he's been soft on using force against Iran. And they'll voice worry about how firm a supporter of Israel he'll be at the Pentagon, giving his criticism of what he called the "Jewish lobby."
But there's another front in the Hagel battle: his endorsement of Global Zero, the movement calling for abolition of nuclear weapons. This is what makes Thursday's hearing a chance for Republicans to raise questions about Obama's nuclear weapons policy and the overall debate over the reduction and modernization of the nation's nuclear arsenal.
With endorsements from former president Jimmy Carter, ex-Soviet leader Mikhail Gorbachev, and other international leaders, the Global Zero movement has proposed a plan to reduce and ultimately eliminate all nuclear weapons by 2030.
Of course, Hagel's Global Zero support doesn't make him a maverick in the Obama administration. If confirmed, he'll be working for a president who in 2009 called for "a world without nuclear weapons," although Obama acknowledged, "This goal will not be reached quickly, perhaps not in my lifetime."
Recommended: Obama to embrace Senate deal
The ranking Republican member of the Armed Services Committee, Sen. Jim Inhofe of Oklahoma, said in an interview on C-Span Sunday that Hagel's endorsement of Global Zero "concerns me a lot." Inhofe also charged that Obama "wants to reduce our nuclear arsenal, he refuses to modernize it."
Most nuclear weapons in the U.S. arsenal were produced 30 to 40 years ago, and no new ones have been produced since the end of the 1990's. So the National Nuclear Security Administration (NNSA), an agency within the Department of Energy, is charge of replacing some aging components and assessing the warheads for reliability.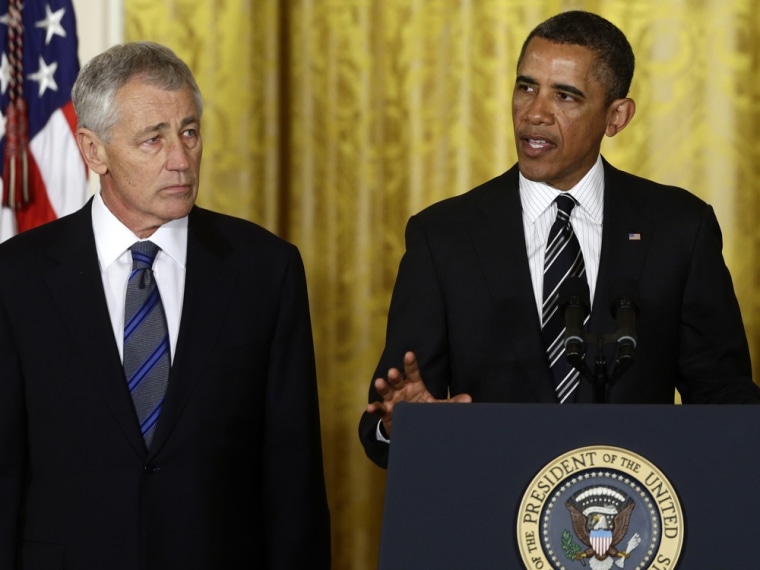 The Oklahoma Republican said the nuclear threats from North Korea and the potential for Iran to deploy a nuclear-armed ballistic missile make the reliability of the U.S. nuclear deterrent especially important.
(Inhofe announced he'll oppose Hagel, but implied that he expects the former Nebraska senator will win confirmation.)
Hagel served on the Global Zero U.S. Nuclear Policy Commission which issued a report last May calling for an 80 percent reduction in the U.S. nuclear arsenal.
In contrast with Inhofe, the report said, "We surely do not need thousands of modern nuclear weapons to play this [deterrent] role vis-à-vis a country with a handful of primitive nuclear devices."
It also said that a drastically smaller U.S. arsenal could be negotiated bilaterally with Russia "or implemented unilaterally."
And it said that dramatic cuts in the size of the arsenal would allow downsizing of the "the costly modernization of the nuclear complex currently underway," including plutonium facilities at Los Alamos, N.M. and the uranium processing facility called Y-12 in Oak Ridge, Tenn. Those plants help extend the service life of the warheads that go on missiles in U.S. submarines.
Sen. Bob Corker, R- Tenn., brought up Hagel's Global Zero role at last week's confirmation hearing for Obama's secretary of state nominee, Sen. John Kerry, D- Mass.
"For those of us who care deeply about our nuclear arsenal, and modernization… some of the things that were authored in this (May 2012 Global Zero) report candidly are just concerning," said Corker.
He told Kerry that normally there's a tension between the Defense Department which "presses for weaponry" and the State Department which "presses for nuclear arms agreements and reductions. And so in the event this person (Hagel) is confirmed, that balance is not going to be there."
Recommended: Senate passes $50.5 billion in Sandy funds
Corker voted for New START treaty with Russia in 2010, one of 13 Republican senators to vote to ratify the pact. Twenty-six Republicans, including Inhofe, voted against ratifying the treaty. The treaty will cut the number of deployed strategic warheads from more than 1,700 last year to 1,550 by 2018.
Corker and other Republicans supported the treaty because of assurances from Obama that more money would be spent on modernizing the U.S. nuclear weapons arsenal and using means other than nuclear tests to ensure that U.S. warheads would still work if they were ever used in a war.
But Corker said last summer he'd been "highly disappointed in the follow-through on modernization" of the arsenal. And according to a report this month from the Congressional Research Service, Republicans have been battling with the Obama administration over the building of a chemistry and metallurgy research facility at the Los Alamos National Laboratory in New Mexico, which the administration wants to delay for at least five years, but which Republicans want built in 2013.
Nuclear weapons manufacturing and maintenance is important to Corker's home state, as was noted in a 2011 speech by Thomas D'Agostino, who was then the head of the National Nuclear Security Administration (NNSA) who told a crowd in Chattanooga, Tenn., "At NNSA, we are committed to doing our part to support the economic vitality of the Tennessee Valley. With roughly 8,000 people working at Y-12 on a given day, Y-12 is one of Tennessee's largest employers."
He added that the Y-12 facility "has a tremendous impact on local businesses. Local procurements originating from Y-12 totaled $310.1 million for Tennessee businesses in 2010, including more than $254 million for small businesses."
Thus, any move toward scrapping the U.S. nuclear arsenal or toward downsizing the nuclear modernization process – as recommended by the Global Zero report Hagel signed on to --would hurt Tennessee's economy.
Trying to soothe Corker's concerns about Hagel last week, Kerry said the abolition of nuclear weapons is "not something that could happen in today's world." Kerry said. "It's a goal. It's an aspiration. And we should always be aspirational….it's worth aspiring to, but we'll be lucky if we get there in however many centuries the way we're going."
Kerry said "there's talk of going down to a lower number" than the 1,550 warheads in the New START treaty. "I think, personally, it's possible to get there if you have commensurate levels of inspections, verification, guarantees about the capacity of your nuclear stockpile program, etc."
He said to Corker, "Now, Senator, I know you're deeply invested in that component of it, the nuclear stockpile proposal." Kerry said the United States must maintain a reliable nuclear weapons stockpile, "because that's the only way you maintain an effective level of deterrence."
Although Corker isn't on the Armed Services Committee, Inhofe and other Republicans on the Armed Services panel are sure to press Hagel on whether he intends to follow through on the arsenal cut recommendation Global Zero made last May.