Harry Reid, 82, a titan of the U.S. Senate and its former Democratic leader, died Tuesday, having rising from poverty to represent Nevada for decades and help usher in historic legislation, including the Affordable Care Act.
His wife, Landra Reid, announced his death in a statement.
"I am heartbroken to announce the passing of my husband, former Senate Majority Leader Harry Reid. He died peacefully this afternoon, surrounded by our family, following a courageous, four-year battle with pancreatic cancer," she said.
Reid was a senator from 1987 to 2017 and majority leader from 2007 to 2015.
President Joe Biden, who worked alongside Reid for decades in the Senate, described him as a consummate public servant.
"Throughout his entire career in the Senate, he led battles over budgets, fought to give our troops what they needed in battle and what they earned and deserved upon their return home," Biden said in a statement Tuesday. "He was a bulwark against efforts to privatize Social Security. He was the champion who created Nevada's Great Basin National Park. And, he was a leader who believed the Federal bench should reflect the diversity of America."
The president added, "I've had the honor of serving with some of the all-time great Senate Majority Leaders in our history. Harry Reid was one of them. And for Harry, it wasn't about power for power's sake. It was about the power to do right for the people."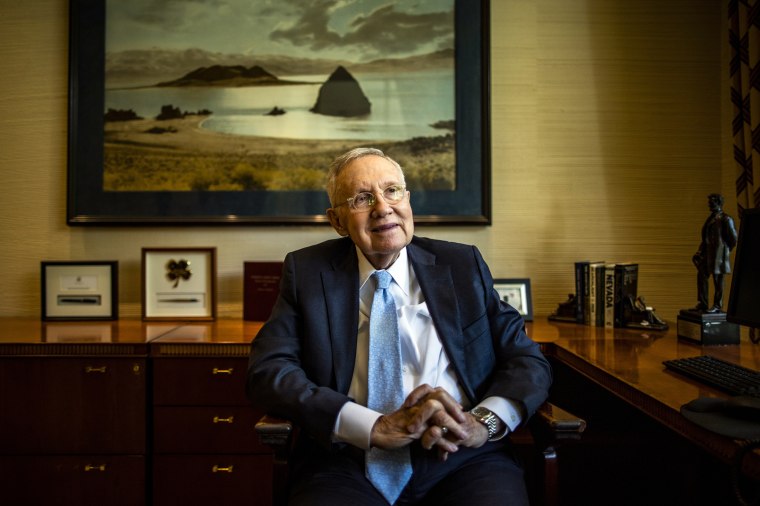 Senate Majority Leader Chuck Schumer, D-N.Y., in a statement called his predecessor "one of the most amazing individuals I've ever met."
"He never forgot where he came from and used those boxing instincts to fearlessly fight those who were hurting the poor and the middle class. ... He's gone but will walk by the sides of many of us in the Senate every day," Schumer said.
Former President Barack Obama on Tuesday shared a letter he sent to Reid when the former senator was battling cancer.
"You were a great leader in the Senate, and early on you were more generous to me than I had any right to expect," Obama wrote in the letter. "I wouldn't have been president had it not been for your encouragement and support, and I wouldn't have got most of what I got done without your skill and determination. Most of all, you've been a good friend."
On the other side of the aisle, Senate Minority Leader Mitch McConnell, R-Ky., called Reid a "one-of-a-kind" lawmaker.
"The nature of Harry's and my jobs brought us into frequent and sometimes intense conflict over politics and policy," McConnell said. "But I never doubted that Harry was always doing what he earnestly, deeply felt was right for Nevada and our country. He will rightly go down in history as a crucial, pivotal figure in the development and history of his beloved home state."
Reid, an amateur boxer before he turned to a career in politics, was born in rural Nevada in 1939. He told the University of Nevada in an interview in 2019 that his childhood home, where he grew up with his parents and three brothers, had no indoor toilet, hot water or telephone.
After he graduated from high school and attended college in Utah, Reid received his law degree from George Washington University in 1964. He then became active in Nevada politics. He was elected to the state Assembly before he become lieutenant governor from 1971 to 1974.
Reid's first Senate campaign was unsuccessful, as was his bid for mayor of Las Vegas in 1975. He later served two terms in the House before he won the Senate seat that he held for three decades, a period when he was instrumental in the passage of legislation overhauling health care and the banking system. During those 30 years, he became the longest-serving senator from Nevada.
In his battles with Senate Republicans, Reid famously invoked the so-called nuclear option in 2013 to eliminate the 60-vote requirement for executive nominations, except for Supreme Court nominees.
Reid said the country "has wasted an unprecedented amount of time on procedural hurdles and partisan obstruction," before Senate Democrats approved the rule change.
Senate Republicans later changed the rule further by lowering the vote threshold to a simple majority for Supreme Court nominees.
After Reid left Congress in 2017, he remained active in Democratic politics by counseling lawmakers and weighing in on elections and policy.
Landra Reid said Tuesday that funeral arrangements would be announced in the coming days.
"Harry was a devout family man and deeply loyal friend," she said. "We greatly appreciate the outpouring of support from so many over these past few years. We are especially grateful for the doctors and nurses that cared for him. Please know that meant the world to him."
Schumer said flags would be lowered to half-staff at the U.S. Capitol.