SAYRE, Okla. — The doctor is in. But he's the only one for miles.
Dr. Kenneth Whinery, an 87-year-old family practitioner, is recovering from a broken back and living with prostate cancer. But he opened his practice here in 1960, and he still sees patients daily.
"I'm the only doctor here through the day," Whinery said. "If they're sick, I take care of them. And through the years, all these years, I think I can say that I didn't turn anybody away that was sick."
The hospital, five minutes from Whinery's office, shuttered 17 months ago, unable to stay afloat in this town of just over 4,000 people on the western edge of Oklahoma. There's no specialty medical care, and the nearest ambulance is based 25 minutes away. Two-thirds of the residents in the town's two nursing homes rely on Medicaid.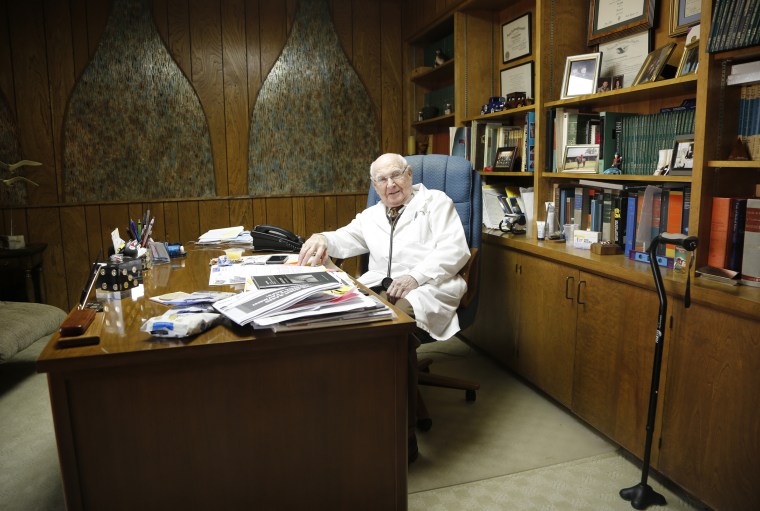 As Senate Republicans in Washington continue to wrangle over a bill that would reduce the role of the federal government in health care, rural communities like Sayre are struggling to balance residents' needs in the face of dwindling federal funds and a lack of resources to attract and retain quality providers.
And while residents express frustration with Obamacare, they have grown increasingly wary that potentially steep cuts to programs like Medicaid would further diminish their already-volatile options.
"Putting health care on the survival-of-the-fittest mode is, in my opinion, ludicrous," said Bob Hicks, a Sayre resident who is spearheading the attempt to re-open the hospital next month. "From a practical, financial standpoint, if we don't have people in our service area who can pay for their services, then we run the risk of failing again."
Related: New CBO Report Finds Deep Medicaid Cuts in GOP Bill
"It's a numbers game," Hicks added. When asked if lawmakers in Washington understand the town's reliance on Medicaid funding, he responded: "No, they don't have a clue."
Sayre Memorial Hospital is one of 79 rural hospitals to have closed in the United States since 2010. As in similar communities, the financial margins for the town's hospital, nursing homes and doctor are slim.
"We know that rural hospitals disproportionally serve our low-income, older, sicker populations in the country, and to the extent that we can assure that they have the insurance there to pay for that care will be vital for rural hospital viability," said Mark Holmes, a professor at the University of North Carolina and director of the North Carolina Rural Health Research and Policy Analysis Center.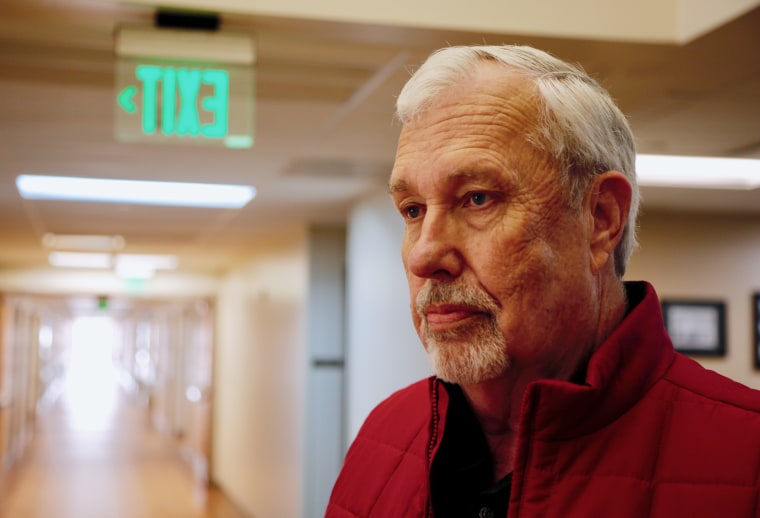 The board of the hospital that Hicks is taking a chance on said the facility was financially insolvent just two years ago. Sayre's residents had voted in favor of two separate one-cent sales tax increases — in 2007 and 2012 — to try and save it from closure.
He is now concerned about the impact those likely to lose health insurance under the GOP health care proposals might have on the hospital's revenue. Some would likely opt to not seek treatment at the facility or others would receive care but be unable to cover the costs. Both scenarios would cut into the bottom line.
Already, Whinery says, he takes a loss on 30 to 40 percent of his patients because they have no health insurance.
"Some [patients] paid, and if they didn't pay, we didn't get upset about it," Whinery said. "The big problem that I see with my patients is how are we going to pay for it."
Nelda Tomberlin, in her role as nursing administrator at Hensley's Nursing Home, faces a similar issue. Nationally, 62 percent of nursing home residents' primary source of payment is Medicaid, according to the Kaiser Family Foundation. It's no different at Hensley's, one of Sayre's two nursing facilities that 35 locals now call home.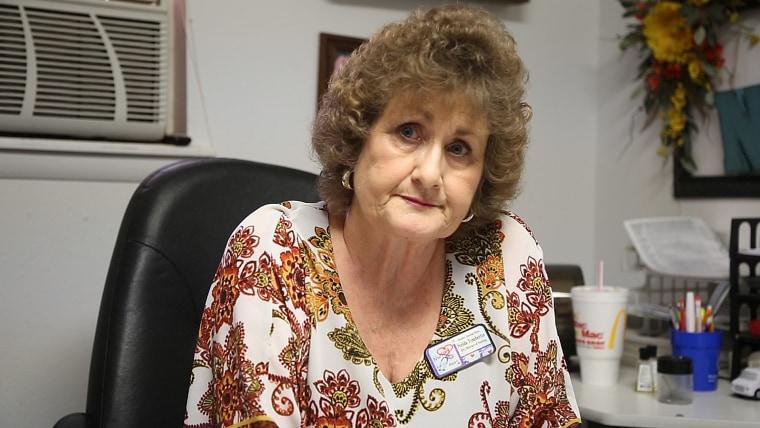 "At least 60 to 70 percent of our residents rely on Medicaid," said Tomberlin, who voted for President Donald Trump last year. "If they cut that and we don't have enough funding, you're going to see nursing homes close because there's barely enough profit now — with salary, maintenance on the building, plumbing, heating, food costs, medication."
The Oklahoma legislature declined to expand Medicaid coverage under the Affordable Care Act, denying what would have amounted to an additional $900 million in federal funding per year. (Sayre Memorial cited Oklahoma's decision not to expand Medicaid, as well as declining Medicare reimbursements, as factors in its closure.)
And under the Republican bill, existing funds could be at stake. Yet even without the potential cuts in federal funding, rural communities are already struggling to maintain their health care facilities and attract doctors and health care management professionals.
The Sayre hospital is getting its second chance at life because one of the town's own, Hicks, has the money and experience to give the project a shot. Hicks formerly owned a health care company out of Louisiana that managed 18 hospitals across five states.
After Hurricane Katrina, he retired and moved to Oklahoma. A recovering drug addict and alcoholic, Hicks opened up two residential treatment facilities in Sayre in recent years. With the closure of the hospital, he saw an opportunity to go back to the business he left 15 years ago.
"As I looked at it, [the residents] needed it. The town needed it. The area needed it," Hicks said. "So I said, 'Let's try this.'"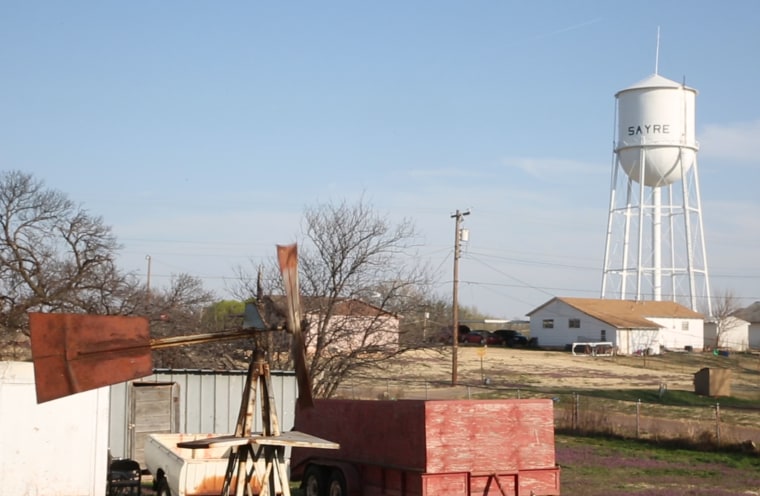 The federal government has established financial assistance programs for some rural hospitals, designating some as "Critical Access Hospitals," which guarantees the federal reimbursement of most inpatient and outpatient Medicare treatment and ambulance use by the hospital.
But Holmes said only about half of rural hospitals in the country qualify for the designation. Sayre is not one of those and, consequently, does not have stable financial backing from the government. The Centers for Medicare and Medicaid Services (CMS) also bankrolls a student loan repayment program for young doctors, helping these rural communities lure young physicians, but Sayre's past hospital management hands never took advantage of the program.
Hicks said that, as a local, he better understands the community's needs. And as the financier, he — along with a bank — maintain a vested interest in its success.
"It's the life of your community," said Jay Laxton, a former hospital board member and current city councilman. "Industry won't come into a community that doesn't have a hospital. You can't take care of your older population. Young people won't come back where there's no doctors or a hospital. People won't retire here. It has to be a vibrant part of the community."
Sayre's residents still echo the Republican party's gripes about Obamacare, blaming it for higher premiums, increased deductibles and the burden of having to purchase a health insurance plan when many of these medical services are not easily accessible to them.
Yet there is also a desire for greater access to coverage, not far from the proposal laid out by Trump on the campaign trail. As a candidate, Trump — who won this county by a large margin — promised not to cut Medicaid, Medicare or Social Security, and advocated for an Obamacare replacement that would reduce premiums and deductibles as well as "cover everybody."
"I really wish we'd have a health care system like Canada — socialized medicine," Tomberlin said. "I know it's not perfect, but everyone is covered. Sometimes I think we'd be better off with socialized medicine instead of everyone trying to pay, and there's only Medicaid for some and the people who work all their lives don't qualify for Medicaid but then have to give up all their life savings to get into a nursing home."
The sentiments expressed by Tomberlin — who said her premiums increased by $210 since enrolling in the federal exchange several years ago — are shared by many other Trump voters here. Susan Stowers, 63, a nurse at the nursing home, said she would also like to see wider access to coverage.
"I'm really against anyone cutting Medicare, Medicaid and Social Security. This isn't something given to you," said Stowers, who backed Trump. "You pay into it your whole life. And Medicaid is for the children and the older ones who really need the care."
As president, however, Trump has thrown his support behind the House and Senate health care bills that, according to the non-partisan Congressional Budget Office, would dramatically cut the government's Medicaid spending and cause millions to lose insurance.
When asked about Trump's backing of the bills and the cuts to Medicaid, Stowers said: "I hope he doesn't. I hope that they have enough sense to see there's other ways to save the money."