DENVER — The ad by the Republican Governors Association features a sweeping aerial shot of San Francisco. The voice-over is delivered in a faux surfer-dude accent.
"California has the surf, the beach, the nightlife, the Golden Gate," the narrator says. "But California also has high taxes, crazy regulations that destroy jobs and radical ideas like single-payer health care."
The commercial isn't running in California — but in Colorado, where Democratic Rep. Jared Polis is vying for governor against Republican Walker Stapleton. It's part of a recent explosion of advertising from leading GOP-allied groups attacking Democrats over single-payer health care in races around the country.
Prominent targets include numerous House candidates, even some who don't back single-payer health care. In Kentucky, a commercial by the Congressional Leadership Fund warns that Democrat Amy McGrath "would eliminate employer-provided health insurance." McGrath's website, however, says single-payer would "put our healthcare system into massive upheaval" and that she doesn't support it.
The issue is also taking on greater prominence in governor races, where Democratic candidates like Polis, Andrew Gillum in Florida, Gavin Newsom in California and Ben Jealous in Maryland are running on state-level proposals.
The vast majority of the Republican attacks cite the $32 trillion cost estimate of a Bernie Sanders-backed proposal to cover all Americans with a more generous version of Medicare. Many Republicans ads also warn that new health care programs would harm traditional Medicare.
A National Republican Congressional Committee website that compiles opposition research is currently dominated by "Medicare for All" references. Sample talking points: It "ends Medicare as we know it," is "one-size-fits-all government health care" and even "could be used to pay for illegal immigrants' health care" (the leading single-payer bills in Congress leave it to the executive branch to decide who qualifies).
Taken together, the broadsides amount to the first sustained critique of single-payer health care from the right and a preview of the opposition it would face en route to passage. That makes November's elections an early test for the Democratic politicians, activists and voters who have made a transformative overhaul of the health care system their party's North Star.
Republicans join the fight
Until recently, the debate over Medicare for All has mostly fought among Democrats. In Polis' case, he defeated multiple rivals who did not back single-payer while touting his own support for a federal Medicare for All bill and a plan to join western states to form a regional version.
Now as Republicans join the fray, he doesn't sound too worried about what he calls "silly and desperate attacks."
"The more people that are part of a plan, the more negotiating leverage we would have with providers and pharmaceutical companies to achieve better rates," Polis told NBC News in an interview.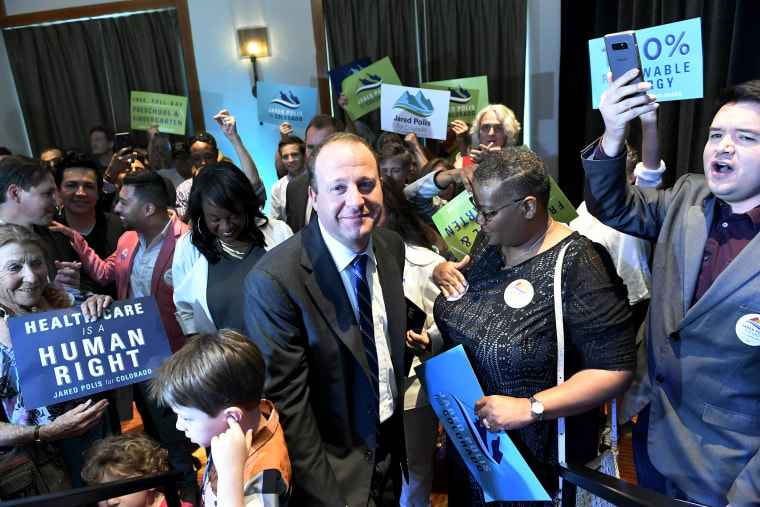 Republicans see an opening, though. An attempt to pass a single-payer plan in Colorado by ballot initiative failed by nearly 80 percent to 20 percent in 2016, although the politics were complicated — it was opposed by Polis and liberal groups in part because it would limit access to abortion.
"Medicare for All is essentially government takeover of the health insurance business," said Jeff Hays, the state chair of the Colorado Republican Party. "By every assessment that you see, it is wildly expensive and Jared Polis is not telling you how he is going to pay for it."
Single-payer proposals in the states are fueling new attacks on House candidates as well.
An NRCC ad coordinated with Rep. Claudia Tenney, R-N.Y., tied her Democratic opponent, Anthony Brindisi, to a single-payer plan he supported in the state legislature, labeling it "free health care for illegal aliens." A study conducted by the RAND corporation last month found that the bill would provide health care coverage to all New York residents, including undocumented immigrants. Brindisi told NBC News he does not support a federal Medicare for All plan and ran a response ad last month saying he does not back benefits for undocumented residents.
The left fights back
Medicare for All supporters have been expecting an inevitable backlash.
Advocates sprang into action when the $32 trillion cost estimate now cited in ads debuted in late July in a study by the Mercatus Center. Single-payer backers rushed to remind voters of the source — a libertarian-leaning think tank — but also to tout the news as positive, noting the same study estimated that total health spending would go down by $2 trillion over a decade if some cost-saving measures went into effect.
"The money is there and it is a dirty, nasty trick from both parties to just shut down things that are good for people by saying we don't have the money for it," said Saira Rao, a progressive activist who unsuccessfully challenged Rep. Diana DeGette, D-Colo., in this year's primaries.
In addition to attacks on costs, though, Republicans are also pushing another angle that targets seniors and plays up the potential of a Medicare for All plan to compete against traditional Medicare.
Trump himself offered a version of it at a rally last month, saying Democrats would "raid Medicare to pay for socialism." Florida Gov. Rick Scott, a Republican who is running for the Senate, tweeted along the same lines last week.
Critics mock the socialism references, since Medicare itself is already government-run health care. The leading single-payer bills in Congress would make seniors' plans more generous by removing co-pays and deductibles and adding dental and vision coverage, they also note, in contrast to GOP plans that would partially privatize Medicare and scale back benefits.
"Republicans claiming to protect Medicare would be like Jeffrey Dahmer promising to protect vegetarianism," said Jesse Ferguson, a Democratic strategist focused on health care issues.
But some progressives warn that Democrats should take a potential revolt by seniors seriously. A 2015 study by the National Bureau of Economic Research found the elderly have grown more resistant to health care expansions over the years out of fears that new programs crowd out their own access to services. Republican ads play on these doubts, warning that too much spending elsewhere could "bankrupt" Medicare.
"Some doctors will not take you if you are on Medicare ... and Medicaid has to be even worse," Karen Korins, a retired business professor, said at a Republican BBQ meeting in Greeley, Colorado. "So the idea of Medicare for All as a panacea — it's a utopia."
Future battles
For now, candidates running on the issue have the luxury of being vague. There's still no universal definition of "Medicare for All," which some people interpret to mean adding a public option, and single-payer bills are often treated more as a discussion draft.
"We're the wealthiest country in the world, and somewhere in there is the answer to how we'll pay for it," J.D. Scholten, a Democratic challenging Rep. Steve King, R-Iowa, on single-payer, told NBC News.
Democrats and even some Republican strategists who spoke to NBC News were skeptical that the attacks on Medicare for All would have a significant effect on the midterms.
Democrats have made health care their top issue in races around the country by going on offense with numerous ads citing Obamacare repeal bills that would slash health benefits and, more recently, a White House-backed lawsuit that would end protections for pre-existing conditions.
But a fairly substantial lack of awareness among voters about single payer and what it is could give Republicans some space to start sowing doubts that could carry over beyond 2018 and into the 2020 presidential race. Some single-payer advocates also worry the attacks could spook wavering Democrats into a more cautious position on health care.
"I think it's critical Democrats respond to these attacks and make clear their position, whatever it is," said Simon Rosenberg, a Democratic strategist and veteran of the Clinton administration's health care fights. "You can't ever let an attack go unaddressed."
Benjy Sarlin and Rebecca Shabad reported from Washington, and Lauren Egan from Colorado.
CORRECTION (Sept. 11, 2018, 10:46 a.m. ET): An earlier version of this article misspelled the first name of a Democratic House member from Colorado. She is Rep. Diana DeGette, not Dianne.