Last year's Democratic nominee Hillary Clinton and her husband, former President Bill Clinton, will attend Donald Trump's presidential inauguration later this month, aides told NBC News on Tuesday.
The Clintons will be joined by former President George W. Bush and former first lady Laura Bush at the inauguration ceremony in Washington, D.C., on Jan. 20, aides to the former president said Tuesday afternoon.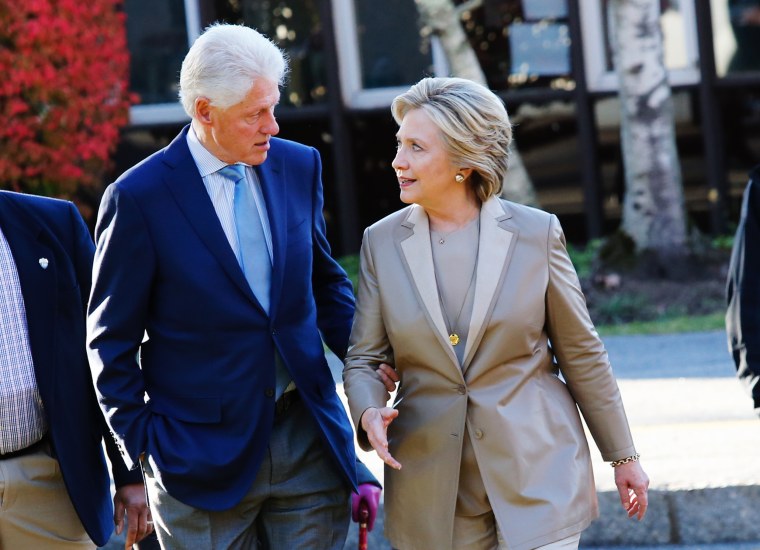 "They are pleased to be able to witness the peaceful transfer of power — a hallmark of American democracy — and swearing-in of President Trump and Vice President Pence," the Bush family said in a statement.
For President Barack Obama's first inauguration, Bill Clinton was in attendance along with former presidents George H.W. Bush and Jimmy Carter (the departing President Bush was on stage as Obama will be this year). For the second Obama inauguration in 2013, Clinton and Carter were the only two former presidents to attend.
A spokesman for former President George H.W. Bush told NBC News that he and his wife Barbara would not be attending this year's inauguration.
"At ages 92 and 91 — and all that entails — President and Mrs. Bush are simply not able to attend the Inauguration this month. He was also unable to attend in 2013," spokesman Jim McGrath said.
Trump's inaugural committee said on Twitter last month it was planning a welcome rally, a parade, two inaugural balls and a ball saluting armed service members and first responders for the inaugural week.
Planning for the ceremonies has not been without some controversy though. After it was announced that Radio City Rockettes would be performing at the ceremony, one member of the group took to social media to share her frustration at having to perform for Trump.
"The women I work with are intelligent and are full of love and the decision of performing for a man that stands for everything we're against is appalling," Rockette Pheobe Pearl captioned a private Instagram post, adding the words "Not My President" to a photo of the dance troupe on stage.
And last week one member of the Mormon Tabernacle Choir, announced her resignation from the group rather than perform for Trump.