Hillary Clinton came "out of the woods" Tuesday night and delivered a sharp critique of President Donald Trump's administration and the Republican Party's failed attempt to repeal and replace Obamacare, calling the GOP bill "disastrous."
Clinton called the GOP health care plan "a disastrous bill" and said its failure to pass was "a victory for all Americans" during a speech at a conference for the Professional Business Women of California (PBWC) in San Francisco on Tuesday night.
In some of her most politically charged remarks since the presidential election, Clinton noted how opponents of the bill rallied at town hall meetings and flooded congressional switch boards with calls in an attempt to stop its passage.
"These are bad policies that will hurt people and take our country in the wrong direction," she said.
Related: 'Stop Shaking Your Head': Sean Spicer Lashes Out at Reporter April Ryan
The former Democratic nominee said she was "thrilled to be out of the woods" — a reference to the selfies she turned up in with hikers around her home of Chappaqua, N.Y. — and said advancing the rights and opportunities of women and girls around the world "is the great unfinished business of the 21st century."
"There is no place I'd rather be than here with you," Clinton said — adding, "other than the White House."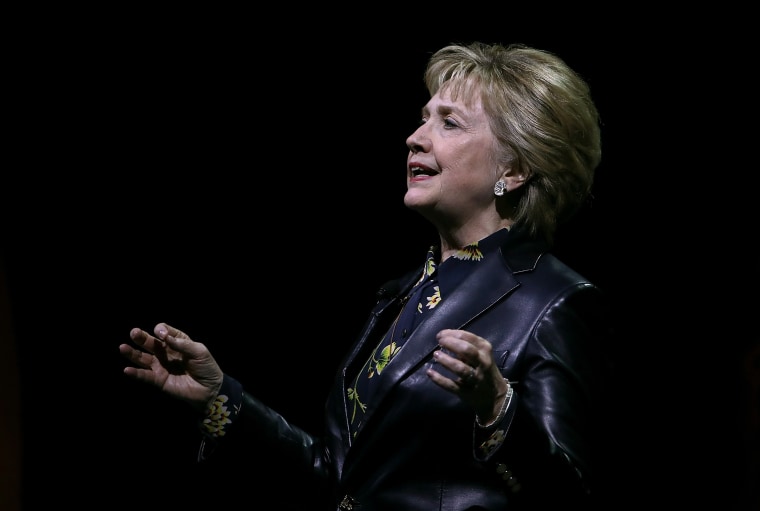 Clinton also called out the Trump administration over a widely circulated tweet from Vice President Mike Pence showing his meeting with the House Freedom Caucus to discuss the health care bill — with not a single woman present in the photo.
"Recently, photos have been making the rounds on social media showing groups of men in Washington making decisions about women's health — decisions to strip away coverage for pregnancy and maternity care, or limit access to reproductive health care around the globe," she said. "We shake our heads and think, how could they not have invited any women to the table?"
Clinton also referenced an opinion piece in the New York Times this week that "argues that it may not be an oversight at all, but an intentional signal: Don't worry, the men are in charge of everything."
Related: After Health Care Loss, What's Next for a Divided Republican Congress?
She also criticized the administration for a lack of women in leadership positions, saying women's representation in Trump's government was "the lowest it's been in a generation."
Clinton drew attention to an issue at the heart of her 2016 presidential campaign, paid family leave.
"What kind of message does it send to the world that the United States is still the only advanced economy with no national paid family leave policy?" she asked.
And she weighed in on the backlash over White House Press Secretary Sean Spicer's treatment of a black female reporter and Fox News host Bill O'Reilly's racially charged joke about a black Congresswoman.
Spicer snapped at a American Urban Radio Networks' correspondent April Ryan during Tuesday's briefing, telling to "stop shaking her head" as they spoke. And O'Reilly apologized after mocking Rep. Maxine Waters' hair.
"Just look at all that's happened in the last few days to women who were simply doing their jobs. April Ryan, a respected journalist with unrivaled integrity, was doing her job just this afternoon in the White House press room, and she was patronized and cut off trying to ask a question," Clinton said Tuesday night.
"One of your own California congresswomen, Maxine Waters, was taunted with a racist joke about her hair," she added. "Too many women, especially women of color, have had a lifetime of practice taking precisely these kinds of indignities in stride. But why should we have to?"