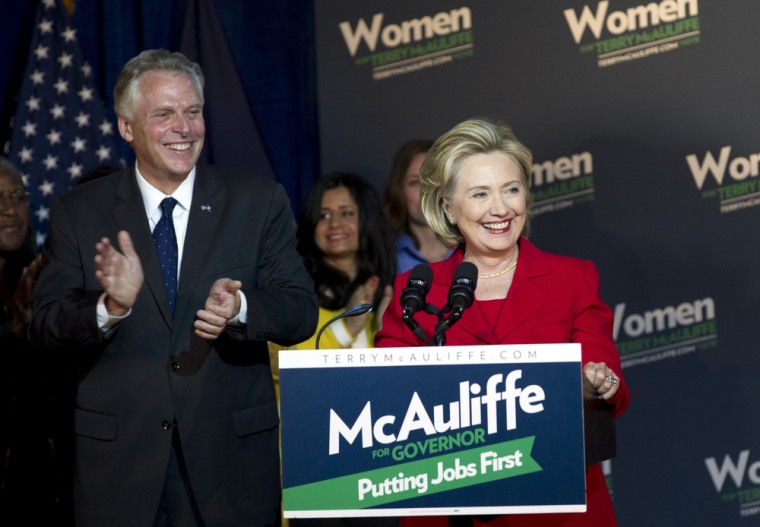 FALLS CHURCH, Va. -- Officially, the concert hall billed it as a Terry McAuliffe campaign event. But the northern Virginia crowd came to see Hillary Clinton, potential 2016 presidential candidate, and they greeted her like the headliner.
"The leader who has joined us here today--" was as far as McAuliffe, the Democratic candidate for Virginia governor, got before the crowd leapt to its feet, almost everyone holding cell phones aloft, trying to snap a picture.
"HILL-A-RY! HILL-A-RY!" they chanted, before McAuliffe even said her name. (The chant had surfaced briefly earlier, when a Democratic operative standing in the back jokingly grumbled, "Let's get on message here, people: TER-RY, TER-RY.") 
She gave her fans a nearly 20-minute speech that wasn't just an endorsement of her old friend. It was an outline of a standard campaign speech that set her up against the policies of a Republican Party that's largely taking the blame for a 16-day government shutdown and near default.  
"In Washington, unfortunately, we've seen examples of the wrong kind of leadership. When politicians choose scorched earth over common ground, they operate in what I call the evidence-free zone," she said, prompting cheers from the crowd of over 600 in the State Theatre here. "With ideology trumping everything else, we've seen that families in Virginia and across the country have felt the consequences." 
"That is not the kind of leadership we need in Virginia and America today," she said.
Clinton appeared rested and at ease on stage, and delivered a speech full of hints and innuendo that kept prompting the crowd to burst out with whistling, cheering and applause.
"I've been out of politics for a few years now, and I've had a chance to think a lot about what makes our country so great, and what kind of leadership is required to keep it great," she said.
"Yours!" yelled someone in the front row, prompting her to pause and flash a smile. 
But this event doesn't mean that she'll be back out on the campaign trail regularly from here on out. It's clear that this was a favor for a friend. She didn't lift a finger for New Jersey Democratic Senate candidate Cory Booker, and she hasn't campaigned for Barbara Buono, the Democratic state senator who's challenging New Jersey Gov. Chris Christie.
She and husband, former President Bill Clinton, are more active behind the scenes; her public appearance for McAuliffe was bracketed by two private fundraisers, and more are planned. And Bill Clinton will likely do a public appearance for McAuliffe before the Nov. 5 election, though it hasn't yet been formally scheduled.
On Saturday, Clinton focused her speech on issues dear to women and families, appropriate given that the event was a "Women for Terry" rally aimed at getting women to go to the polls in the Virginia governor's race. McAuliffe has opened a wide lead over Republican Ken Cuccinelli, the state's attorney general, and his primary advantage is among women. He leads Cuccinelli by 20 points among women, according to a recent NBC4/NBC News/Marist poll. 
And Clinton was clearly comfortable with McAuliffe, a longtime family friend, fundraiser and her 2008 presidential campaign co-chair. He stood next to her on stage, looking at her and clapping as enthusiastically as anyone in the crowd. 
Clinton joked about his workaholic personality and offered herself as a character witness of sorts to a candidate who's sometimes struggled to convince voters that he isn't just a soulless moneyman. 
"Terry McAuliffe has some of the finest habits of the heart of anyone I've ever met," she said.
Clinton also dropped hints about how she might cast her tenure at the State Department to buttress her presidential credentials.
"I spent four years traveling across the globe, a great honor and privilege to represent all of you," she said, "and I have learned even more about what it takes to make good decisions, what it takes to bring people together, to build the kind of future that we all want for our children and grandchildren." 
Scattered through the crowd were people sporting buttons and T-shirts that read, "Ready for Hillary." One young woman wore a T-shirt emblazoned with a paragraph from the famous speech Clinton gave declaring that "women's rights are human rights and human rights are women's rights." 
But Saturday's rally didn't do much to further reveal her intentions -- she's already said she's considering a presidential run.
Her only opaque reference, yet another line that prompted cheers: "I've been in a lot of elections," she said.