In the first excerpts from Hillary Clinton's highly anticipated upcoming memoir, the former Democratic presidential candidate said her "skin crawled" during a debate with Donald Trump.
In audio clips of Clinton reading from the book, "What Happened," which were first obtained by MSNBC's "Morning Joe" on Wednesday, Clinton recounted her thoughts as she toyed with the idea of telling her Republican rival to "back up, you creep" as he stood behind her during the second presidential debate.
"My skin crawled," Clinton said. "It was one of those moments where you wish you could hit pause and ask everyone watching 'well, what would you do?'"
Just two days prior, Clinton said, "the world heard [Trump] brag about groping women."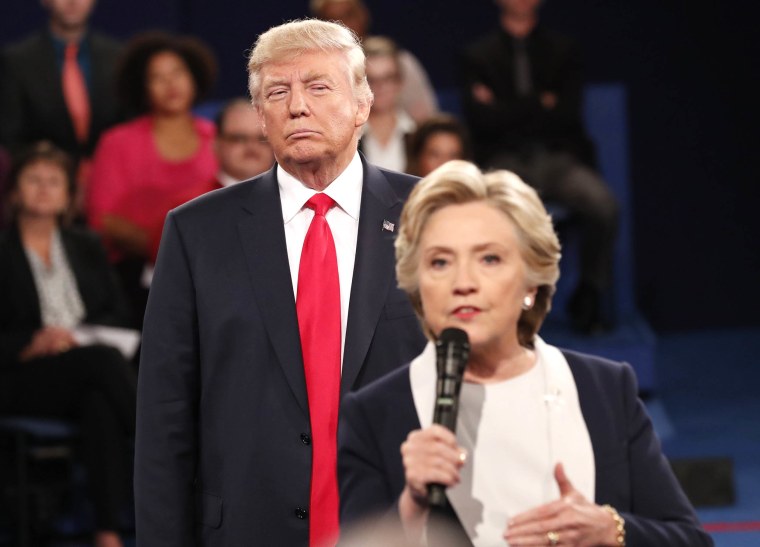 Clinton said during the debate she decided against telling Trump, "back up, you creep, get away from me," and in order to keep her composure, she gripped the microphone "extra hard."
Related: 12 Days That Stunned a Nation: How Clinton Lost the Election
But, in hindsight, Clinton wondered if she should have taken the time to tell Trump off for following her.
"It certainly would have been better TV," she said. "Maybe I have over-learned the lesson of staying calm, biting my tongue, digging my fingernails into a clenched fist, smiling all the while, determined to present a composed face to the world."
Clinton was referring to the 2005 "Access Hollywood" tapes, which were released in October 2016. In the tapes, Trump was caught on a hot mic saying his celebrity status would allow him to grab women "by the p----," and discussed other sexual advances he made on women.
Shortly after the tapes were released, at least 11 women came forward to accuse Trump of inappropriate behavior.
While at a campaign stop in Gettysburg, Pennsylvania, after the tapes came out, Trump denied any wrongdoing.
"Every woman lied when they came forward to hurt my campaign," Trump said. "The events never happened, never. All of these liars will be sued after the election is over."
Related: The Allegations Women Have Made Against Donald Trump
Clinton's memoir, scheduled for release on Sept. 12, is slated to be a postmortem on mistakes she made along the campaign trail and what she called the "devastating" and unexpected loss to President Donald Trump, according to a press release.
"In this book, I write about moments from the campaign that I wish I could go back and do over. If the Russians could hack my subconscious, they'd find a long list," Clinton said in one part of the book.
In an earlier section of the book, Clinton explains that the memoir will not be a comprehensive account of the 2016 race.
"That's not for me to write," she wrote. "I have too little distance and too great a stake in it. Instead, this is my story. I want to pull back the curtain on an experience. It was exhilarating, joyful, humbling, infuriating and just plain baffling. Writing this wasn't easy."
Related: Hillary Clinton's New Book 'What Happened' Examines 2016 Campaign
She went on to say that she felt millions of people were counting on her as she ran for president, and she feels she let them down.
"I couldn't get the job done," she said. "And I'll have to live with that for the rest of my life."
"What Happened" will be published by Simon & Schuster.