With a professed pro-life president now in the White House in Donald Trump, Congressional Republicans made their first move to curtail abortion rights on Wednesday.
The legislation, H.R. 7, bans the use of federal funding for abortion services. That means no Medicaid coverage of abortions, no funding to organizations like Planned Parenthood even if the money is used for other health care services, and a ban on abortion coverage through private insurance companies that participate in the Affordable Care Act (ACA) health care exchange, also known as Obamacare.
Related: Global Gag Rule Will Cause More Abortions, Not Fewer, Groups Say
The No Taxpayer Funding for Abortion and Abortion Insurance Full Disclosure Act of 2017 passed 238-183 in the House, but still needs a Senate vote to become law. The bill wouldn't change much in practice — federal funding for U.S. abortion services is already banned through the Hyde Amendment in the annual federal appropriations bill. Through Hyde, abortion coverage is already unavailable for Medicaid and Medicare clients, federal employees, Peace Corps volunteers and inmates in federal prisons and detention centers.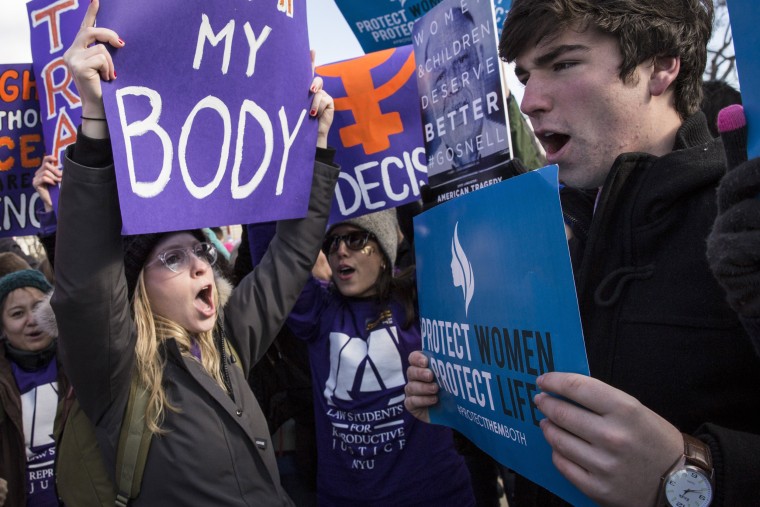 But H.R. 7 would enshrine the temporary Hyde Amendment into permanent law. In addition, the text of the bill adds new restrictions that would make insurance coverage of abortion even more difficult for Americans.
"They're using the ACA as a vehicle to do it," said Ann Marie Benitez, Senior Director of Government Relations at the National Latina Institute for Reproductive Health. "It's an additional pivot to outside that [Medicaid] realm to private insurance, a ban on abortion coverage in both the federal and private space."
The bill specifically states that the marketplace's "refundable credit and cost-sharing reductions" would be disallowed if the health plan covers abortion, Benitez said. It would allow insurance companies to sell separate insurance that covers abortion outside of the marketplace — as long as there are no tax credits or refunds involved via the ACA.
"While H.R. 7 does have sweeping impact on all women, it has a disproportionate impact on low-income women and women of color," Benitez said. "As an organization that represents Latinas, we're even more outraged about this, and we will continue to fight it."
The bill also bans doctors who are federal employees from offering or performing abortions, and it bars the procedure at all health care facilities "owned or operated by the federal government." That means hospitals, clinics and schools operated under the Department of Health and Human Services, Department of Veterans Affairs and Department of Defense, for example, would be banned from offering abortion services.

The legislation does make some concessions. The federal ban would not apply to cases involving rape or incest, or where the pregnant person's life is at risk.
Rep. Diane Black, R-Tenn., is a vocal advocate for the bill. She told NBC News that H.R. 7 would prevent House Democrats from getting rid of the Hyde Amendment altogether.
"While this amendment has enjoyed broad, bipartisan support over the years, we have seen that dwindle in recent times — with the Democratic Party's most recently adopted platform callously demanding an end to this time-honored protection," Black said.
On Tuesday, Black spoke on the House floor about H.R. 7, starting off with an anecdote about "millions of pro-life women who were explicitly told that they were unwelcome" at last weekend's Women's March in Washington, D.C.
While speaking on the House floor Tuesday, Black said "more than 60 percent of Americans from all political persuasions ... oppose taxpayer funding for abortion."
But according to a December 2015 poll from USA Today and Suffolk University, among other polls, it's actually the opposite — at least when it comes to support for Planned Parenthood, most Americans' primary contact with federal funding for family planning services. Nearly 60 percent of Americans said they support federal funding for Planned Parenthood, while 33 percent said it should lose federal dollars.
Regardless of what voters think, one thing is clear — most insurance companies in ACA marketplaces do offer coverage for abortion. H.R. 7 would change that.