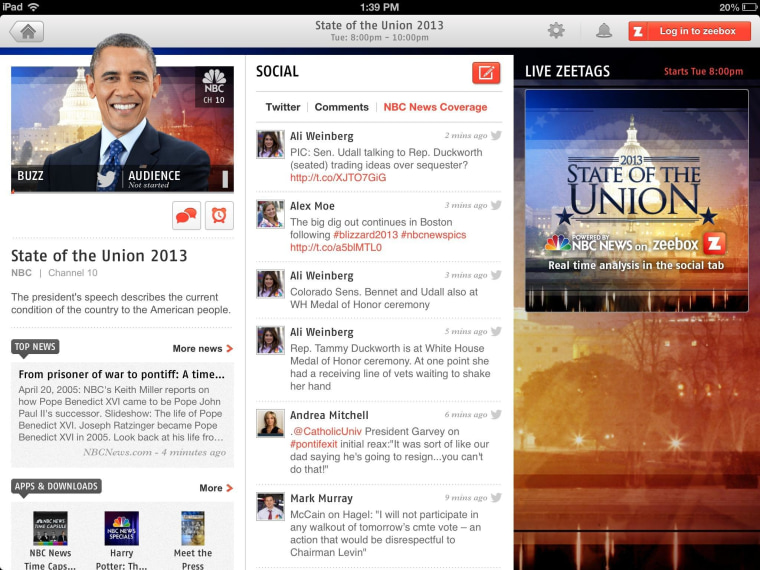 President Barack Obama is set to make his fourth State of the Union address on Tuesday evening, the first of his second term. We'll carry the speech in full on NBC News beginning at 9 p.m. ET, along with analysis and reaction immediately after. NBCNews.com will also live stream a web-exclusive Special Report that will begin at 8:45 p.m. ET, with coverage anchored by NBC's Brian Williams.
Consider this your official guide to follow, fan like, and participate in our NBC News State of the Union coverage, both on –air and away from the television.
On-air
NBC News will provide complete coverage and analysis of President Obama's State of the Union address to Congress on Feb. 12, starting at 9 p.m. ET, and including the Republican response from Sen. Marco Rubio (R-FL) immediately after. We'll also include some of the best #NBCPolitics tweets on-air.
NBCNews.com and the NBC Politics app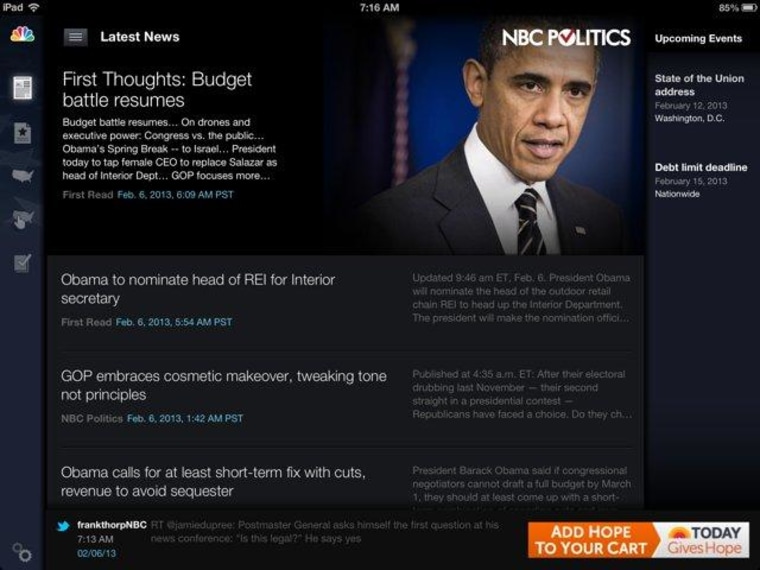 NBCNews.com and the NBC Politics app (available on the iPhone, iPad and iPod Touch) will live stream the entire State of the Union, including a web-only exclusive pre-show beginning at 8:45 p.m. ET and anchored by Brian Williams. We'll also offer slideshows, analysis and a curated view of social media reaction from NBC News political personnel and more at NBCNews.com.
Twitter
Viewers can be a part of the State of the Union experience on Twitter by following and joining the conversation using the #NBCPolitics hashtag and by following @NBCPolitics.
Be sure to also follow @NBCNews, which will be taken over by an NBC News political correspondent (to be announced) during the speech. Additionally, NBC News will curate a list of some of the best NBC News analysis on the web at NBCPolitics.com.
Facebook
Turn to NBC News and NBC Politics on Facebook for a live stream of State of the Union coverage, in addition to highlights, polls, photos, analysis and more.
Social TV
NBC News will create a unique second-screen experience on the Zeebox platform, offering live surveys, a special look behind-the-scenes, and opportunities to interact with the NBC Politics team. Zeebox users will have a curated view of all real-time social media and can share images and quotes from the event across Facebook,  Twitter and more. Visit Zeebox on the web, or download the Zeebox app today. 
Additionally, be sure to check-in to special NBC News State of the Union coverage on GetGlue and get rewarded with an exclusive sticker.