The IRS came under more fire from Congress on Thursday over unanswered questions surrounding the targeting of political groups that remain after a preliminary review issued from the agency. Lawmakers scolded IRS Principal Deputy Commissioner Danny Werfel for not having more answers about the agency's scrutiny of some groups seeking tax-exempt status. 
Republicans interested in perpetuating waning outrage over IRS targeting of conservatives questioned the completeness of a new, 30-day review recently released by the agency's acting director. And Democrats made certain to highlight new revelations that liberal and progressive groups were also targeted to some extent.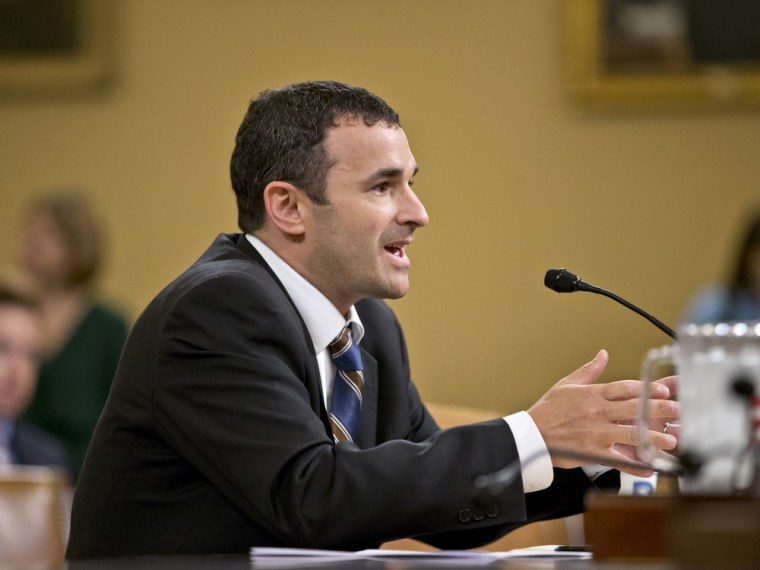 "Unfortunately, while I'm aware this is an initial report, it fails to deliver the accountability the American people deserve," Rep. Dave Camp, R-Mich., the chairman of the committee that convened Thursday's hearing, said this morning. "This report doesn't answer even the most basic significant questions. Who started this practice? Why has it been allowed to continue for so long? How widespread was it? In fact, this report suggests that you haven't even asked anyone those questions."
At issue is the agency's use of "be-on-the-lookout," or BOLO, lists used to categorize groups for scrutiny. In his report earlier this week, Werfel said the use of such lists has been suspended.  But questions about which groups were targeted and how forcefully remain.
Werfel said, simply, that the far-reaching investigation into potential wrongdoing at the IRS was incomplete. And the principal deputy commissioner said that he was limited in what he could say until both the IRS and a separate criminal investigation were complete.
Committee Republicans badgered Werfel, though, over the state of the investigation. They suggested that the acting IRS chief was essentially complicit in a cover-up of IRS targeting. Werfel was repeatedly interrupted upon trying to answer.
"Mr. Werfel, this report is a sham," said Rep. Kevin Brady, R-Texas, who generally refused to allow Werfel a word in edgewise. "I would call it a whitewash, but it's too thin and insubstantial to meet that description."
(Rep. Jim McDermott, D-Wash., the next questioner, told Werfel: "I would like you to take the rest of my time to finish answering the questions Mr. Brady kept interrupting you on.")
Werfel further explained that he was under orders from the Justice Department to act in such a way that would not jeopardize any evidence chain in a criminal investigation.
"There's going to be a lot of questions and implications that the accountability is not real because people are still at the IRS and still getting a paycheck," he said, addressing Republicans' concerns about the progress of the investigation. But he countered by saying that he would violate the rules and procedures which govern civil servant employment if he were to act unilaterally to take disciplinary action against an employee without following due process.
Committee Democrats, meanwhile, seized on words within Werfel's 30-day report suggesting that the word "progressives" was included in the IRS "be-on-the-lookout" list instructing officials to apply extra scrutiny to a group applying for tax-exempt status.
"I hope our colleagues on the Republican side of the aisle will now join us in condemning the use of the term 'progressives' on the screening list and the failure of the I.G. to be forthcoming with this and other congressional committees," Rep. Sander Levin, D-Mich., the committee's top Democrat, said in his opening statement.
Republicans responded, though, by pointing to a letter from Russell George, the Treasury inspector general who conducted the initial IRS audit which exposed wrongdoing at the agency. George said that his audit demonstrated that the use of the "progressive" BOLO didn't routinely subject those groups to additional and unnecessary scrutiny the way the use of conservative-oriented BOLOs had.