WASHINGTON — President Barack Obama and Canadian Prime Minister Justin Trudeau are promising to make it easier for their respective countries to trade and invest in one another, share more information to prevent the flow of foreign fighters and promote clean energy as a central focus of economic growth.
Obama and Trudeau held a news conference after a meeting in the Oval Office that followed a welcoming ceremony where the White House rolled out the red carpet Thursday for the first official visit in nearly two decades by a Canadian prime minister, a charismatic and youthful liberal leader intent on maintaining tight ties with the United States.
"We're woven together so deeply as societies, as economies, that it's sometimes easy to forget how truly remarkable our relationship is," Obama said, adding that he and Trudeau have a common outlook on what the two nations can achieve together.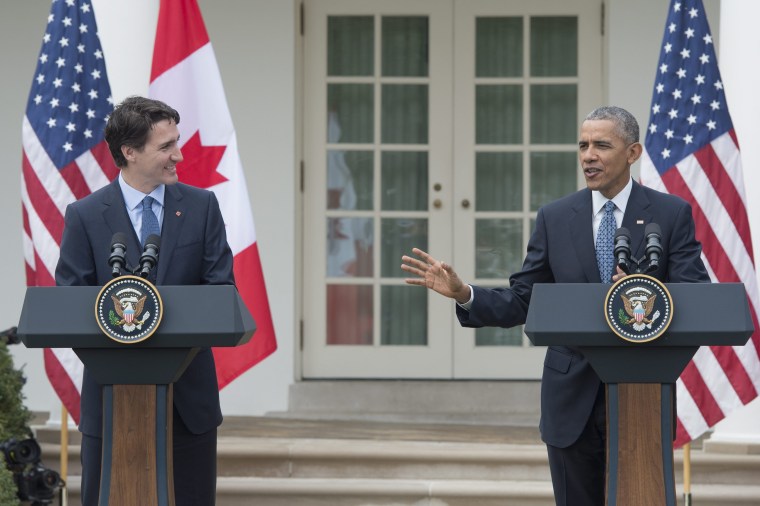 Obama said the two leaders instructed aides to make it easier for goods and people to move back and forth between the two nation's borders. Trudeau focused on their shared desire to curb global warming. He said they both want a "clean-growth economy."
"I'm confident that by working together, we'll get there sooner than we think," Trudeau said.
Earlier in the day, Obama greeted Trudeau by emphasizing that their nations are blessed to be neighbors with shared views on the importance of health care as right for all and diversity as a sign of strength.
"We see ourselves in each other, guided by the same values," Obama said.
Related: What to Know About Canadian PM Justin Trudeau's Visit to U.S.
At the ornate arrival ceremony on the South Lawn, Obama and first lady Michelle Obama welcomed Trudeau, the 44-year-old son of the late Prime Minister Pierre Trudeau, and his wife, Sophie Gregoire.
The leaders found time for some levity before heading into an Oval Office meeting, with a state dinner to come in the evening.
The president hit on a topic of national pride for Canadians: hockey.
"Where's the Stanley Cup right now?" Obama joked, before answering his own question — the Chicago Blackhawks won it last season.
Trudeau tried to match Obama's trash talk, noting that three of the Blackhawks' best players are from Canada.
Still, the young prime minister's remarks were largely earnest. He linked his agenda to the Obama administration's and said the two governments "share and are working on the exact same objectives."
"There is no relationship in the entire world like the Canada-U.S. relationship," Trudeau said. "We grew up together."
Despite that close geographical and political alliance, no Canadian prime minister had made an official visit since 1997, a fact that Obama noted.
"It's about time, eh?" Obama said, playing up the American stereotype of a Canadian colloquialism.
Canada is the United States' largest trading partner, with more than $2 billion worth of goods and services crossing the border every day. Besides trade, the two leaders were expected to seek common ground on environment protection.