WASHINGTON — An Arkansas man who was photographed during the Jan. 6 riot with his feet on a desk in then-House Speaker Nancy Pelosi's office was found guilty on all counts Monday after brief jury deliberations.
Richard Barnett faced eight charges stemming from the insurrection in 2021, including theft of government property. He said repeatedly in court last week that he regretted what happened at the Capitol that day but did not consider his actions illegal.
Barnett told reporters outside the court courthouse: "This is not a jury of my peers. I don't agree with the decision, but I do appreciate the process, and we are surely going to appeal."
Barnett's attorney, Joseph McBride, agreed with his client, saying Washington's political composition is not like that of the rest of the U.S. and that that, coupled with Jan. 6 media coverage, "eviscerated any chance of a fair trial."
Barnett is scheduled to be sentenced May 3.
Barnett became a widely known symbol of the riot when he was photographed reclining in a chair in the speaker's office, with his feet propped up, and what the government referred to as a "stun device" tucked in his pants. Before he left Pelosi's office, Barnett took an envelope that he later displayed for cameras outside the Capitol.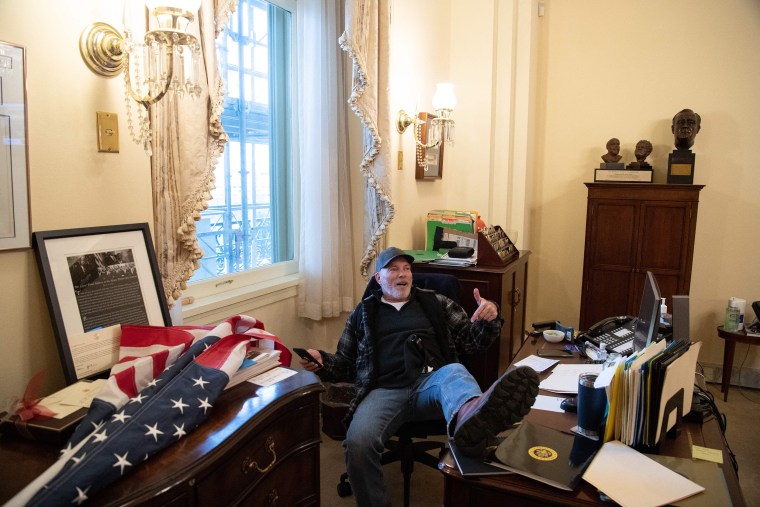 In court Friday, before the case was handed to the jury, Assistant U.S. Attorney Michael Gordon pored over Barnett's version of Jan. 6 and poked holes in his testimony, visibly angering Barnett.
Barnett, who had said Thursday he would apologize to Pelosi, D-Calif., if she were in court, admitted during cross-examination that when a police officer told him he needed to leave her office, he replied: "You need to give up communism."
Barnett also admitted to telling an officer in the Capitol: "We're in a war. You need to pick a side. Don't be on the wrong side, or you're going to get hurt."
Defending his actions, Barnett said he didn't believe he had violated the law on Jan. 6.
"I made some bad mistakes and I regret them, but I don't think I broke the law," Barnett said Friday. "I feel like a f------ idiot."
Asked Monday whether the decision to testify may have backfired given that the jury needed only a few hours to convict Barnett on all counts, McBride said: "We thought that the decision to testify was unequivocally the right one.
"He had a story that needed to be told," McBride said. "People needed to know why he came here, what his intentions were and what he did while he was here. The man got up there, and he told the truth, and it didn't work out for him, but at the end of the day we have no regrets about that choice."
Two years after the riot, the FBI and the Justice Department's investigation into the Capitol attack has yielded 900 arrests and nearly 500 guilty pleas.