President Donald Trump's son-in-law and senior adviser, Jared Kushner, will be interviewed by staff of the Senate Intelligence Committee in a closed session on Monday, his attorney said.
"As Mr. Kushner has been saying since March, he has been and is prepared to voluntarily cooperate and provide whatever information he has on the investigations to Congress," the lawyer, Abbe Lowell, said in a statement.
The Intelligence Committee is investigating Russia's alleged attempted interference in the 2016 presidential election. U.S. intelligence agencies have concluded that the covert operation was intended to damage Hillary Clinton's campaign and evolved into an attempt to help Trump win.
Trump's eldest son, Donald Trump Jr., and former Trump campaign manager Paul Manafort have been invited to testify at a Senate Judiciary Committee hearing, but it has not confirmed that they will do so, a committee aide said.
All three have been scrutinized in recent days over a meeting in June 2016 that involved a Russian lawyer and was pitched with the promise of damaging information about Clinton, according to emails released by Trump Jr.
Related: Trump-Putin Meeting Raises Red Flags for National Security Experts
Judiciary Committee Chairman Chuck Grassley, R-Iowa, and ranking Democrat Dianne Feinstein of California have said they would subpoena Trump Jr. and Manafort if they refused to respond voluntarily to the committee's invitation.
"The Committee expects that all witness will comply voluntarily with invitations to testify," the committee said in a statement Wednesday.
There was no immediate response to requests for comment from Trump Jr. or Manafort as to whether they would attend. On July 10, Trump Jr. said on Twitter: "Happy to work with the committee to pass on what I know."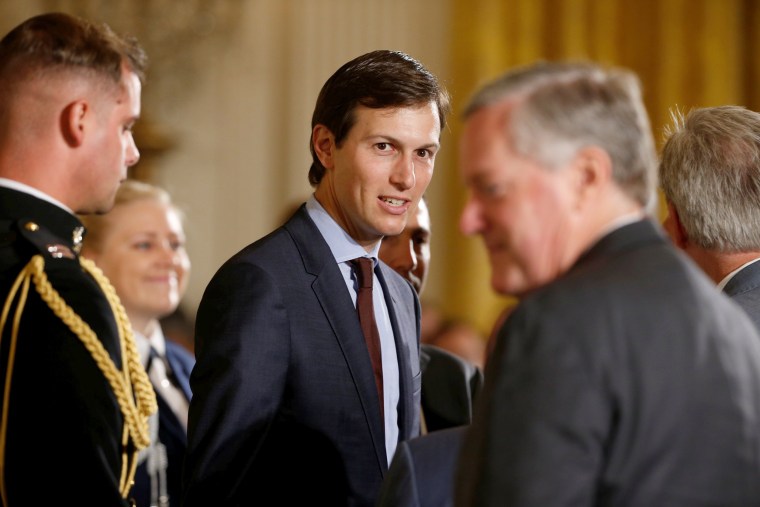 Trump Jr. has said the meeting did not produce any information, and in an interview with Fox News last week, he called it a waste of time, although he said that, in hindsight, "I probably would have done things a little differently."
He said the Russian lawyer, Natalia Veselnitskaya, wanted to discuss an adoption program of Russian children that had been ended by the Russian government.
Related: Ike Kaveladze Named as Eighth Person in Trump Jr. Meeting
Moscow discontinued the program in response to Congress passing the Magnitsky Act in 2012, which froze the U.S. assets of Russian investigators and prosecutors said to have been involved in the illegal detention and death of whistle-blowing lawyer Sergei Magnitsky, who died in a Russian prison in 2009.
In an email exchange that Trump Jr. released last week as The New York Times prepared to publish the contents of the messages, music publicist Rob Goldstone wrote: "This is obviously very high level and sensitive information but is part of Russia and its government's support for Mr. Trump."
Critics have pounced on the meeting as evidence that Trump Jr. was willing to collude with someone purporting to have information connected to the Russian government to help his father's presidential campaign.
Related: Trump Jr.'s Meeting Brings Meddling Inquiry to 'New Level,' Warner Says
President Trump has defended his son and said he has been "open, transparent and innocent" in the matter. The president said on Twitter last week that "this is the greatest Witch Hunt in political history."
Russia has repeatedly denied allegations that it tried to interfere in the presidential election.
Kushner's attorney said in the statement Tuesday that "he will continue to cooperate and appreciates the opportunity to assist in putting this matter to rest."