MEREDITH, New Hampshire – When Jeb Bush called Donald Trump a "jerk," he meant it.
"Do you want a President that disparages women, Muslims of all kinds, people with disabilities, Hispanics? I mean we're getting down to about 90 percent of all people here," he said. "I mean at what point do we say enough of this?"
Bush has taken pride in going after Trump in recent weeks, often boasting that he's the only candidate in the crowded field willing to take on the bombastic front-runner. Meanwhile, Trump has turned his sights on Ted Cruz's rising candidacy.
"When anybody disparages people with disabilities, it sets me off," Bush said of Trump. "That's why I called him a jerk."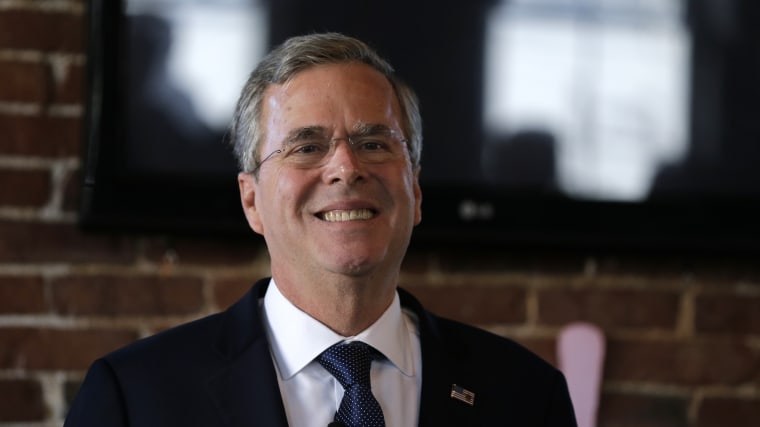 Bush was asked to explain his use of the word by a member of the audience who admitted to leaning toward supporting Trump. For his part, the governor said his reasoning was based on a "deeply held view" that "life is a gift from God."
"I think life is truly a gift from God, and the disabled compared to the smartest person in the world, we're all equal under God's watchful eye, that's what I believe," he said.
In typical Bush fashion, the justification for insult was softened by the positive attributes he finds in Trump, including a watered-down version of the businessman's penchant for self-aggrandizement.
"I like the fact that he is not embarrassed about his success," he said. "I think we ought to be celebrating success in life."
Bush said he also found joy in Trump's political incorrectness. "The fact that he has made a contribution to kind of loosen things up a little bit, I think that's good," he said.
Seeing the positive came from the "looming presence of my mother behind me," Bush joked to the crowd.
The Trump focused questions at Wednesday's town hall didn't end there. Another potential voter who made his disdain for Trump abundantly clear, asked Bush if he would consider a third party run if Trump wins the Republican nomination.
"I'm not gonna run as a third party candidate no matter who wins the nomination," he said. "I'm a Republican, and I've been supporting Republicans since Richard Nixon."