UZHHOROD, Ukraine — First lady Jill Biden traveled Sunday into war-torn Ukraine, where she met with her Ukrainian counterpart in a Mother's Day show of solidarity for women fleeing Russia's invasion.
After she crossed the Slovakian border, Biden traveled to the western city of Uzhhorod, where she met Olena Zelenska, Ukraine's first lady, at a school. 
"I thought it was important to show the Ukrainian people that this war has to stop and this war has been brutal and that the people of the United States stand with the people of Ukraine," Biden said.
Zelenska, who had not been seen in public since the invasion began, thanked Biden for what she called "a courageous act."
"We understand what it takes for the U.S. first lady to come here during a war, where the military actions are taking place every day, where the air raid sirens are happening every day — even today," she said, speaking through a translator.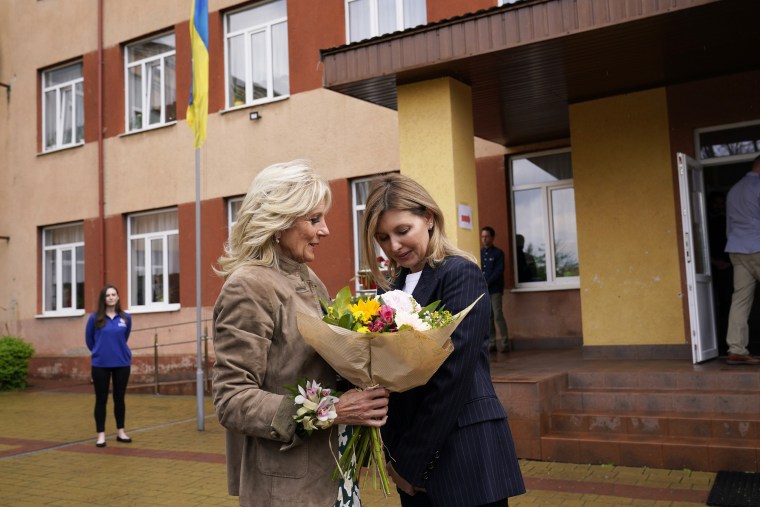 "We all feel your support," she added. "We all feel the leadership of the U.S president. But we would like to note that Mother's Day is a very symbolic day for us. Because we also feel your love and support during such an important day."
After their private meeting, which lasted about half an hour, the two first ladies visited a classroom at the school, which had been transformed into temporary housing for Ukrainians who have fled west since Russia invaded on Feb. 24.
The first ladies worked on an arts and crafts project with some of the 47 children housed at the facility in what was called both a recreational and a psychological activity to address the trauma they faced.
Biden's unannounced travel into the country, which came during a four-day visit to Slovakia and Romania, is unusual for a presidential spouse; it makes her the latest prominent official from her husband's administration to visit Ukraine. The White House previously indicated that Biden would travel to the Slovakia-Ukraine border.
Biden's press secretary, Michael LaRosa, told reporters that the first lady's visit to Uzhhorod was planned but not on the public schedule for security reasons.
The White House had notified the Ukrainian government about Biden's plan to come to the border about 10 days ago, which prompted Ukrainian officials to suggest a meeting with Zelenska, he said.
A senior administration official said the first lady called President Joe Biden to discuss her trip after her meeting with Zelenska.
Earlier Sunday, Biden visited a refugee center in Kosice, a city in eastern Slovakia, and met with Ukrainian mothers who have temporarily resettled there.
Secretary of State Antony Blinken and Defense Secretary Lloyd Austin traveled to Kyiv two weeks ago and made new promises of military and diplomatic support in a meeting with Zelenskyy.
House Speaker Nancy Pelosi, D-Calif., also led a congressional delegation to the country last week.
Meanwhile, Canadian Prime Minister Justin Trudeau also made a surprise visit to Ukraine on Sunday, The Associated Press reported. Zelenskyy's office told the news service that he was there to meet with Zelenskyy "and reaffirm Canada's unwavering support for the Ukrainian people."
In a late-night video Saturday, Zelenskyy warned that Russia was likely to ramp up its attacks over the weekend, leading into Monday — Russia's Victory Day.
White House press secretary Jen Psaki said Friday that Russian President Vladimir Putin has "projected his desire" to use the celebrations to declare the defeat of Ukraine.