President Donald Trump is reportedly considering a pardon for Joe Arpaio, the controversial former Arizona lawman with a reputation as "America's toughest sheriff."
That would surely be good news for Arpaio, who was voted out of office last year and was recently convicted of criminal contempt-of-court.
But it appears the White House is keeping him in suspense.
"So what's the scoop on me?" Arpaio asked on Monday night. "Will he pardon me?"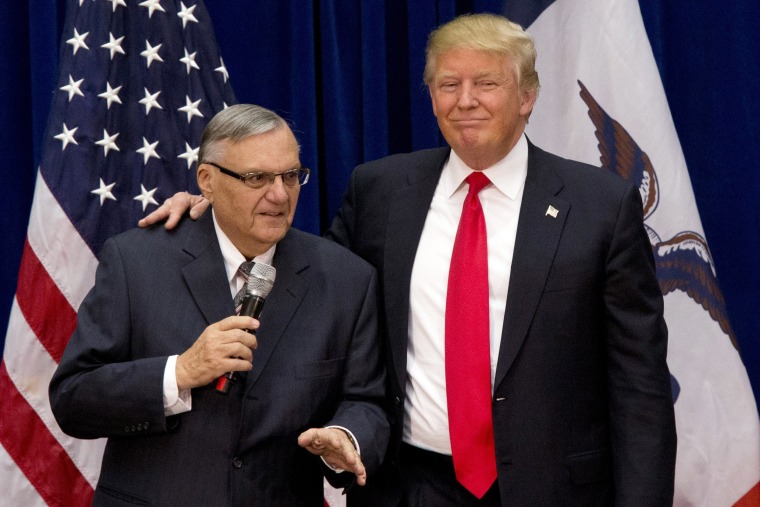 A day before Trump was set to take the stage for a rally in Phoenix, the former sheriff of Maricopa County told NBC News he was in the dark on the president's plans.
"Do you think he'll do it tomorrow night? Who knows," Arpaio said in a phone interview with NBC News. "I don't know."
Trump told Fox News last weekend he was "seriously considering" a pardon for Arpaio, a folk hero among many conservative activists and a lightning rod for critics of his aggressive immigration crackdowns. Arpaio endorsed Trump during the 2016 presidential race, appearing alongside him at rallies and touting the candidate's "law and order" message.
"He has done a lot in the fight against illegal immigration," Trump said. "He's a great American patriot and I hate to see what has happened to him."
Arpaio, who served as sheriff for 24 years before losing his re-election bid last November, said the president's suggestion was unexpected.
"That was out of the blue," he said, referring to Trump's comments. "No idea."
Arpaio went on to say his own legal issues are not unlike the pressure Trump faces as special counsel Robert Mueller investigates possible ties between the Trump campaign and Russian influencers.
"I feel sad about what they're trying to do to him," Arpaio said, unprompted. "It's what they tried to do to me. The media — and the politicians.
"It's really sad. But we have one thing — one thing this country has, fortunately, they have a president that will fight back and not surrender."
A judge ruled on July 31 that the former sheriff committed a crime by flaunting a court order to stop detaining suspected undocumented immigrants.
That ruling was widely seen as a rebuke of a law enforcement officials whose tactics — including housing immigrants in a tent city and forcing detainees to wear pink underwear — had long been controversial. In 2013, a judge found Arpaio and his deputies had engaged in racial profiling against Latinos, backing up the findings of a 2011 Justice Department report.
Arpaio's sentencing phase is set to start on Oct. 5. He intends to appeal the verdict.
"That's a legal matter. So I'm not going to comment. But let me say: I don't surrender. A lot of things about all this — you'll probably not believe me — about the judges, the bias. You don't think we've heard it all? No way.
"If you think I'm just going fishing, you're wrong."